MLB.com Columnist
Lyle Spencer
Pain for the gain: Taking one for the team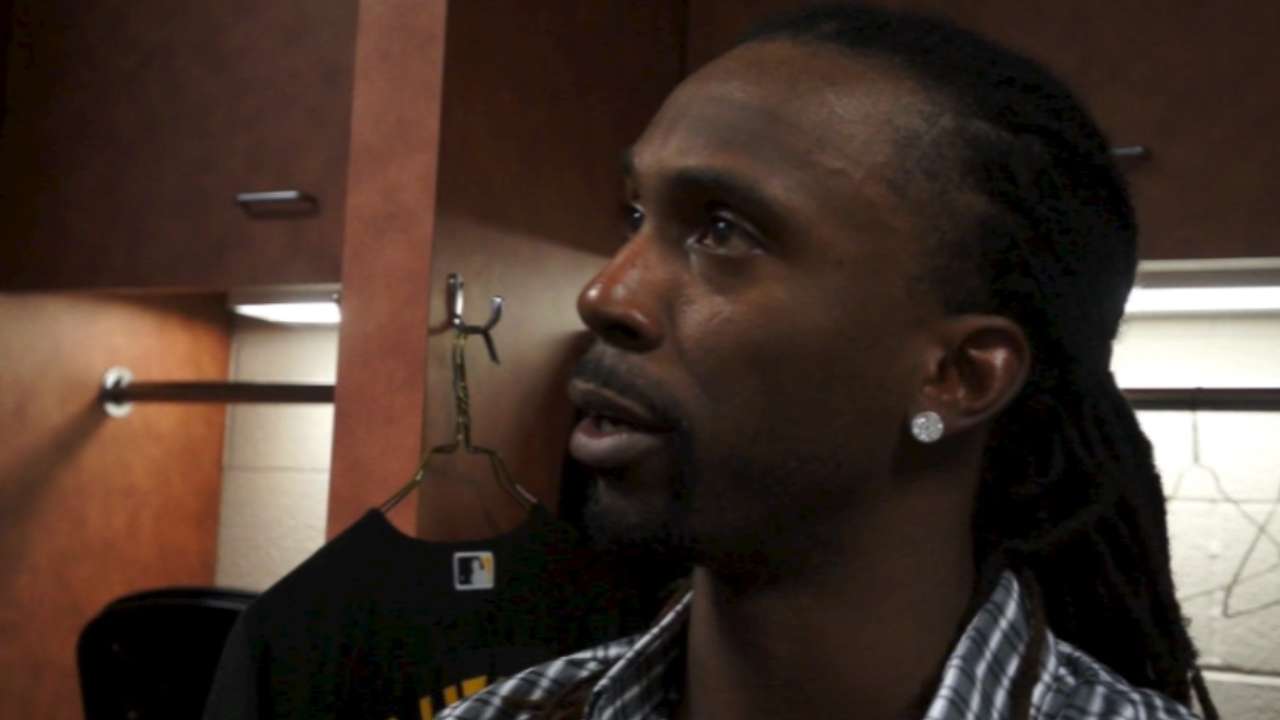 Pirates catcher Russell Martin does all the little things that add up, from guiding a pitching staff to situational hitting to running the bases aggressively to ... getting plunked. Martin has been busy taking the pain for the team 13 times already this season, a career high, which leads the Majors.
Following back-to-back substandard seasons offensively, Martin has a career-best .409 on-base percentage this year. His .792 OPS is surpassed in his career only by his .843 mark with the Dodgers seven years ago, when he had 19 homers and 21 steals.
Martin's 13 plunkings have come in 292 plate appearances. His previous career high of 11 in 2009 came over 588 plate appearances.
Anthony Rizzo and Carlos Gomez each have been hit 12 times. Martin's teammates, Neal Walker and Starling Marte, have been drilled 11 times, tying Shin-Soo Choo, Mike Zunino and Matt Holliday.
Choo, now with the Rangers, led the Majors last year for the Reds in getting hit 26 times, two more times than Marte.
The active career leader is Jason Giambi, with 180. Next is the technically active Alex Rodriguez with 169. Among the truly active, Derek Jeter (167) holds a slight edge over Chase Utley (164).
Most batters who get hit frequently crowd the plate and hang in late on pitches. Giambi, A-Rod, Jeter and Utley -- men capable of breaking up a game with one swing -- are the kinds of hitters who get backed off the plate with inside heaters.
"It's part of the game," Jeter said. "My job is to get on base."
Utley has led the National League three times in getting hit by pitches, with a high of 27 in 2008. Jeter's season high is 14, in 2004 and 2007, but he has never led the American League.
Players who have been hit by more pitches than they've launched over fences can safely be classified as guys who don't mind sacrificing their bodies to take one (base) for the team.
Hughie Jennings, a human big league pin cushion from 1891-1918, was hit a record 287 times, with a high of 51 in 1896. Jennings, who was 5-foot-8 and 165 pounds, had 18 career homers.
Getting hit 285 times, Astros star Craig Biggio led the NL five times, with a high of 34 in 1997. He was a threat, producing 291 home runs among his 3,060 hits.
Don Baylor, fourth all-time in getting drilled 267 times, led his league eight times, with a high of 35 for the 1986 Red Sox. "Groove" unloaded 338 homers.
One of Baylor's role models, Frank Robinson, daringly crouched on top of the plate and got nailed 198 times -- leading his league seven times -- while launching 586 home runs.
A look at players of recent generations who didn't mind feeling the pain for the gain:
Jason Kendall
A gung-ho catcher who played for five clubs over 15 seasons, Kendall was hit by a pitch 254 times, fifth all-time, while producing 75 home runs. He was hit 31 times in consecutive seasons, 1997-98, while catching for the Pirates.
Ron Hunt
Hit 243 times by pitches, Hunt was the NL leader for seven consecutive seasons (1968-74) while playing for the Giants, Expos and, briefly, the Cardinals. A second baseman, Hunt was hit a personal high of 50 times for the 1971 Expos. He hit 39 career homers.
Fernando Vina
Not much of a target at 5-foot-9 and 170 pounds, the classy second baseman managed to get hit by pitches 157 times, 19th all-time, while producing just 40 lifetime home runs. He led the NL in getting hit 28 times in 2000 for the Cardinals and the abbreviated 1994 season for the Mets with 12.
David Eckstein
Even smaller than Vina at 5-foot-6 and 170 pounds, Eckstein was hit by pitches 143 times while hitting 35 career home runs. The resourceful, clutch-hitting shortstop led the AL his first two seasons with the Angels, getting hit 21 and 27 times in 2001 and 2002, respectively. A two-time World Series champion with the '02 Angels and '06 Cardinals, Eckstein was hit by seven pitches in 44 postseason games.
Nellie Fox
Another little guy (5-foot-10, 160 pounds) with a big heart, Fox was hit 142 times by pitches while delivering 35 career homers. He led the AL with 17 plunkings with the 1955 White Sox.
A gritty, 5-foot-10, 190-pound outfielder with the Marlins, Johnson has gotten in the way of 130 pitches while going deep 65 times. He led the AL with 21 for the 2006 Jays, scoring a career-best 86 runs. He was hit 20 times by pitches while scoring 79 runs in just 114 games in his '03 rookie season in Toronto.
One of the fastest and hardest-working players of his time, Pierre was hit 102 times while registering 18 home runs in 14 seasons. The center fielder led the AL in 2010 for the White Sox in getting hit by 21 pitches while stealing a league-best 68 bags.
Leaderboard of pitchers hitting batters
Walter Johnson, 205; Randy Johnson and Eddie Plank, 190; Tim Wakefield, 186; Charlie Hough, 184; Cy Young, 161; Jim Bunning, 160; Roger Clemens, 159; Nolan Ryan, 158; Bert Blyleven, 155; Don Drysdale and active leader Jamey Wright, 154; Pedro Martinez, 141; Kevin Brown, 139; Greg Maddux, 137; A.J. Burnett, 125; Tim Hudson, 115; John Lackey, 107; Bronson Arroyo, 103; Bob Gibson, 102.
At least Wakefield and Hough didn't hurt anybody with their knuckleballs.
Lyle Spencer is a columnist for MLB.com. This story was not subject to the approval of Major League Baseball or its clubs. This story was not subject to the approval of Major League Baseball or its clubs.