Danks' post-break slide gets worse with Rangers' rout
Lefty allows four of five Texas homers as home struggles continue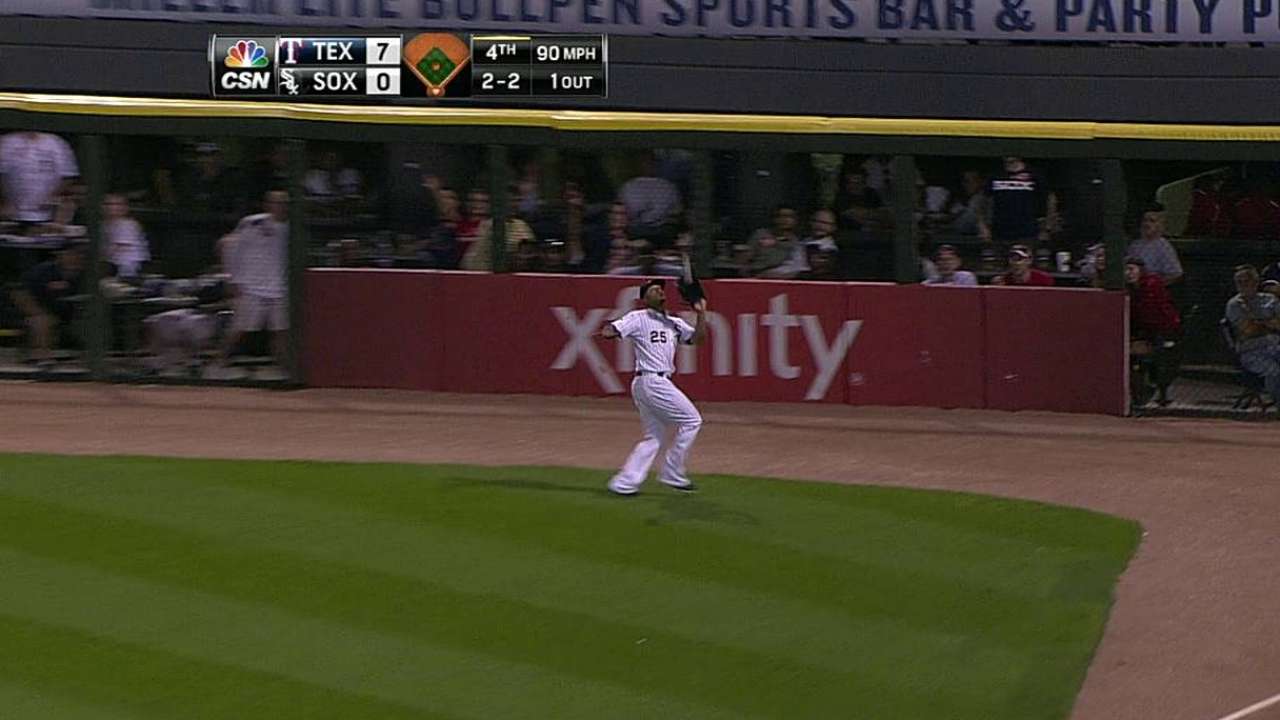 CHICAGO -- John Danks looked like he'd turned the tide heading into the All-Star break, boasting a 3.99 ERA with five wins in seven starts with a no-decision.
But in the 21 innings over his four starts since, including Tuesday night's 16-0 loss to the Rangers, Danks' ERA has ballooned almost a full point to 4.92.
"It's a shame to go out there and get your butt kicked on a night that you feel so good," Danks said postgame. "It doesn't happen every time out when you feel great and tonight I felt really good about everything in the bullpen and I just got my [butt] kicked."
Danks allowed eight hits -- including a Rangers' season-high four home runs -- with five walks before manager Robin Ventura went to the oft-struggling bullpen.
An eighth-year veteran, Danks underwent shoulder surgery in 2012, endured a 4-14 season in 2013, then resurged during the first half of this year. He went 4-1 in June with a 3.41 ERA and .237 opponents' batting average.
He said Tuesday that despite his increase in innings during the summer months, he's fine physically.
"Everything is awesome," Danks said. "It's good."
Ventura said Danks' problem of late is rooted in strike-zone command. And Danks doesn't have the overpowering fastball to get out of jams.
"You can't make up for it," Ventura said. "For him, he has to be able to locate and if he's not locating, he gets more in the middle of the zone and that and being up. His changeup's really good when he's going fastball in and he can spot that changeup lower in the zone and get guys swinging through it."
No pitcher in the last 100 years has endured a worse home showing than Danks.
According to STATS, Danks' 4.38 ERA is the highest since 1914 among pitchers with a minimum of 100 starts. His record at U.S. Cellular Field dropped to 33-42 after Tuesday's loss, extending his mark with Richard Dotson and Tommy John as the only starters with a losing home record under those constraints.
"That's a long list of things to work on," Danks said. "I'll work on it and make it better."
Chicago's four relievers, including designated hitter Adam Dunn, allowed another seven earned runs on 10 hits Tuesday. Dunn pitched the ninth inning with a 15-0 deficit to give a breather to a bullpen that tossed 9 2/3 innings with 20 earned runs to the Twins over the weekend.
"He's been begging for that for a while," Ventura said of Dunn, who threw 22 pitches, allowing a run, two hits and a walk. "You've got to give the fans what they want."
"Pro debut, huh?" Rangers third baseman Adrian Beltre said. "That was nice."
Rangers starter Colby Lewis tossed his sixth career complete game and second for a shutout. He allowed six hits with seven strikeouts and notched his third straight quality start.
"He did what he does best -- hits his spots, sinks, dekes and dives," said Adam Eaton, who snapped an 11-game hitting streak. "He had us off-balance all night and you know, we need to have better at-bats. But pitching with a lead right off the bat, it's kind of in his hands to take."
Texas took a commanding 7-0 lead through two innings on five hits scattered over 16 batters. The Rangers scored four on just two hits in the second while going through the entire lineup, aided by four walks. J.P Arencibia, finishing 3-for-5 and a triple shy of the cycle, brought home three with a two-out double.
The Rangers again went through their full lineup in the seventh, scoring four, including a run on a wild pitch by Andre Rienzo.
By that point, Rangers manager Ron Washington had also subbed starters. He pinch-hit for Shin-Soo Choo and Alex Rios in the seventh, two of the team's three leadoff batters.
The White Sox eclipsed their worst loss of the season, a 16-3 rout against the Twins on Sunday.
Daniel Kramer is an associate reporter for MLB.com. This story was not subject to the approval of Major League Baseball or its clubs.