Tomlin roughed up as Indians fall to Reds
Righty's struggles continue; fluky play stalls potential rally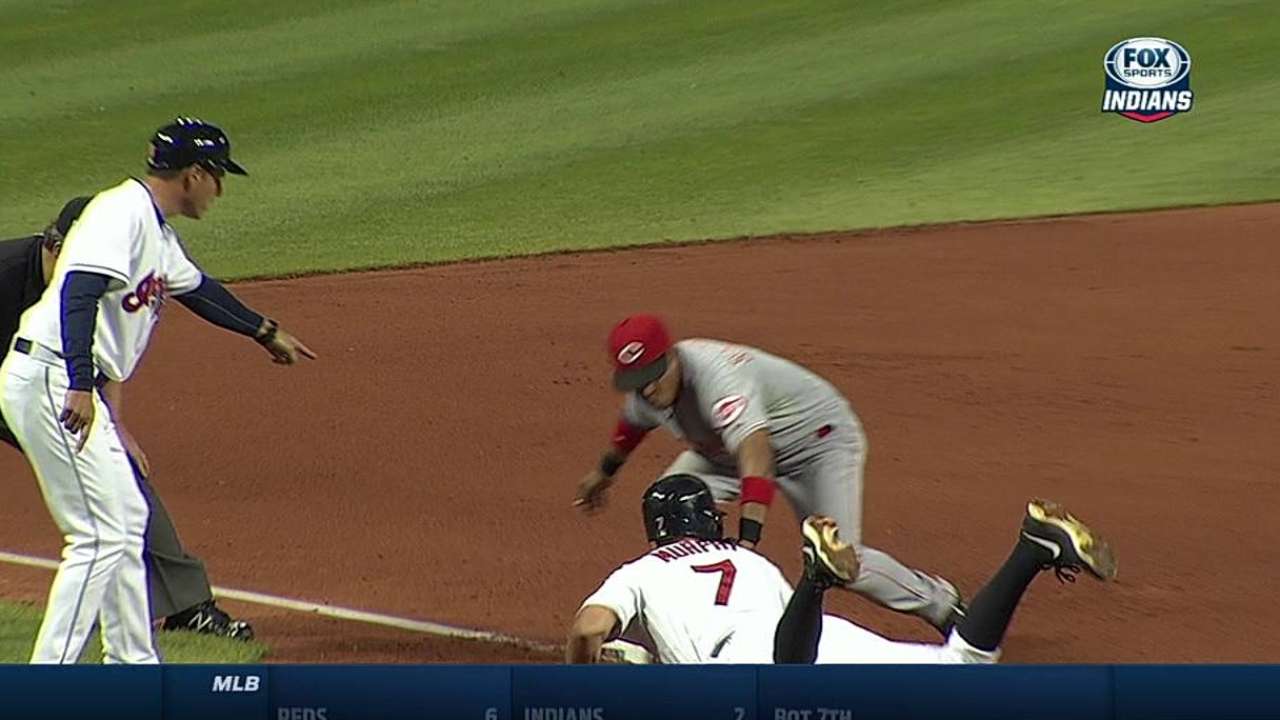 CLEVELAND -- Every few games, it seems that more questions arrive than answers for the Indians' starting rotation. Cleveland has lacked prolonged stability from its staff throughout this season, keeping the club from moving beyond the fringe of the postseason discussion.
The latest issue arrived on Tuesday night, when Josh Tomlin returned from Triple-A Columbus and labored in a 9-2 defeat to the in-state rival Reds at Progressive Field. Cleveland was stymied by right-hander Johnny Cueto and a fluke play went against the Tribe in the seventh, but the abbreviated outing from Tomlin laid the groundwork for the loss.
"That's on me," Tomlin said. "That can't happen."
The defeat ended a modest four-game winning streak for the Indians.
Cleveland's task now is trying to find some consistency from the fifth spot of its rotation. Tomlin's next scheduled start is Sunday on the road against the Yankees, but the Indians will likely use the next handful of days to evaluate their alternatives.
Due to the timing of four team off-days this month -- including two next week on Monday and Thursday -- the Indians have the ability to shuffle their starting staff some. Cleveland could provide some arms with extra days of rest or potentially skip a starter in certain spots. On Sunday, the Indians could also consider giving reliever Carlos Carrasco -- who went four innings in relief of Tomlin -- another look.
Indians manager Terry Francona would not commit to any firm plan immediately following Tuesday's loss.
"We have some days off coming up," Francona said. "So we have the ability to look at it and do what's in our best interest. One of the things we'll certainly check is, we'd like to run Corey Kluber out there as much as we can, but I think you want to communicate with him after he pitches to see if extra rest helps him or it doesn't.
"That will be our first option and decision, and then we have some different scenarios in mind. We have some things that we need to think about in the next 10 days."
Tomlin -- summoned from the Minors to replace the recently-demoted Zach McAllister -- was the recipient of some bad luck in the first inning, when a fielding error by third baseman Lonnie Chisenhall led to an unlikely run for the Reds. Chisenhall botched a routine catch on a relay throw during a double by Ryan Ludwick, allowing Todd Frazier to score from third.
Cincinnati then piled on three runs against Tomlin in the second inning. With two runners aboard and no outs, Ramon Santiago pulled the first pitch he saw from the righty deep to right field for a three-run home run to push Cleveland behind, 4-1. It marked Santiago's first home run of the season and his first since Aug. 16 of last year.
"The three-run homer to Santiago," said Tomlin, "I just tried to locate a two-seamer down and away and it stayed down the middle of the plate. That kind of changed the momentum of the game."
The 17 home runs allowed by Tomlin this season are the most in the Majors among pitchers with no more than 90 innings logged.
In the fourth inning, Tomlin yielded a leadoff triple to Zack Cozart, who scored on an infield chopper off the bat of Jay Bruce. The Reds tacked a sixth run on Tomlin's line after his exit in the fifth, when left fielder Chris Heisey scored from third base on a throw to second by Cleveland catcher Yan Gomes to catch Brayan Pena stealing. Tomlin was charged with six runs (five earned) in his 4 1/3 innings of work.
The Indians (57-56) struck for one run against Cueto in the first inning -- courtesy of a one-out RBI single from All-Star Michael Brantley. The Reds right-hander, who entered the evening with a 2.05 ERA, then held the Tribe to a 1-for-17 showing at the plate before finally flinching again in the seventh.
Chisenhall opened the frame with a walk and David Murphy followed with a single to right, putting runners on the corners for the hot-hitting Gomes. The catcher slashed a line drive into the right-field corner, plating Chisenhall and sending Murphy hustling around the basepaths.
As Bruce retrieved the ball in right field, Reds reliever Jumbo Diaz threw an extremely wild pitch in the visitors' bullpen behind the right-field wall. The baseball unleashed by Diaz landed near cutoff man Kris Negron, who was reeling in Bruce's relay throw. With two balls in play, Murphy got confused, took too many steps toward home plate and was cut down at third for an unlikely out.
"Of course, it's frustrating," Murphy said "My intentions were to stay at third. I don't really know how to break it down with words. It's frustrating, because of the situation we're in, because we have momentum, we're trying to make a comeback. That happens, and an out like that in a rally like that kind of kills it."
Francona emerged from the dugout to discuss the bizarre play, but the umpires did not conduct a review and the game continued. Cueto recovered by retiring the next two batters he faced to escape further damage.
"[Third-base umpire] Gerry Davis, his explanation was right on," Francona said. "It wasn't fun to hear. I thought I saw what I saw, but they can't kill the play until the conclusion. I understand the rule. They said, 'We understand your frustration. There's nothing we can do,' which I understand."
The Reds complicated things even more for Cleveland with three runs -- one on a home run by Bruce -- off Carrasco in the ninth.
The loss was pinned on Tomlin, who is 1-5 with a 6.04 ERA over his past nine starts, which includes his brilliant one-hit shutout on the road against Seattle on June 28. More recently, Tomlin has gone 0-3 with a 7.09 ERA in five outings for Cleveland since the beginning of July.
"I'm very aware of how much I'm struggling the past however many starts," Tomlin said. "Now, it's time to figure something out and get a lot better."
Jordan Bastian is a reporter for MLB.com. Read his blog, Major League Bastian, and follow him on Twitter @MLBastian. This story was not subject to the approval of Major League Baseball or its clubs.