Cueto fires complete game vs. Tribe for 13th win
Santiago's rare homer, fluky play in seventh boost right-hander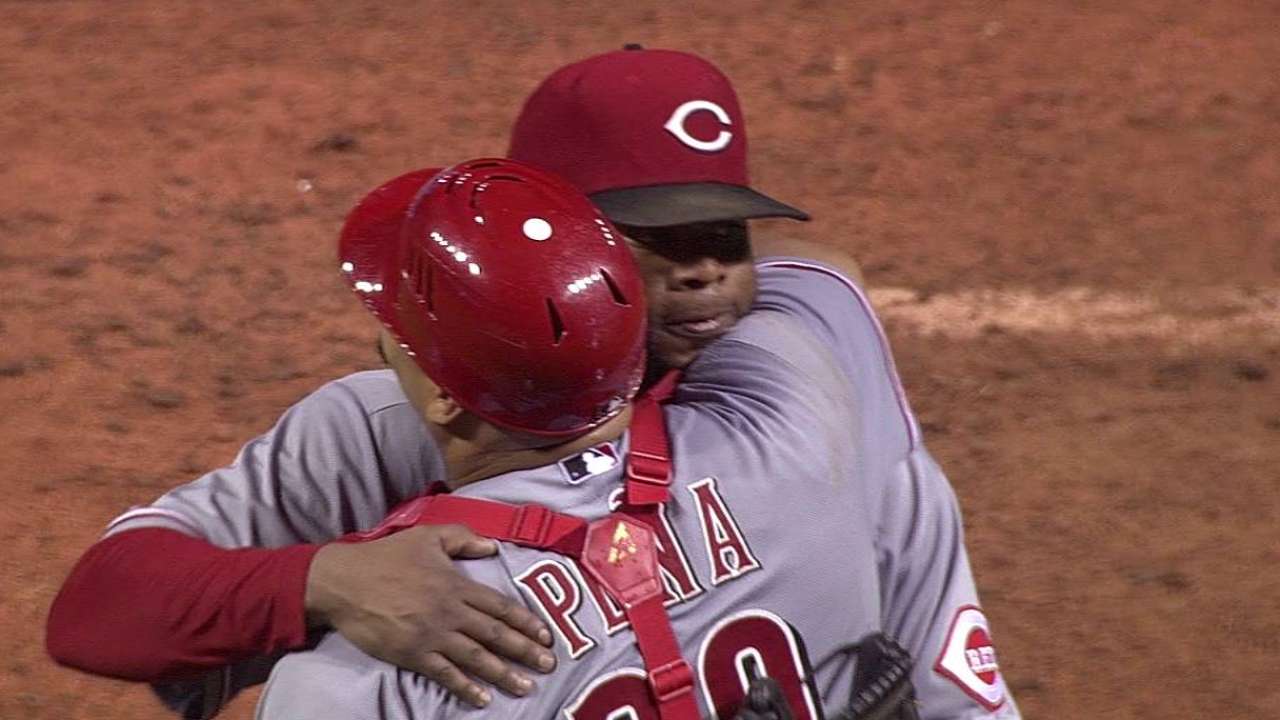 CLEVELAND -- In the wake an all-around sluggish showing in Monday's loss, Reds manager Bryan Price publicly criticized his team's focus and effort. On Tuesday night, his players responded emphatically.
Starting pitcher Johnny Cueto went the distance and Ramon Santiago belted a rare three-run homer to fuel Cincinnati's series-evening 9-2 win over the Indians. The club's long-dormant offense came alive with 15 hits -- including five extra-base knocks -- to snap a 10-game losing streak at Progressive Field and finish its latest road trip at 4-2.
"It was a tough loss yesterday, considering that we played so well in Florida," Price said. "It was just getting back to doing what we do. Certainly, the offensive output was big and gave Johnny a cushion. I couldn't be any happier to get Johnny Cueto out there with a cushion."
Cueto proved stellar on the mound once again, as he notched his 13th victory while allowing just two runs and five hits in his fourth complete-game effort of the season. After surrendering a run on two hits and a walk in the first inning, the right-hander retired 15 of the next 17 batters he faced en route to his 21st quality start in 24 outings this year.
"It took a little time for him to get in his groove," catcher Brayan Pena said. "But after that, when he gets going, he's unstoppable. He was asking for that baseball from the get-go. He knew how important it was for us to get this game, and he really stepped up to the challenge."
At one point in the seventh inning, Cueto looked as if his night would be done. He had allowed the first three Cleveland batters to reach base, capped by a run-scoring double hit by Yan Gomes, but he was able to work his way out of trouble thanks to a truly fluky play that began in right field.
When Gomes doubled, a wild pitch out of the Reds' bullpen from reliever Jumbo Diaz simultaneously made its way onto the field, leaving David Murphy -- who had pulled into third and received the stop sign from third-base coach Mike Sarbaugh -- unsure as to whether shortstop Zack Cozart actually had the ball following a relay throw. With the ball in Cozart's glove and the rogue ball rolling around in the shallow outfield, Murphy made a move toward home. At that point, Cozart fired the live ball to third for the out, and the Reds avoided a big inning.
"The timing like that was unusual," Price said. "I'm sure that's going to go down as one of those plays that we see in between innings for years to come. It's unfortunate, certainly, for their club that it happened. And it may have saved our bacon a little bit, because they were really starting to mount a rally there."
Cueto's stellar night on the mound was supported in a big way by Santiago's second-inning deep shot.
After Pena reached first on a wild-pitch strikeout and Kris Negron followed up with a single, the 34-year-old infielder jumped on a first-pitch fastball and lifted it into the right-field seats to give Cincinnati a comfortable 4-1 advantage. The homer was just the 29th of Santiago's career, and his first since Aug. 16, 2013, against Kansas City.
"It was a pretty good swing that I took," Santiago said. "Hit it really hard. Men in scoring position, I got the pitch I wanted to hit that inning."
The Reds tallied lone runs in the fourth and fifth innings -- the former on an infield single by Jay Bruce, the latter when Chris Heisey came home from third while Pena was caught stealing second -- to pull ahead, 6-1.
Bruce, who finished with three hits, led off the ninth inning with a solo shot to right field, and Negron added a two-run triple.
For the Reds, the win was undoubtedly shaped by the explosive offense and Diaz's quirky, if well-timed, mistake. But, ultimately, it was Cueto who once again lived up to his reputation as one of the National League's elite pitchers.
"I was being aggressive," Cueto said. "I'm always feeling like I want to finish the game and throw the complete game. I think that's how I was today."
"That's him. He's been great for us the entire season," Pena said. "Today, we needed him a lot -- especially the way we played yesterday that we weren't too proud of. Johnny was Johnny once again."
Alec Shirkey is an associate reporter for MLB.com. This story was not subject to the approval of Major League Baseball or its clubs.