Angels can't capitalize on Kershaw's off night
Poor defense plays role in losing early lead, late tie vs. Dodgers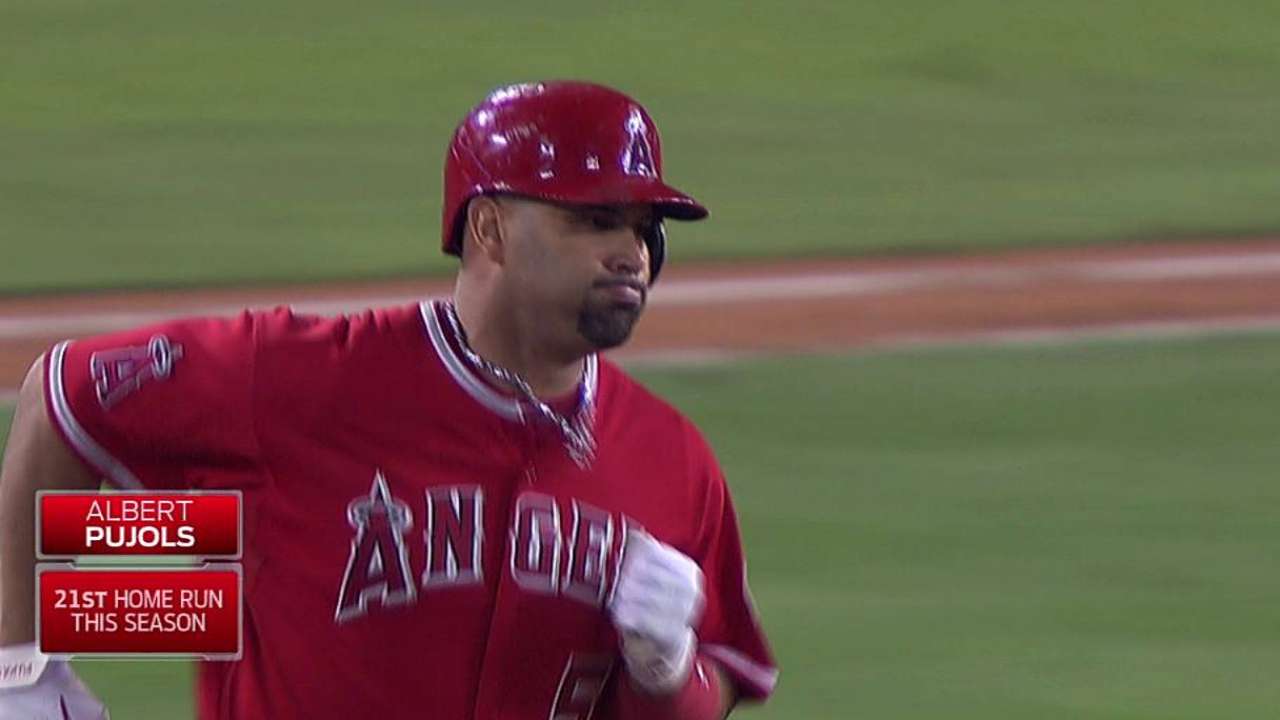 LOS ANGELES -- It was it their grasp -- until it wasn't.
The ball, the lead, the late comeback -- the Angels had them all on Tuesday night at Dodger Stadium.
But Juan Uribe scored on an error by David Freese and the Dodgers walked off with a 5-4 win, capitalizing on the Angels' missed opportunity and knotting the Freeway Series at one game apiece.
The Angels wasted a rare mediocre outing from Dodgers ace Clayton Kershaw and committed three errors that led to two unearned runs as they lost just their second game in their last six tries.
"On the defensive end tonight, we hurt ourselves," Angels manager Mike Scioscia said. "We had a couple of unearned runs, and when you're playing a good club, you got to play a clean game, especially when you're facing a tough pitcher like Clayton Kershaw."
The final unearned run was the one that stung the Angels the most.
With runners on the corners and one out, pinch-hitter Andre Ethier tapped a Kevin Jepsen curveball to Freese at third, who barehanded the ball and fired home to try to cut down Uribe. The throw tailed into Uribe and glanced off Chris Iannetta's glove, giving the Dodgers their fifth walk-off win of the season.
"It's not an easy play because of the pace of the ball," Scioscia said. "I think David came in and did what he could do, but there's not a big window to get it through there to thread it through to get it to Chris."
Iannetta said his positioning was influenced by Rule 7.13 (prohibiting catchers from blocking the plate without the ball) and made it tough to snag Freese's throw when it started to slice.
"You want to make sure you're not blocking the plate before the throw's even made," Iannetta said. "I was making sure I was inside the line and he had a clear lane.
"It doesn't matter how tough it is, I've got to make it. Game on the line, you've got to make that play."
Jepsen, who took his first loss of the season, said he was looking for a strikeout of Ethier, but the Dodgers' pinch-hitter put the ball in the perfect spot.
"It was a curveball breaking down and he filets it to third," Jepsen said. "I don't think he could have placed it any better."
An inning earlier, Albert Pujols launched Brian Wilson's 3-2 fastball into the left-field bullpen to tie the game, 4-4. Pujols' 21st home run of the season was the 513th of his career, giving him sole possession of 21st place on the all-time home run list, past Hall of Famers Ernie Banks and Eddie Mathews.
"We feel that if the game's tied or we're ahead, our bullpen's going to come in and hold the lead or keep the score right where it's at," Jepsen said. "For us to tie it up and then give it back to them, that was tough."
The Angels got to Kershaw in the second inning, scoring two runs on four consecutive one-out hits. Howie Kendrick singled, and Freese and Iannetta doubled to give starter Hector Santiago an early 2-0 lead.
"It's a kind of like a breather, where you can step back and relax and make your pitches," Santiago said. "I go right there and give it back up."
In the bottom of the second, Uribe tattooed a 1-2 curveball into the left-field stands for a three-run homer, his sixth dinger of the season giving the Dodgers a 4-3 lead.
"Pitchers aren't perfect," Scioscia said. "At times, you're going to throw a breaking ball and it's maybe going to hang and it did to Uribe."
After the Uribe home run, Santiago retired 11 of the next 15 hitters before Matt Kemp reached on Freese's throwing error in the sixth. Kemp stole second base and advanced to third on a throwing error by Iannetta before scoring on Scott Van Slyke's sacrifice fly that gave the Dodgers a 3-4 lead.
Santiago finished 5 1/3 innings, allowing four runs (three earned) on five hits while walking three and striking out two.
The Angels added a run in the third when Mike Trout and Pujols opened the inning with back-to-back doubles. It was the first time all season Kershaw had allowed runs in consecutive innings.
"Early on, when Clayton Kershaw made some mistakes, our guys hit him hard," Scioscia said. "He settled in and finished his outing strong, but you have to try to get some things going early. I think we did and we just didn't have enough at the end."
The bats fell silent after the third, with only two baserunners reaching in the final six innings.
"To win a ballgame, you have to do a lot of things well, and we didn't do enough of it," Scioscia said.
Matthew DeFranks is an associate reporter for MLB.com. Follow him on Twitter @MDeFranks. This story was not subject to the approval of Major League Baseball or its clubs.