Sarah's Take: The D-backs can't catch a break
Losing Goldschmidt is just another bump in Arizona's dismal year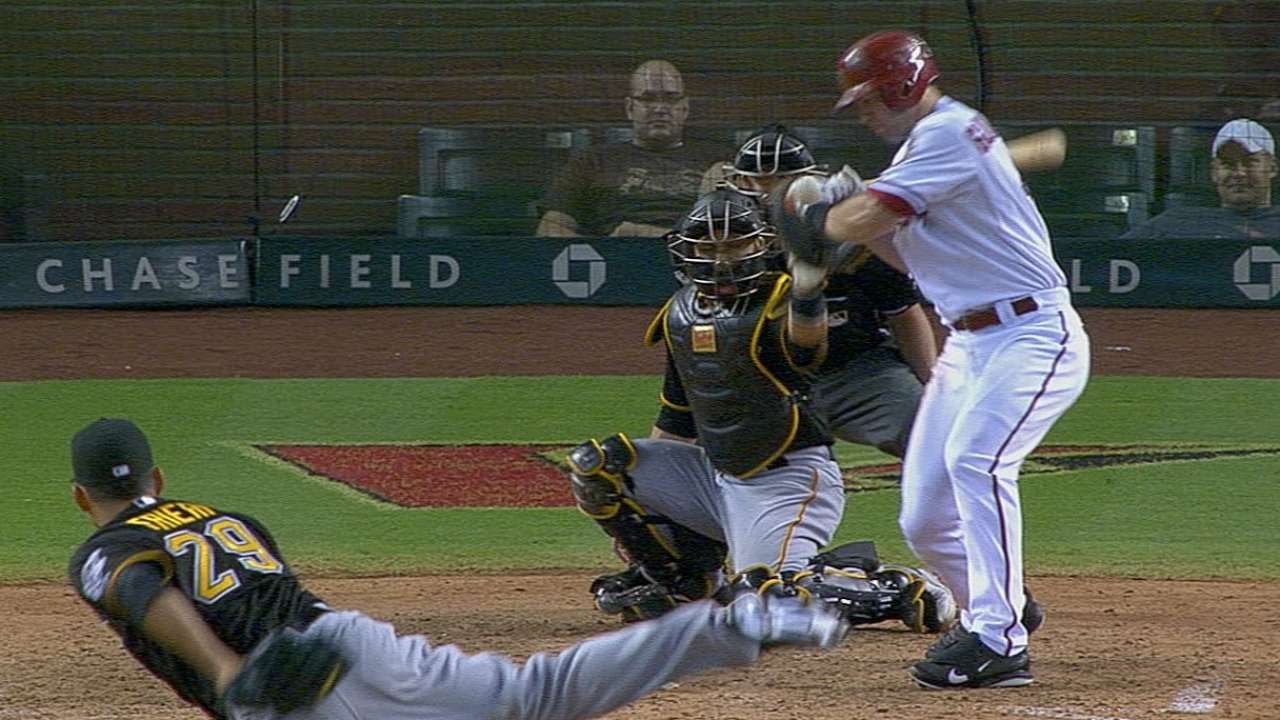 The Arizona Diamondbacks have had an abysmal season, and on Saturday it became worse. MVP runner-up Paul Goldschmidt was hit by a pitch that fractured his left hand. It is highly unlikely that Goldschmidt will play again this season.
Nothing has gone the Diamondbacks' way even though this week Kirk Gibson became the winningest manager in franchise history. Key players started suffering major injuries in Spring Training, and the season has gone downhill from there.
Of course, the magnitude of injuries affected how the D-backs have performed. But they also have players who didn't live up to expectations.
From April 21 to July 11, Mark Trumbo, the biggest offseason acquisition for the Diamondbacks who was expected to improve their offensive production, couldn't play because he had a stress fracture in his foot. His absence weakened the offense. He has returned to the lineup, but hasn't hit well.
Despite their troubles, the Diamondbacks climbed out of last place in the NL West, but still they're 13.5 games behind the Los Angeles Dodgers. Since it is highly unlikely the D-backs will go to the playoffs this season, management has been trading off their expensive veteran talent for good prospects who should help the club in the future.
Goldschmidt was the only constant for the Diamondbacks in 2014. When he came to the club in 2011, he was a one-dimensional player, a hitter. Although he didn't have a high batting average as a rookie, every year since then, except this year, his batting average has increased. But his first base defense was suspect.
Through hard work, Goldschmidt won his first National League Gold Glove last year, and his performance at first base has only improved since then. He has become the most feared power hitter in the NL West. If the Diamondbacks had gone to the playoffs in 2013, Goldschmidt would have been the National League MVP, but he was the runner-up to Pittsburgh's Andrew McCutchen.
Though the Diamondbacks didn't have much protection for Goldschmidt in the lineup, he still managed a .300 batting average with 19 home runs this season.
The Diamondbacks thought the Pirates hit Goldschmidt on purpose on Saturday, so they hit McCutchen in the middle of his back on Sunday. But Pittsburgh wouldn't benefit from taking out Goldschmidt, except during this weekend series, so why would they hit him intentionally?
It seems like baseball teams are hitting star players more often than in the recent past. This doesn't show good sportsmanship, and many fans are growing tired of this sickening practice.
Every Major League fan understands baseball is a highly competitive sport. Teams want to win at any cost, but MLB should not tolerate teams hitting opposing players and injuring them.
Sarah D. Morris can be reached at sdmorris27@outlook.com. This story was not subject to the approval of Major League Baseball or its clubs.