Felix stifles Braves to extend his record run
Mariners ace allows four hits in eight innings, lowering ERA to 1.97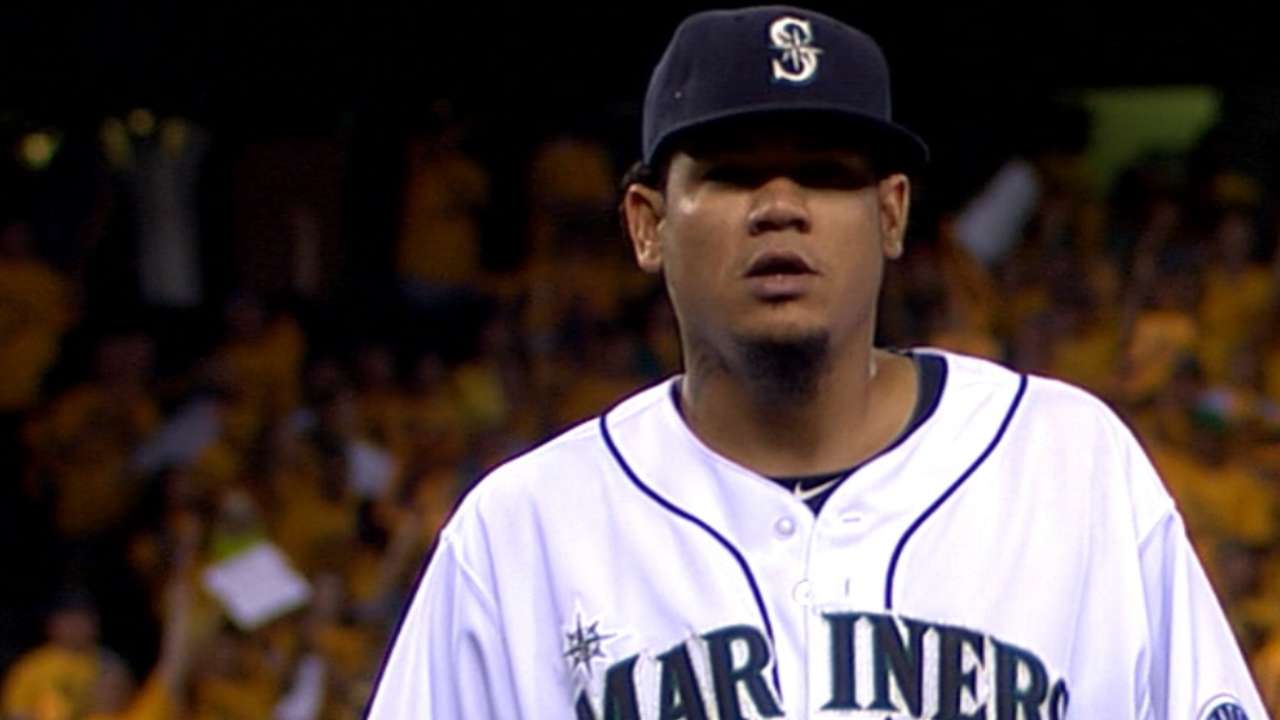 SEATTLE -- Felix Hernandez rolled out another gem Tuesday night, and this time the Mariners helped him out with some runs as Seattle handed the Braves their seventh straight loss with a 4-2 decision at Safeco Field.
Hernandez allowed one run and four hits in eight innings and has now thrown 15 straight games of seven or more innings while allowing two or fewer runs, the longest such streak in Major League history. Tom Seaver had 13 such starts for the Mets in 1971.
Gaylord Perry started 15 straight games of seven or more innings with two or fewer earned runs (as opposed to just runs) in 1974 and Hernandez has now equaled that mark as well.
The only question Tuesday was why manager Lloyd McClendon chose to take Hernandez out after he'd thrown just 97 pitches and turn the game over to closer Fernando Rodney, who allowed one run in the ninth en route to his 31st save.
Hernandez has yet to throw a complete game this year and McClendon said there's a reason for that.
"It was my decision and I'll continue to do that, I'll continue to protect my pitchers," McClendon said. "I'm trying to play meaningful games in September, not have a pitcher throw a complete game in the first of August. My objective is to try to get this team as far as I can and hopefully that's the playoffs. We have our eyes set on it, I don't know if we can get there or not, but I want Felix healthy, strong and moving forward in September."
Hernandez has a 1-9 record and 5.54 ERA in September over the past three seasons, and McClendon wants his ace fresh for what could be the first postseason opportunity of his 10-year career.
"It's my job to understand my personnel, what they can and can't do. Your job is to second guess me," McClendon said. "But I'm like Frank Sinatra. I'm going to do it my way. That's just the way it is."
Hernandez used to chafe at getting pulled early, but at 28, seems to have accepted McClendon's plan.
"I was strong," he said. "But he said it was a good job. I said, 'You're the boss. You decide. I'm out.' We have one of the best closers. … If he says you're done, I'm done."
Though Hernandez is on a historic run with his last 15 starts, he hadn't received enough run support to cash in on all that excellence recently as he went 1-1 with three no-decisions in five July starts despite a 1.70 ERA. In his 15 games in the record-setting stretch, Hernandez is 8-2 with a 1.43 ERA with 126 strikeouts and 20 walks in 113 innings.
The five-time All-Star has been outstanding all season and now stands at 12-3 with an American League-leading 1.97 ERA after 24 starts, already equaling last year's win production when he finished 12-10 and just one shy of the 13 he totaled in his Cy Young Award season in 2010.
After not scoring more than three runs in eight of Hernandez's previous nine starts, the Mariners put up four in the fourth inning -- helped by a dropped pop fly by Braves second baseman Tommy La Stella that led to three unearned tallies.
Atlanta starter Alex Wood hit Kyle Seager with a pitch and new right fielder Chris Denorfia followed with a one-out single to start the fourth-inning uprising. Logan Morrison pushed an RBI single to left field for Seattle's first run and rookie shortstop Chris Taylor followed with a fly ball to shallow right field that bounced off La Stella's glove as he tried to catch it over his shoulder, with two runs scoring.
Austin Jackson, Seattle's other Trade Deadline acquisition, followed with a run-scoring single to center to give Hernandez a 4-1 lead.
"That's what you're supposed to do. When you get an opportunity, you take advantage," said Seager. "We were able to get two runs on that one and Jackson with a big hit right after that. Four runs with Felix going, that's a good combination."
Given the three-run advantage, the Mariners' ace turned things up a notch and gave up just a lone single in his final four frames.
"It seemed like when he got that lead, he smelled blood in the water," Braves catcher Gerald Laird said. "The good ones know how to pitch with a lead, and he just kept pounding the zone with strikes."
The win pulled the Mariners to just one game back of Toronto in the chase for the AL's second Wild Card berth with a 58-54 record, though the Royals are only a half-game back of the Blue Jays and the Yankees are tied with Seattle in the crowded pursuit.
The Mariners are 3-0 against the Braves this season with one game remaining in their Interleague matchup on Wednesday afternoon as Atlanta has fallen to 58-55 with its recent slide.
Greg Johns is a reporter for MLB.com. Follow him on Twitter @GregJohnsMLB as well as his Mariners Musings blog. This story was not subject to the approval of Major League Baseball or its clubs.