Baez goes boom: First big league blast wins it
After going hitless in five at-bats, rookie hits go-ahead homer in 12th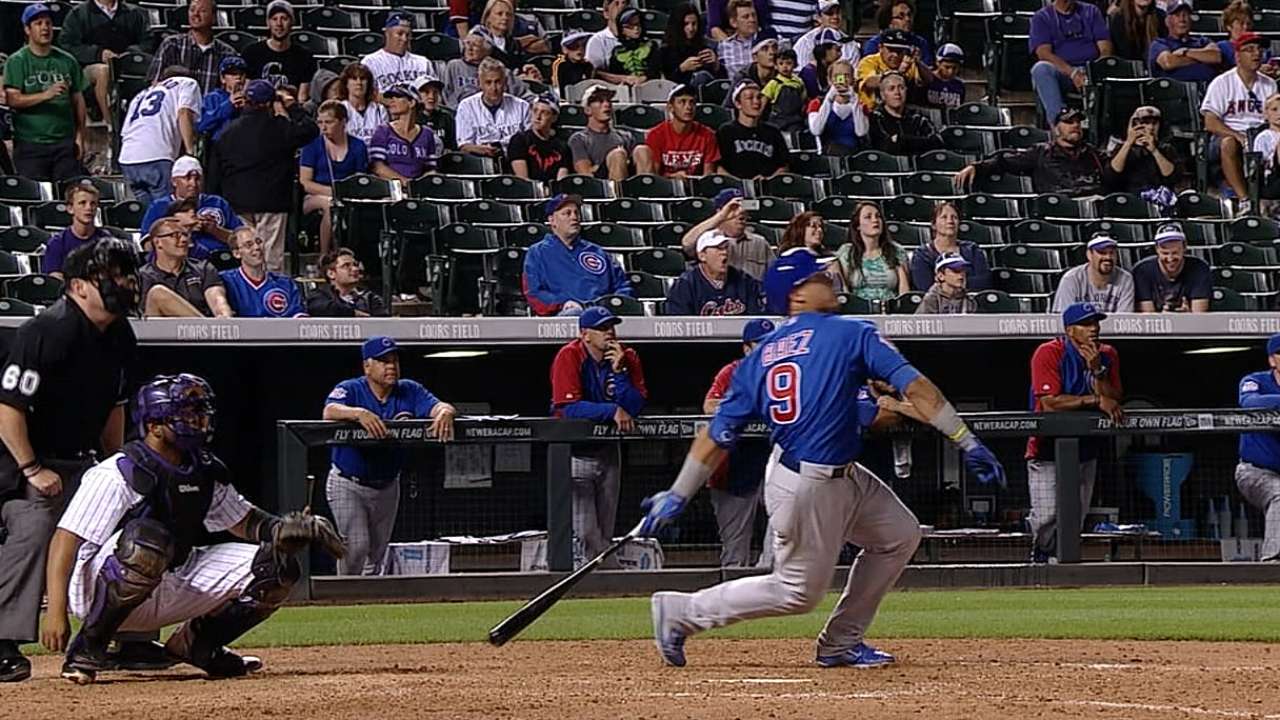 DENVER -- Evidently, the timing was right for Javier Baez to get to the big leagues.
Playing his first Major League game, Baez launched the first pitch he saw from Boone Logan leading off the 12th inning into the bullpen for his first big league homer and hit to power the Cubs to a 6-5 victory over the Rockies.
That's a lot of firsts, and Baez will have plenty of souvenirs to remember the game, including the home run ball, which landed in the Rockies' bullpen.
Was Baez nervous?
"Not really," he said. "I took it like a Spring Training game with a lot of fans and a lot of people."
Baez, promoted from Triple-A Iowa on Monday, was 0-for-5 before the blast and had struck out three times. But he connected in the 12th, sending the ball 414 feet to right center. It's his 24th home run of the season after hitting 23 at Triple-A Iowa.
"He had a few strikeouts, but it wasn't for anxiousness," manager Rick Renteria said. "He got the first pitch he could hit and drove it out of the ballpark.
"He's got a very powerful swing, obviously," Renteria said. "For the first game, I'm sure he got it under his belt now, and he'll see that, 'Hey, I can do this.'"
It helped that Baez had faced Logan recently when the Rockies' pitcher was making a rehab outing for Colorado Springs.
"I've faced him before, and he threw me all curveballs," Baez said. "He has a good curveball. I wasn't sitting on the curveball, I was sitting on the fastball, and he threw it, first pitch."
This is the fourth time in Major League history that a player has hit a go-ahead or game-winning home run in extra innings in his Major League debut. The list includes the Angels' Billy Parker (1971); the Twins' Kent Hrbek (1981); and the Marlins' Miguel Cabrera (2003).
When Baez crossed home plate, he pointed to his family in the stands. He had about 10 people cheering for him at Coors Field to see his debut, including his mother, sister and brother. That didn't include the Cubs fans in the crowd of 35,043.
The Cubs players were excited, too.
"Everybody was going crazy, and telling me congrats," Baez said of the reception he got in the dugout.
Cubs starting pitcher Travis Wood was in the visitor's clubhouse, sitting on one of the couches, watching. His reaction?
"We yelled," Wood said. "It's always nice when you see a young guy get called up because you know they'll bring the energy level up. They're excited about it being their debut and getting a chance. It's always fun to watch somebody have their debut."
This was more than a debut, this was a statement by Baez, who has been a hot topic since Spring Training. No butterflies?
"No," Baez said. "When they told me I was coming up [on Monday] I felt it a little bit. Today was good."
The storybook ending almost didn't happen. The Cubs led, 5-4, after scoring on Ryan Sweeney's RBI single in the 11th, but with one out in the Rockies' half, Jason Pridie reached on a single that deflected off Baez at second. Charlie Blackmon singled off Hector Rondon, and one out later, Charlie Culberson smacked an RBI single to tie the game.
It was the Cubs' fourth extra-inning game in their last seven, and 14th of the season.
If you're keeping score, Baez struck out in his first at-bat, grounded out to third base in the fourth, struck out swinging in the sixth, lined out to right to end the seventh and struck out again in the 10th. Then came the 12th.
"I struck out three times, but I got the winning run, so that's what's important for the team," Baez said.
This was a wild game. The Rockies opened a 3-0 lead, but starter Brett Anderson had to leave after throwing one strike to Arismendy Alcantara to start the fourth because of back spasms.
Welington Castillo hit his eighth home run in the sixth to make it 3-1, and the Cubs tallied three runs in the seventh without a hit, totaling six walks, including two with the bases loaded to force in runs. Pinch-hitter Chris Valaika added a sacrifice fly.
"We just took advantage of it," Renteria said of the walks.
"I felt like that game was lost in the sixth and seventh," Rockies manager Walt Weiss said. "In the sixth inning, we had an opportunity to add to our lead and didn't do it, and then obviously the seventh inning got sideways on us."
Nolan Arenado tied the game at 4 with a two-out home run in the seventh off Wesley Wright to force extra innings.
Cubs president of baseball operations Theo Epstein called Baez's promotion the "right step for Javy's development." It was perfect timing.
"It's all about the team," Baez said.
Carrie Muskat is a reporter for MLB.com. She writes a blog, Muskat Ramblings, and you can follow her on Twitter @CarrieMuskat. This story was not subject to the approval of Major League Baseball or its clubs.