Avila lifts Tigers in 12 after Price's solid debut
Catcher's homer comes after lefty fans 10 Yankees over 8 2/3 innings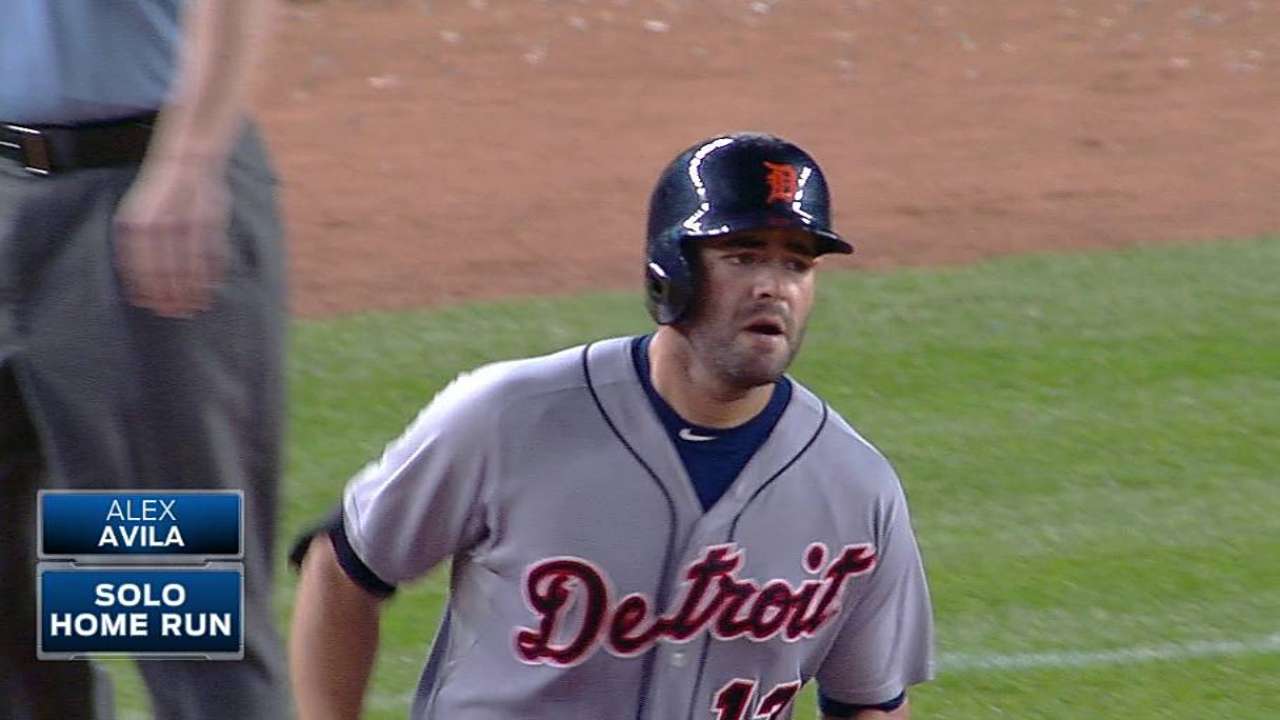 NEW YORK -- Earlier this week, newly acquired Tigers starter David Price said he would not truly feel like he fit in with his new team until he could contribute on the field.
Until then, Price sat on the bench and cheered, and watched his teammates exchange animated handshakes (with one for himself in the making). But only after he finally made a start would the newness of it all expire.
On Tuesday night at Yankee Stadium, Price was what the Tigers could have hoped for, pitching into the ninth inning, striking out double-digit batters and picking up right where he left off with the Rays. Alex Avila launched a solo home run in the 12th inning to cap the 4-3 win at Yankee Stadium, ensuring a celebratory Tigers clubhouse after Price's debut.
"I feel a lot better about everything right now," Price said. "Helping these guys win a game, it feels good."
The Tigers traded for Price hours before Thursday's non-waiver Trade Deadline to build one of the most formidable rotations in the Majors, one that includes the past three American League Cy Young Award winners. Tuesday was the first time Price has made a start for a team other than the Rays, for whom he pitched for seven seasons.
"It definitely felt a little bit weird wearing the Tigers uniform for the first time out there on the field," he said. "But it feels good that it's over."
It helped for Price to be matched up against a familiar opponent like his now-former division rivals. Although Price joked that he's not sure if familiar is the right word to describe these Yankees when earlier in the season he was pitching against a lineup that included Yangervis Solarte and Alfonso Soriano.
The Yankees tagged Price for two solo home runs Tuesday, one in the second by Brian McCann and one in the fifth inning by Martin Prado, along with an RBI double by Jacoby Ellsbury in the third. New York had eight hits in total off Price but managed just three runs, while Price punched out 10 in 8 2/3 innings.
"I didn't expect as many changeups from him tonight," Yankees third baseman Chase Headley said. "That was probably his most effective pitch. For me, that's what made him effective."
Price was replaced with two outs and a runner on first in the ninth by Joba Chamberlain, the former Yankees reliever who was making his first appearance in the Bronx as a road player. As soon as Chamberlain's name was announced, he was serenaded by the crowd at Yankee Stadium with boos.
"I didn't know what to expect, obviously with the situation coming in, I definitely had to take a couple deep breaths," Chamberlain said. "It's one of those things where you're running in and, I've played my whole career here and a lot of things have happened, a lot of good and bad. It was fun running in, but it was a little nerve-racking, that's for sure.
Ichiro Suzuki came into the game as a pinch-runner and promptly stole second base, but Chamberlain struck out Prado and pumped his fist to his chest as the game went into extra innings.
Chamberlain tossed 1 1/3 scoreless innings and allowed only one baserunner after hitting Derek Jeter, which received the loudest share of boos, and Chamberlain said he "never felt worse in my life."
The Tigers signed Jim Johnson earlier on Tuesday with hopes to improve one of their biggest weaknesses, their bullpen, although it was not a problem in this game. Chamberlain, Joakim Soria and Joe Nathan did not allow a hit in 3 1/3 scoreless innings, and Nathan recorded his 23rd save of the season.
The Tigers scored off Yankees starter Hiroki Kuroda in the first inning, on a sacrifice fly by Victor Martinez, before Kuroda retired 14 consecutive Tigers before allowing another run, coming on a solo homer by Andrew Romine in the sixth to make the score 3-2.
The Yankees appeared as if they would spoil Price's debut until Avila tied the game at 3 in the seventh with an RBI single to drive home Martinez.
It was Avila again who came up big in the 12th inning, blasting the home run to send the Tigers to victory and give Price a reason to celebrate after his debut.
Jamal Collier is an associate reporter for MLB.com. This story was not subject to the approval of Major League Baseball or its clubs.