Mariners' early homers spark rare offensive outburst
Morrison, Ackley go yard, help Young to first 10-win season since '06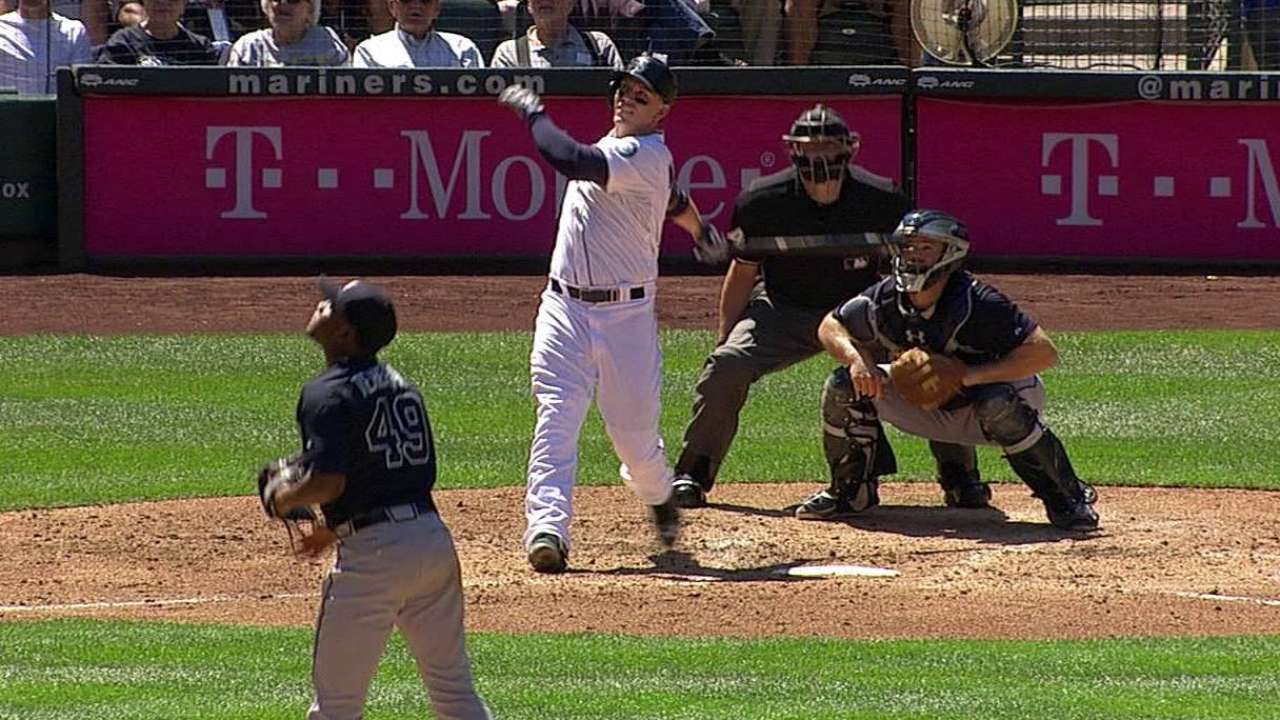 SEATTLE -- Chris Young has been around the game of baseball long enough to know that wins and losses are often beyond the control of the starting pitcher. But he's also been around long enough this season to have racked up 10 victories for the Mariners, and that's something not lost on a club fighting for its first playoff berth in 13 years.
The 6-foot-10 right-hander didn't have his best outing Wednesday afternoon, but he turned over a lead to the American League's best bullpen in the sixth inning as the Mariners rolled to a 7-3 victory over the Braves.
Though Young downplayed the importance of his first 10-win season since 2006 with the Padres, the bottom line is he's finally healthy enough after years of shoulder issues to have that kind of impact for a club that has ridden its pitching to a 59-54 record.
After signing with Seattle just prior to the start of the regular season following his release by the Nationals, Young has combined with Felix Hernandez and Hisashi Iwakuma to go 31-15 with a 2.66 ERA, the lowest ERA for a starting trio in the AL.
Young is 10-6 with a 3.27 ERA after allowing three runs over five innings in a 92-pitch outing.
"He's pretty much made our season what it is," said left fielder Dustin Ackley, who helped the cause with one of Seattle's two home runs. "With Felix and Iwakuma, they're going to do what they do. But he's pretty much been the guy that has stepped up and put us where we're at this year. If we didn't have him, there's no telling where we'd be."
"He's been tremendous," said manager Lloyd McClendon. "I've said it time and time again, he's been a godsend to this rotation. Not only has he given us quality innings, he's given a nice veteran presence. He's never going to panic in any situation and today was no different. He didn't have his best stuff, but he battled and he got a win."
Young, 34, says he might have got excited about getting to 10 wins earlier in his career. He's done it only twice, in 2005 and '06. Now he's come to realize that team wins are far more important than a starting pitcher's record, which can be affected by far too many other factors.
But there's no question that Young's ability to stay strong and healthy has been a huge plus and his 134 2/3 innings are already his most in a season since 2007, before he began dealing with a series of shoulder problems.
"Just taking the ball, that was my goal coming in, just to take the ball every fifth day and go out and compete and give the team a chance to win," Young said. "Thus far, it's been great. It's been an unbelievable season in that regard, relative to where I've been and the frustrating years I've had the last four or five. To be back and be able to take the ball every fifth day and compete and play a game that I love, it's just been more than I can ask for."
Like most Mariners pitchers, he could ask for more run support at times, but Seattle supplied that Wednesday as Logan Morrison and Ackley belted home runs in a four-run third inning after Atlanta scored three times in the top of that frame.
"I don't think there was any panic," Morrison said after the Braves had taken a 3-1 lead. "We just have to score runs. That's all it comes down to. We know what we can do once we score four runs. Our team wins a lot of games. So that's the goal."
The Mariners are now 43-10 in games where they score four or more times, compared to 16-44 when they're at three or fewer.
A three-run homer now and then certainly helps that formula, and Morrison launched his after Ackley had led off the third with a bolt to right field. By the end, Seattle had put together its highest-scoring game since a 13-2 win in Houston on July 1 and its biggest burst at Safeco Field since an 8-2 victory over the Red Sox on June 24.
Morrison's home run was his first since July 11, and it gave him six on the season. After a rough July, the 26-year-old first baseman has a seven-game hitting streak, and he nudged his season average to .214 with a 1-for-4 afternoon.
Ackley has hit .346 (37-for-107) since the start of July, and now has three homers in the last six games, putting his season total at seven. The left fielder went 2-for-5 to raise his average to .254 after ending June at .214.
The Mariners also got an RBI single from Kyle Seager in the first, a sacrifice fly by rookie shortstop Chris Taylor in the fifth and a run-scoring base hit by Kendrys Morales in the seventh.
Seager had three hits and a run scored, and he is batting .350 at Safeco Field this year compared to .211 on the road. Robinson Cano went 2-for-3 with a pair of doubles and scored twice, with his .332 season average ranking second in the AL behind Houston's Jose Altuve.
McClendon believes the Mariners are on the verge of turning the corner with an offense that has added leadoff hitter Austin Jackson, cleanup hitter Morales and outfielder Chris Denorfia via trades, and brought up Taylor from Triple-A Tacoma in the last two weeks.
"I just feel that it's building," McClendon said. "We have a nice mix now. We have a nice veteran presence in the lineup. I can see the determination in their eyes. I just think we're getting ready to start taking off from an offensive standpoint. We'll see."
The Mariners completed a four-game season sweep of Atlanta, taking both games at Safeco Field this week. The Braves wound up 0-8 on a three-city road trip, the franchise's worst trek of eight or more games since 1949, falling to 58-56.
Seattle has won five of its last eight to pull back into the chase for the AL's second Wild Card berth, a half-game back of Toronto as the Blue Jays headed into a Wednesday night meeting with the Orioles.
Greg Johns is a reporter for MLB.com. Follow him on Twitter @GregJohnsMLB as well as his Mariners Musings blog. This story was not subject to the approval of Major League Baseball or its clubs.