Field set for National Youth Baseball Championships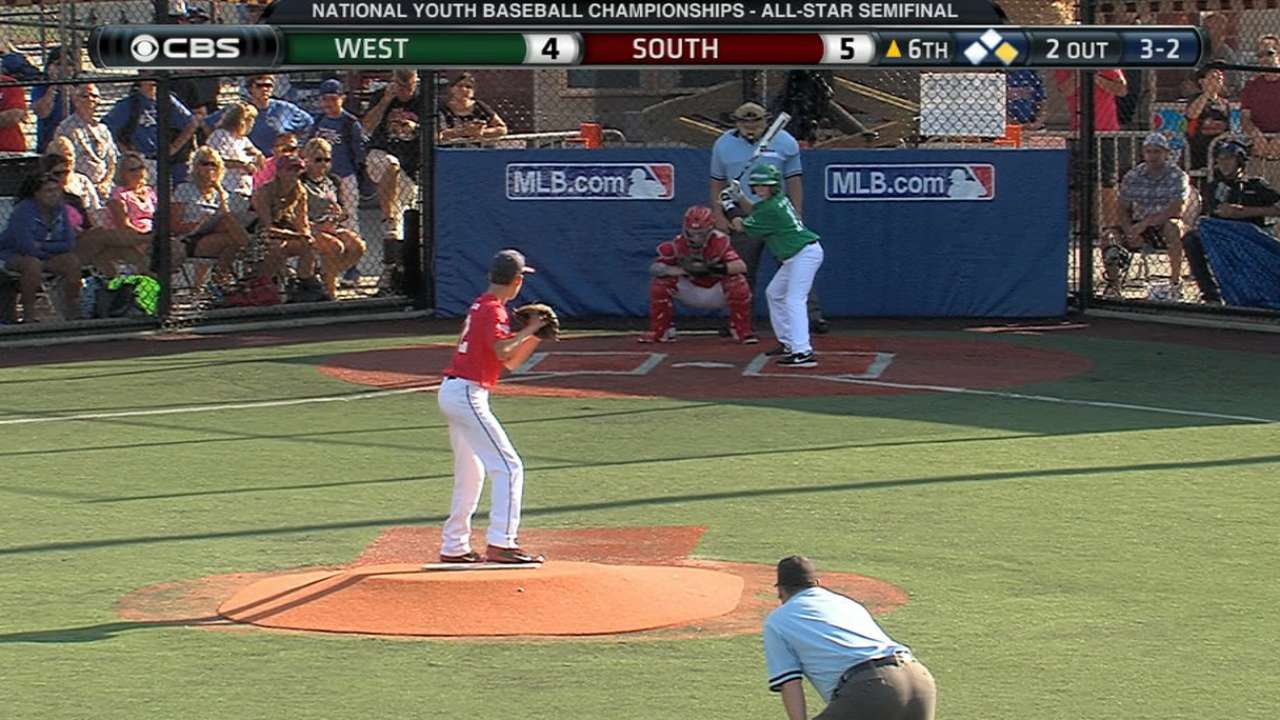 YAPHANK, N.Y. -- Mike and Michael Sagaro have a busy week ahead of them. The father-and-son duo from Miami is headed to New York City for a couple of days to visit Times Square and see the Statue of Liberty and more -- all of the usual tourist hot spots. They'll probably catch a Yankees game, too, while they're in town.
But come Friday, it will be time to get serious. That day marks the start of the National Youth Baseball Championships -- the tournament of the summer for the 16 teams coming in from all over the country, teams that have earned the right to be considered among the best 12-U squads around.
All of the hot summer afternoons of practice and the long weekends of travel are worth it once you get here.
"This is where it's at," said Mike Sagaro, head coach of the Team MVP Elite Squad based out of Miami. "This is the epitome of childhood baseball. It's what you play these four years for -- the best of the best, in one arena."
This year, that arena is Baseball Heaven, a state-of-the-art, seven-field complex complete with indoor and outdoor batting cages and -- not to be looked past -- multiple concession stands. This is the first year the facility is hosting the event after the last six editions were in Memphis, Tenn.
The Sagaros and Team MVP are one of three teams who earned an at-large bid, the others being Team Florida from Tampa and Diamond Jacks Super 12 from Flemington, N.J.
The other 13 teams earned automatic bids, most of which did so by competing in various qualifying tournaments scattered around the United States. The hosts, Team Baseball Heaven, also earned an auto-bid.
Three other squads will also represent New York: the Capital Renegades from Clifton Park, the Long Island Titans from Mount Sinai and Team B.E.A.S.T. from Commack.
The baseball hotbed that is California has five teams in the field. SGV Hustle from Azusa is considered a favorite. BPA DeMarini Elite from San Juan Capistrano, 360 Elite Cobras from Pasadena, VSA Vipers from San Fernando Valley and San Diego Show from, yes, San Diego are the others.
Four non-coastal teams round out the group: the Hamden Yard Dogs (Hamden, Conn.), the Oklahoma Ambush (Tulsa, Okla.), the Indiana Bulldogs (Crown Point, Ind.), and the Banditos Black (Houston).
It's not just a competition, though. It's a chance to revive connections forged at past years' tournaments with folks who live on the other side of the country but tend to find their way back to this final weekend perennially.
Mike Sagaro, for example, is hoping to see -- then beat -- SGV Hustle. Banditos Black head coach Ray DeLeon is looking forward to chatting with Sagaro again.
"We're competitors," DeLeon said. "He's a rival -- in a friendly way. We have a good time."
SGV Hustle has been one of the top teams since these now-12- and 13-year-olds competed in the 9-U age division. A handful of the kids who started out as 8-year-olds together compose a significant part of the core of this year's team, and they've been looking forward to this tournament for years.
"[The team wants to] just represent ourselves well and have a good showing, have the boys have some fun," said coach Robert Prieto over the phone. "I know our ultimate goal is to win it all, and that's something most of our kids have talked about."
Tim Healey is an associate reporter for MLB.com. This story was not subject to the approval of Major League Baseball or its clubs.