Myriad of moonshots highlight NYBC All-Star Challenge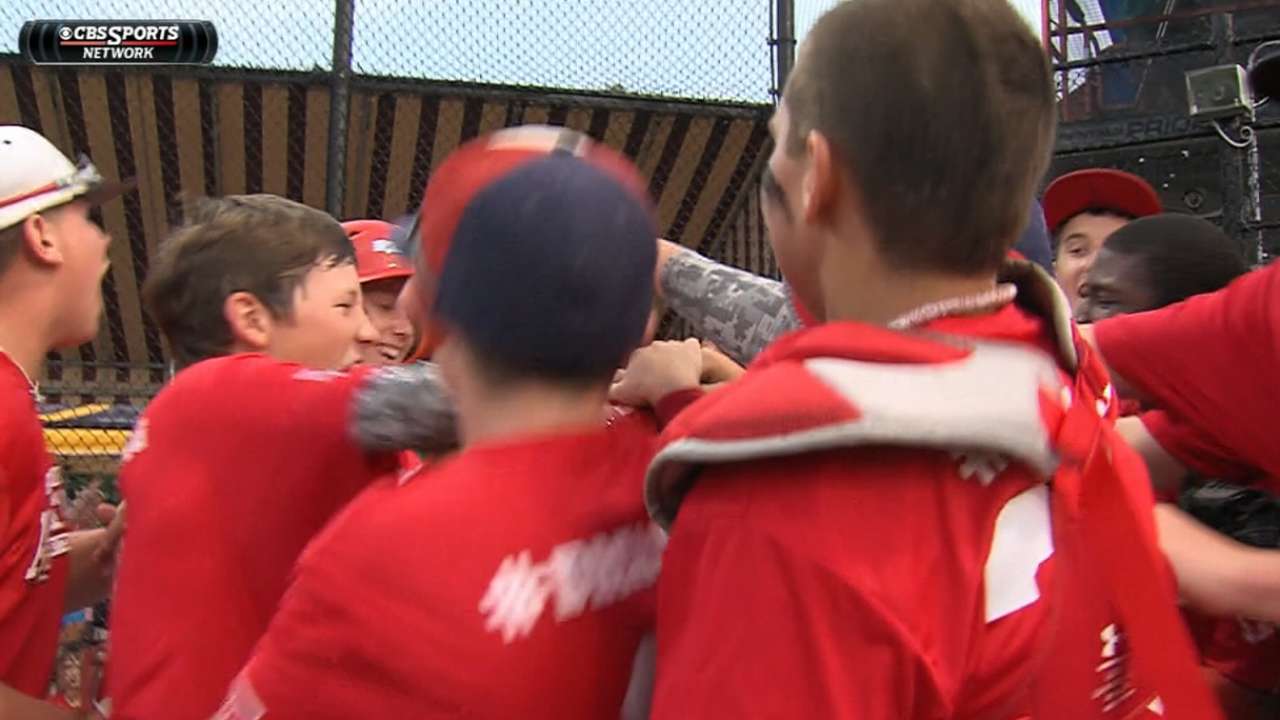 YAPHANK, N.Y. -- Evan Godwin's team was down by five by the time he stepped to the plate in the bottom of the third inning Monday evening. The bases were loaded, though, and no one needed to explain to him that with one swing of the bat he could put his team right back in it or provide a significant hindrance to the attempted comeback.
It was part of the inaugural National Youth Baseball Championships All-Star Challenge at Baseball Heaven, and given that these 12-U teams -- which are composed of some of the best players in the country in their age group -- play just six innings, it was getting late early for the South All-Stars trailing the East squad.
After Godwin fouled a pitch off, he couldn't help but smile. He looked down the line to first-base coach Keith Godwin -- better known to the batter as just "Dad" -- and the coach was smiling, too. They didn't have to say a word. Both knew what the other was thinking: just missed it.
"I was just a little late," Evan said. "So I fixed it."
That might be putting it lightly. Godwin, who is from Cypress, Texas, and plays for the Banditos Black travel team, sent the next pitch deep into the humid Long Island night, landing well beyond the fence in right-center field to narrow the deficit to one. South All-Star teammates Nicklaus Baumbach and Parker McGrew followed suit for back-to-back-to-back home runs.
It was part of a five-homer onslaught en route to the South's 11-7 win in the championship game of the inaugural NYBC All-Star tournament, a showcase of some top talents that seemingly turned into a home run derby. The East squad added one from catcher/pitcher Joseph Cruz, who is from San Juan, Puerto Rico.
It was quite the power display, with many of the moonshots clearing the fences -- no more than 250 feet from home -- by plenty.
"It was kind of incredible," said South coach Ray DeLeon, who also leads Godwin and the rest of the Banditos Black team. "You really don't see that [many homers in a game] at any level of baseball. They deserve it. It's a great baseball deal here, and I'm proud to be their coach. We love to win."
Godwin's grand slam might've accounted for the most runs, but it wasn't the first on the night for South. That belonged to Baumbach, who led off the second with a long ball to center -- much to the dismay, probably, of whoever owned the white mini-van it victimized -- to get his team on the board.
Baumbach's second blast came an inning later, momentarily tied the game and helped him earn tournament MVP honors.
"They had two great pitchers up there," said Baumbach, a Euless, Texas, native who plays for the 360 Elite Cobras. "He just gave me them inside-middle, and I drove them."
Another Texan, McGrew, homered to left to put South on top, for a time. It was Riley Edwards -- of Frisco, Texas, and the Dallas Mustangs -- who gave the South a lead it never relinquished.
The line drive got out in a hurry and served as a bit of redemption for a so-so start on the mound that allowed the East All-Stars an early lead.
"Riley Edwards is definitely a great kid who has a lot of future," DeLeon said. "Everybody is out to get him, and he got hit. He's a great athlete, one of our best players -- if not the best player -- and has a lot of tools."
The afternoon featured a pair of semifinals, with the East topping the Central, 4-2, and the South beating out the West, 5-4, to set up the East-South championship game.
In that second semifinal, the West team scored three of its four runs on homers. Albert Hernandez of Van Nuys, Calif., has his third-inning shot sandwiched between two from Michael Brown, a 5-foot-10, 200-pound left-hander who occasionally goes by "Tiny." The latter of those was a no-doubter in the sixth, complete with a bat flip.
The play of the day, though, was Godwin's. He said the opposing pitcher, Cruz, hung a curveball over the plate and he "knew I had to hit it." As Godwin rounded first during his home run trot, Dad was smiling again.
"I was just jumping up and down," Keith Godwin said. "I was real excited for him."
Added Evan: "He was just screaming." Pure, unadulterated excitement.
No real words. None needed.
Tim Healey is an associate reporter for MLB.com. This story was not subject to the approval of Major League Baseball or its clubs.