Rays left frustrated in 10-inning walk-off
Maddon ejected on check-swing as Balfour labors vs. ex-team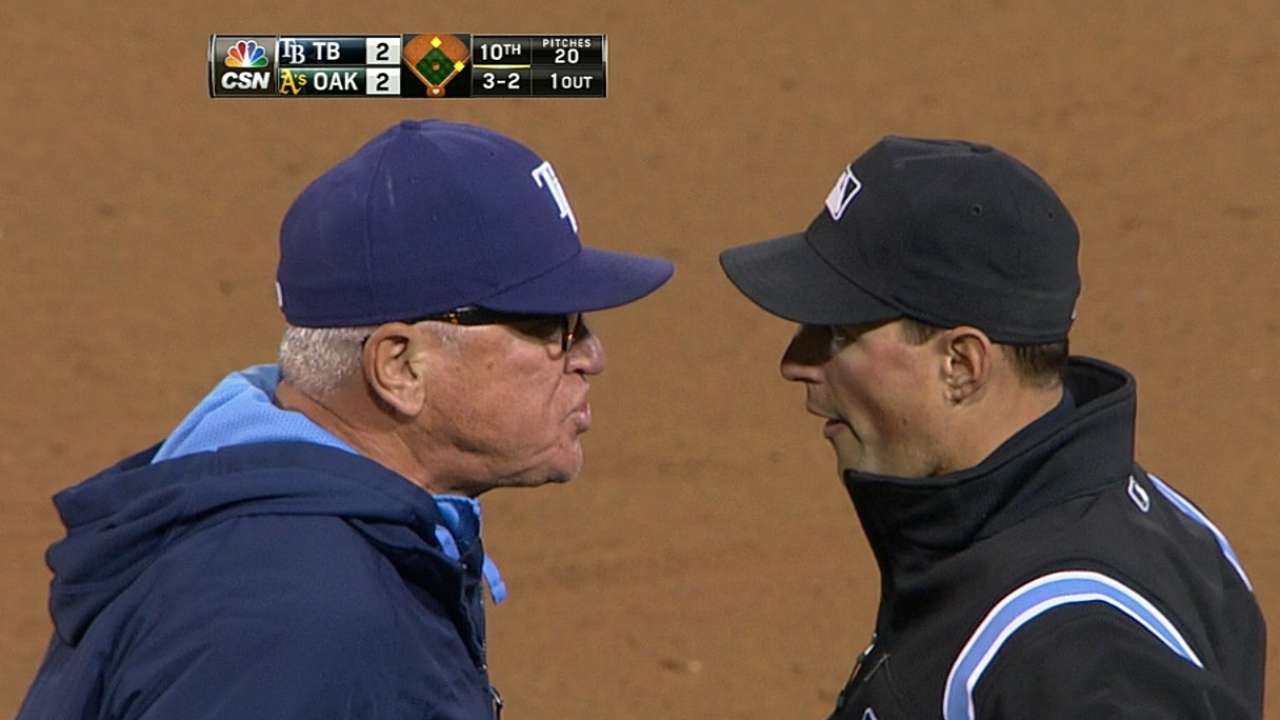 OAKLAND -- Former A's closer Grant Balfour received a warm welcome from the Coliseum faithful on Monday night when he entered a tie game in the bottom of the 10th. The A's, on the other hand, showed him no love.
Balfour allowed a single to Sam Fuld with one out, walked John Jaso and Josh Donaldson to load the bases, and surrendered a single up the middle to Derek Norris as the A's took the series opener, 3-2, in walk-off fashion.
Balfour, who lost the closer's job in June, had held opponents scoreless in 15 of 17 outings entering Monday. But he slipped up in his Oakland homecoming, and the Rays slipped to 9 1/2 games back in the American League East.
"Just got beat tonight by a good team," Balfour said. "That was it, plain and simple."
It was a night full of missed opportunities and frustrating moments for the Rays, the most frustrating of all coming in Balfour's 10th. With Fuld and Jaso on base, Balfour induced a check swing from Donaldson on a 2-2 pitch. First-base umpire Quinn Wolcott ruled that Donaldson had not gone around, which sent manager Joe Maddon bursting out of the dugout. He was instantly ejected.
"That's not borderline. That was egregious, and that's what I had a problem with," said Maddon. "I had been patient all night with a lot of stuff. My patience ran out at that point. That call was inappropriate."
Donaldson also hit a popup in the at-bat that landed untouched near the right-field bullpen.
"It's tough when you've got to get five outs sometimes," Balfour said. "I'll leave it at that."
The Rays had squandered a chance to take the lead in the ninth when they put runners on the corners and failed to execute a safety squeeze. Pinch-hitter Brandon Guyer bunted right back at left-hander Sean Doolittle, who tossed underhand to the plate to nail Sean Rodriguez.
Rodriguez also may have had a chance to score on the previous play, a grounder to short that was booted by Jed Lowrie but Rodriguez halted at third after the ball popped into the air.
"Looking at it afterwards, I told myself if I'd have kept going I would have made it," Rodriguez said. "Two outs, worth a shot. One out, tough to say."
It was a golden opportunity to score off the typically untouchable Doolittle, and it was one of numerous missed chances throughout the night. The Rays went 1-for-10 with runners in scoring position, while the A's went 2-for-13 and left 18 men on base.
Tampa Bay did well to keep the A's bats in check, at least for a while. Maddon used his bullpen shrewdly in the seventh, playing the percentages to match Brad Boxberger against a lefty.
Jonny Gomes pinch-hit against Joel Peralta with runners on first and second, and once the count went to 2-0, Peralta conceded an intentional walk. For his career, Gomes was 6-for-13 off Peralta. Maddon then called on Boxberger to face Fuld, and Boxberger fanned him, extending his streak vs. left-handers to 0-for-41.
Starter Alex Cobb also wriggled free in the first two innings, loading the bases twice and twice escaping unscathed. He walked three batters in the first, and walked one and hit another in the second, but the A's could not muster a run.
The right-hander did not exactly look like a newly minted ace, but he grinded out 5 2/3 innings and allowed just two runs despite matching a season-high four free passes. The explanation behind Cobb's respectable line: He did not issue a walk after the second and retired all five batters he faced with men in scoring position.
"The whole game was a struggle," said Cobb. "One of those games that you try to battle with whatever you can find, and it was hard to come by and hard to repeat pitches."
Tampa Bay's offense was no better as it took on Jeff Samardzija for the first time in his career, scoring twice in seven frames. Evan Longoria scalded his 14th home run in the second inning to give the Rays the lead. Then, after Oakland drew even in the third, Kiermaier hit a fifth-inning triple and came home on Desmond Jennings' RBI.
Cobb's final batter was Donaldson, who singled up the middle to even the score.
Ultimately, the game turned on a handful of plays -- most notably the botched squeeze attempt and Donaldson's check swing.
"We didn't execute offensively, whether it was a bunt, or not to move a runner, and you've got to do all the little things well to beat these guys right now," Maddon said. "But I'm here to say we're as good as they are. I know the record doesn't reflect that, but we're as good as this team is. We've got to prove it on the field."
Aaron Leibowitz is an associate reporter for MLB.com. This story was not subject to the approval of Major League Baseball or its clubs.