Richards twirls Freeway Series shutout
Angels righty cruises behind four-run first inning in LA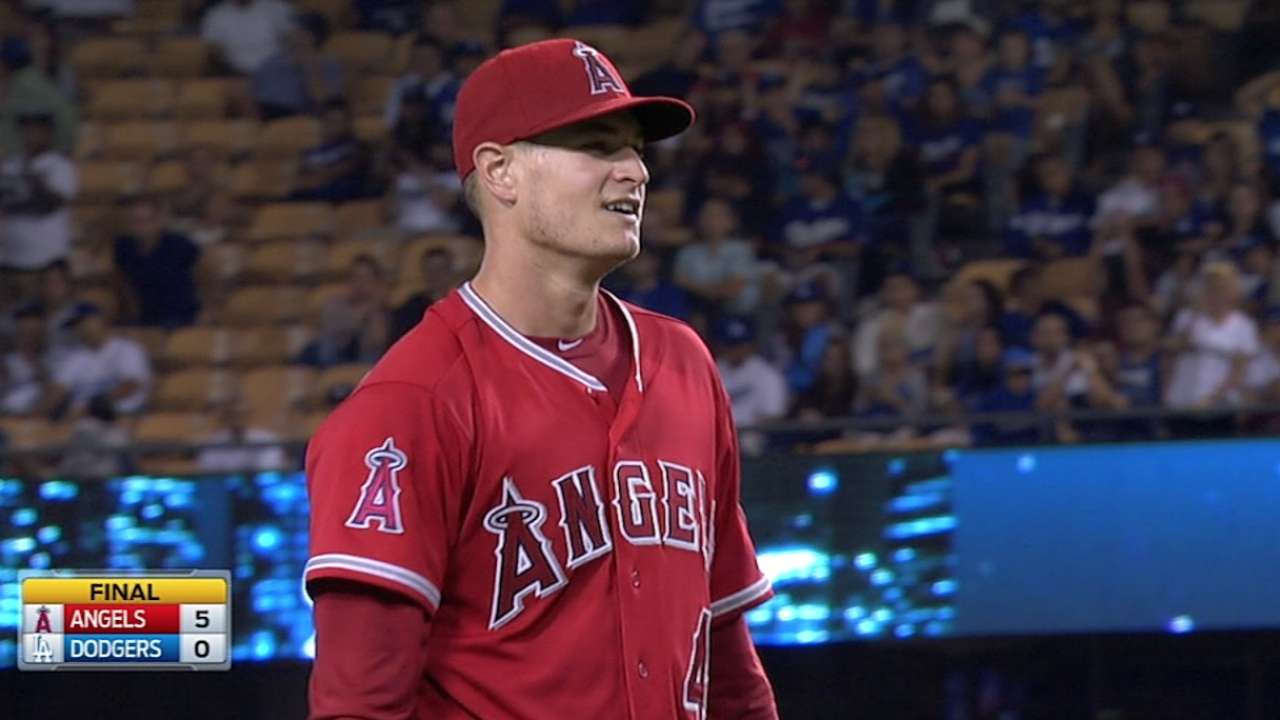 LOS ANGELES -- The locals booed Mike Trout relentlessly when he came to bat, so when he got his face on the Dodger Stadium video board after a couple of running catches in Monday night's fifth inning, the 22-year-old phenom grinned, ignited the crowd and basked in it once more.
Yasiel Puig gave Erick Aybar the Dikembe Mutombo finger wag after almost doubling him up at first base on a sixth-inning fly ball, so Albert Pujols tagged up from first base when Puig took a casual approach a couple of innings later and playfully mocked him between innings.
It was a Freeway Series opener that delivered as promised; the kind of gamesmanship you'd expect from a couple of nearby teams with high-priced talent and potential postseason futures.
And in the end, the Angels were the ones who could laugh about it all.
Backed by four first-inning runs off Zack Greinke and a shutout from Garrett Richards, they had left Chavez Ravine with a 5-0 victory, moving a season-best 23 games above .500 and staying one game back of the A's in the American League West.
Richards was coming off a couple of mediocre outings, giving up four earned runs in back-to-back starts for the first time since April 2013, then twirled nine scoreless innings, on the road, against the team with the best record in the National League.
The 26-year-old right-hander scattered five hits, walked two, struck out nine and touched 99 mph seven times, moving to 12-4 with a 2.58 ERA.
"I don't think he's the best in the league yet. I mean you have guys like King Felix [Hernandez], but he's close," Pujols said of Richards. "I don't think it'll be long before this guy has a Cy Young in his hands."
Richards' 11 first-inning pitches were all fastballs. He sprinkled in his slider in the second, introduced his curveball the second time through the order, worked in a changeup he's been tinkering with in the later stages and baffled the Dodgers' mighty bats all night long, at one point retiring 15 of 16.
Trout has been teammates with Richards for a long time, and even he's still surprised to see how much his ball moves from center field.
"Sometimes I look up there and I think it's a slider, and then [the radar gun] says 98," Trout said.
"Fastball, slider were identical coming out of his hand," Dodgers catcher A.J. Ellis said after his team was shut out for just the fourth time this season. "Made it really, really challenging when you throw with that velocity. Impressive for a guy like that to maintain his velocity throughout the game. He was still throwing 97, 98 in the ninth inning. I give him a lot of credit. He dominated us tonight."
Richards took the mound in the ninth with 109 pitches, then had 118 when Carl Crawford smacked a two-out single to left. But he got pinch-hitter Andre Ethier to ground out to short four pitches later, completing his first career shutout and putting the Angels at 10-7 in the second half.
"It felt good," Richards said of being given a chance to finish the game. "That's faith in me, and that's important to me. My teammates and my coaches have faith in me. That's big."
Richards was the beneficiary of a big first-run cushion, the type you wouldn't expect given his opponent.
Kole Calhoun led off with a single against Greinke. Trout doubled, giving him 79 RBIs from the No. 2 spot to tie Jim Edmonds' franchise record. Pujols followed with another RBI double, giving him 550 for his career to move past Chipper Jones for 26th on the all-time list. Aybar scored on the first of two Hanley Ramirez throwing errors three batters later. And David Freese capped the frame with a two-out RBI single, marking the most runs Greinke has allowed in a single inning at home since he joined the Dodgers two years ago.
The Angels were held hitless by Greinke over the next four innings, then Josh Hamilton led off the sixth with a rain-making homer to right-center field, his third in his last seven games after hitting just two in his previous 46.
And all throughout the night, Trout was hit by a steady stream of boos from the 53,166 in attendance -- and all the superstar center fielder could do was smile about it.
"I'm just having fun out there," Trout said. "That's why we play the game; have fun. Fans out there bring excitement to you. A lot more boos, but I expect that at Dodger Stadium. It's going to be a fun next couple of days, for sure."
Alden Gonzalez is a reporter for MLB.com. Read his blog, Gonzo and "The Show", and follow him on Twitter @Alden_Gonzalez. This story was not subject to the approval of Major League Baseball or its clubs.