Scherzer hangs tough, but bats can't best Yankees
Righty allows two runs over seven innings, takes loss in series opener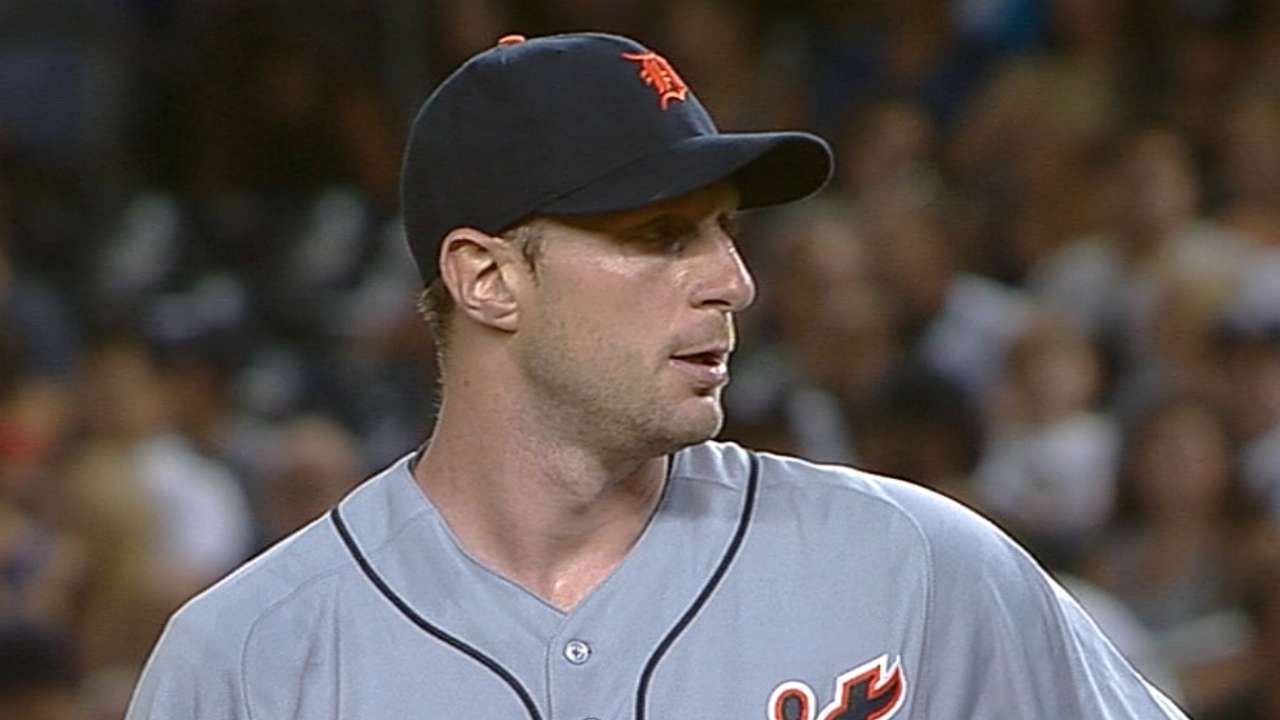 NEW YORK -- The Tigers are the first team in history to have three consecutive different Cy Young Award winners on their roster, and are hoping their band of aces can help carry them deep into the postseason.
They will get their first glimpse during this four-game series against the Yankees, where they had each of them lined up to pitch the first three games.
Max Scherzer, the reigning Cy Young winner in the American League, was the first to take the mound, but he was outdueled by Brandon McCarthy and the New York bullpen as the Yankees claimed a 2-1 victory Monday night at Yankee Stadium.
Scherzer acknowledged that he was not sharp through the first few innings while he allowed five hits and walked two, but some strong play by the Tigers' defense helped keep the team in the game.
The Yankees had the bases loaded with no one out in the third inning and could have broken the game open if not for an outstanding diving catch from Tigers center fielder Ezequiel Carrera, who was making his first start in center field since being promoted on Friday.
Jacoby Ellsbury drove a pitch from Scherzer deep into center field. Carrera raced back and dove, fully extended, for the ball over his head, and secured the ball in the heel of his glove, sliding at the edge of the warning track.
"We're going to see that one replayed from a while," Scherzer said. "That was spectacular."
Ellsbury was still credited with a sacrifice fly as Ichiro Suzuki scored from third base, but Carrera's play likely saved two additional runs and left Ellsbury and much of the 41,603 in attendance stunned.
"I haven't seen a better play made all year," Ellsbury said. "The time of the game. Bases loaded. Just a tremendous play. Shows his athleticism to get that ball. I think that's three RBIs, and at least a triple. That kept them in the ballgame. If that ball lands, it might break open the game for us."
Scherzer held the Yankees to just one more run in the inning and the Tigers trailed, 2-0.
That was enough support for McCarthy, who has been everything the Yankees have wanted since they acquired him from Arizona. With this latest victory, he is now 4-0 with his new team, and has not allowed more than one earned run in four of his five starts.
The Tigers forced McCarthy into long at-bats and ran his pitch count up high early in the game, but all they they could push across the plate was one run in the fifth inning on a single by Ian Kinsler. It took McCarthy 116 pitches to get through 5 2/3 innings, but he allowed just one unearned run on five hits while striking out eight.
"I know this is a big series for us, and I know what they're throwing at us," said McCarthy. "I took that as kind of a challenge for me. This is a chance to step up against one of the best and to make our own mark."
Four Yankees relievers combined to allow just one hit over the final 3 1/3 innings, punctuated by David Robertson's 30th save to close out the ninth.
Scherzer settled in eventually and lasted seven innings, and while he did give up nine hits, he only allowed two runs. It was a rare loss for Scherzer, just his 11th defeat in his last 60 decisions.
"Without my best stuff, I found a way to be able to go deep into a game," he said. "So there were some things I didn't do quite as well tonight, but at the end of the day, I was able to get some results, and at least you can hang your hat on that."
The Tigers' rotation does not offer any relief for opposing offenses. When the two teams continue this four-game series on Tuesday, the Tigers will send left-hander and 2012 AL Cy Young winner David Price to the mound to make his first start for the team since being acquired from the Rays last Thursday.
Jamal Collier is an associate reporter for MLB.com. This story was not subject to the approval of Major League Baseball or its clubs.