McCarthy, 'pen combine to outduel Scherzer in win
Righty allows unearned run over 5 2/3 innings; relievers shut out Tigers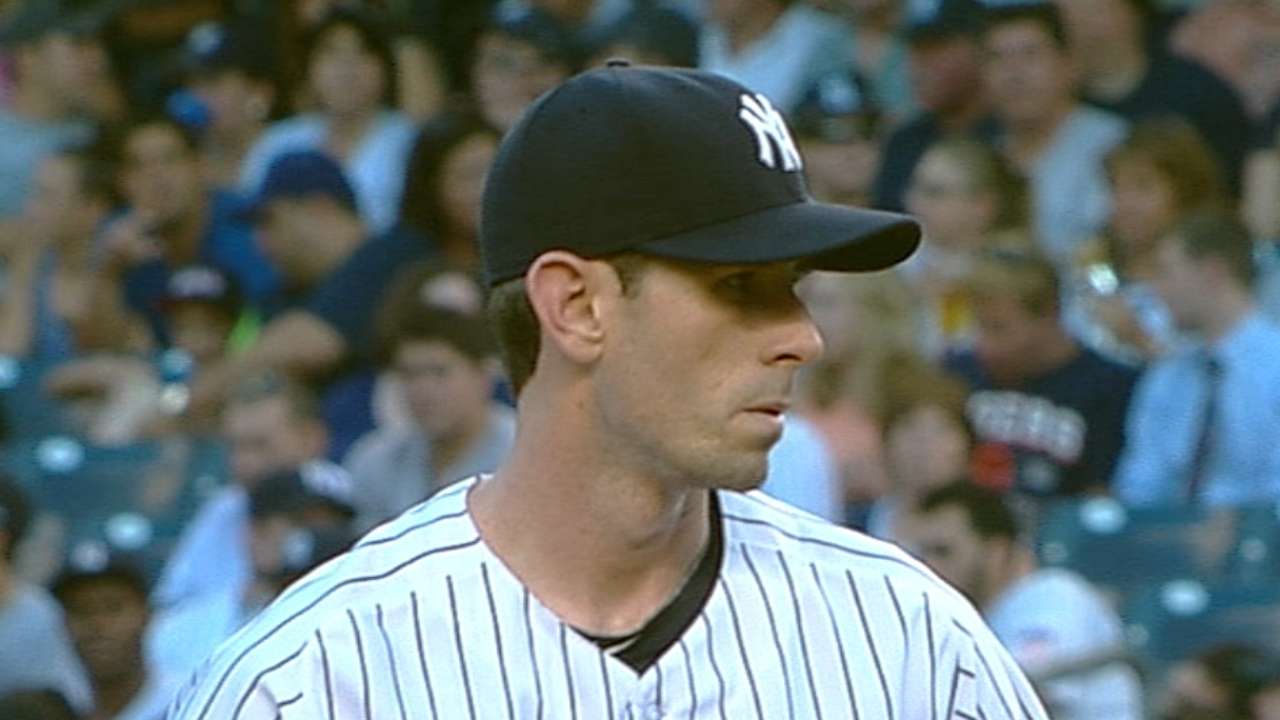 NEW YORK -- The Yankees knew that starting a homestand against the American League Central-leading Tigers was going to be challenging. They knew that facing the last three AL Cy Young Award winners in the first three games of their series was going to be even more challenging. They knew that they would need to score runs.
But what they didn't know -- and maybe what they should have known -- was that Monday night, Brandon McCarthy was going to be the Brandon McCarthy they've come to know over the last few weeks. He outpaced Tigers ace Max Scherzer for nearly six innings, allowing an unearned run, which was just good enough for a hard-fought 2-1 victory for New York.
"He's been huge for our rotation," said manager Joe Girardi. "Every start has been a good start for him. … He's meant a lot, and he's come over here and pitched about as well as you could."
The win was McCarthy's fourth in five Yankees starts in what could be called a midseason renaissance since starting the season 3-10 in Arizona. The most noticeable change he has instituted has been varying his pitch selection, which had become too sinkerball-heavy with the D-backs. His comfort with catcher Brian McCann, mixing in curveballs, continued to play a large role in the opener.
"I know this is a big series for us, and I know what they're throwing at us," said McCarthy. "I took that as kind of a challenge for me. This is a chance to step up against one of the best and to make our own mark."
On Monday, McCarthy wasn't his most-dominant self -- he had thrown 69 pitches after three innings -- but it was his ability to escape jams that impressed. In the second, he avoided bases-loaded trouble by striking out the next two batters, going on to record eight strikeouts.
Girardi jogged out with a runner on base and two outs in the sixth, but McCarthy pleaded to throw to one more batter. Don Kelly took his first pitch for a single to right field, his 116th pitch of the night, and McCarthy handed the ball back to his manager to a nice ovation. Matt Thornton relieved McCarthy and preserved the Yankees' one-run lead.
"That was the disappointing pitch of the day," said McCarthy. "It was one of those situations where I felt good and wanted to keep going, and then made a bad pitch."
As it stood, the Yankees didn't have to rely on the loud offense they thought they would need Monday, using a two-run third inning to pace their night. Hitters limited Scherzer to just four strikeouts while tallying nine hits, chasing him after seven innings.
"My stuff wasn't sharp tonight," said Scherzer. "Left a couple pitches up, and they were able to capitalize."
The game might have become one-sided in the third inning if not for some spectacular defense by Detroit. After three straight singles loaded the bases, Jacoby Ellsbury pummeled a Scherzer offering to deep center field for what looked like extra bases. But Ezequiel Carrera, making his first start in center for the Tigers, made a tremendous diving grab with his body stretched toward the wall.
"That's one you hope falls for you, because early in the game, a play like that probably breaks open the game, three runs right away," said Ellsbury. "It was a spectacular catch. I don't know if I've seen a better catch than that one."
The Yankees would settle for the loud sacrifice fly, and McCann followed two batters later with a run-scoring single to right field. Chase Headley then pulled a grounder toward right field, but Tigers second baseman Ian Kinsler made a diving stop and snap throw to prevent a third run from scoring in the inning.
Minutes before the game, Mark Teixeira was scratched from the lineup due to lightheadedness, forcing Girardi to mix and match his defense. He shifted Headley from third to first base and moved Martin Prado in from right field to the hot corner. Ichiro Suzuki was inserted into right field to complete the new alignment.
There weren't any noticeable ramifications until Detroit took advantage in the fifth, when Prado sailed a throw to first base on a Eugenio Suarez chopper, forcing Headley off the bag. Suarez would leave the game after spraining his knee on a stolen-base slide at second later in the inning, but Kinsler quickly singled home his replacement, Andrew Romine.
Relievers Adam Warren, Shawn Kelley and David Robertson worked the final three innings, sealing Girardi's 700th career managerial win and the Yankees' 58th of the season. It also marked New York's 15th straight game that had been decided by two or fewer runs.
"It's just the way it's going right now," said Robertson. "Hopefully we'll get one of those laughers. We could use a game where it's like that. [But] if we've got to win by one run every time, we'll win by one run."
Jake Kring-Schreifels is an associate reporter for MLB.com. This story was not subject to the approval of Major League Baseball or its clubs.