Dependable Mets bullpen has hiccup in finale
Familia surrenders game-tying run; Giants get to Mejia in the ninth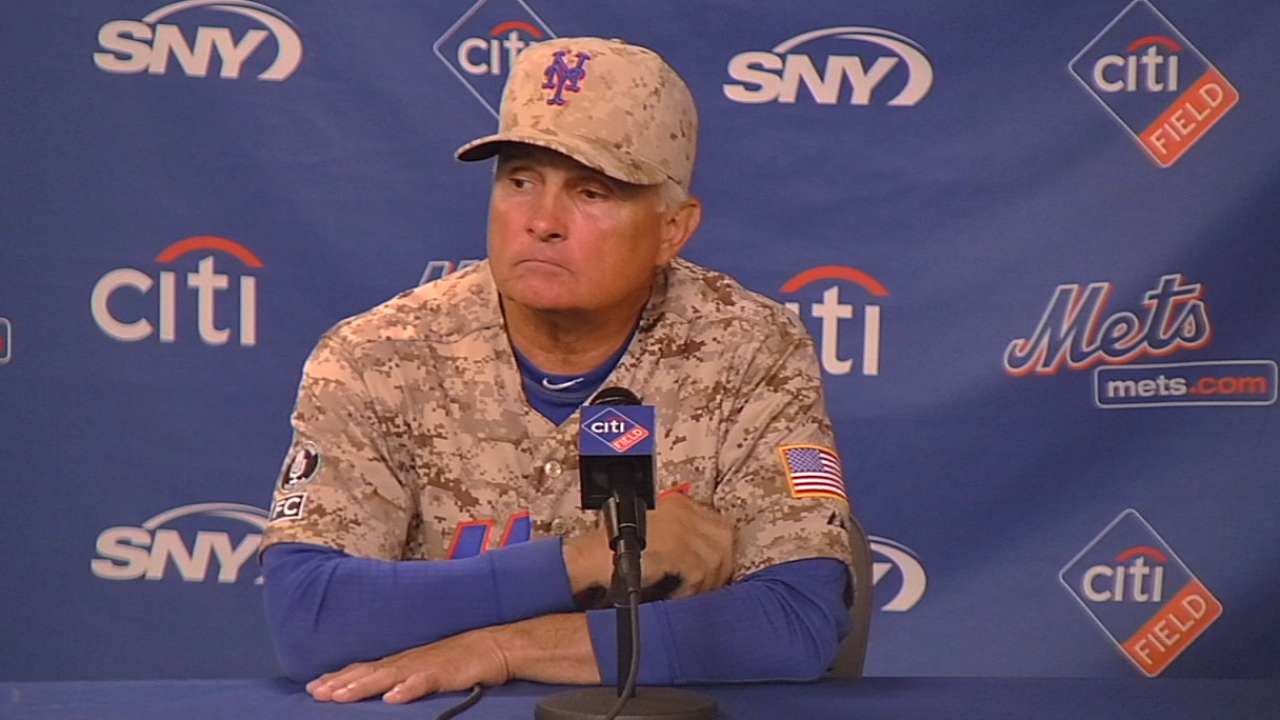 NEW YORK -- A brilliant summer day brought a lively crowd to Citi Field for Monday's matinee, from the Shake Shack hangers-on to the poster-board comedians hurling insults in Hunter Pence's direction. So it was rather noticeable when a hush descended upon Citi in the seventh inning of a 4-3 loss to the Giants, then again in the ninth.
Mets setup man Jeurys Familia had given up an earned run. Closer Jenrry Mejia had given up another. That had not happened on the same day all year. Ever. Not even once.
The Mets have grown so used to near-perfection from their two back-end relievers -- and, really, from their entire bullpen -- that it was difficult to fathom losing in this fashion.
"I was real, real surprised," manager Terry Collins said. "But when you talk about how good they were pitching, they're not perfect. There was going to be a hiccup here or there, and today was that hiccup."
"We've got to know that's going to happen," Mejia said. "We've been pitching pretty good, but some days we're going to be bad. Not every day's going to be good."
First it was Familia, who came into the game in the seventh unscored upon since June. Nursing a one-run lead, Familia served up a leadoff triple to Pence, before walking a batter and allowing the tying run to score on a wild pitch. That rally might have been much worse had Juan Lagares not come to Familia's rescue, throwing out Gregor Blanco at home on what would have been a Pablo Sandoval RBI single.
"I think I had my stuff," Familia said. "I just had one of those bad days everyone can have."
Mejia, too, had one of those days. His run of success had not been quite as spotless, given all the baserunners the closer permitted in recent outings. But until Monday, Mejia had stranded every one of them.
His eight-inning scoreless streak finally came to an end in a tie game in the ninth. The closer gave up a two-out single to Blanco and walked Buster Posey, before serving up Sandoval's ground-rule double down the left-field line. As in the seventh, it could have been worse; two runs might have scored on the play had Sandoval's ball not skipped into the stands. Mejia also appeared to tweak a midsection muscle during his outing, but remained in the game and said afterward that he felt fine.
"It was out of the zone, but [Sandoval] got it," Mejia said of his pitch to Sandoval. "I don't know how he got it, but he got it."
The Mets plated two early runs on Daniel Murphy's homer in the first, but nothing else off Giants starter Tim Hudson until the fifth. David Wright's RBI infield single gave the Mets a temporary lead, which their bullpen gave right back in the seventh.
Mets starter Dillon Gee submitted his best outing in four starts since returning from the disabled list, holding the Giants to two runs -- both on a Sandoval double -- in 5 2/3 innings. But he needed 106 pitches to record 17 outs, forcing the Mets to turn to their bullpen in the sixth.
That's usually not an issue for the Mets, but this time it left them scratching their heads. New York's bullpen entered the day with a 1.79 ERA in its last 20 games -- and it wasn't just Familia and Mejia, who were working on 10- and eight-inning scoreless streaks, respectively. Vic Black had emerged as a rally-killing threat, stranding 17 of 18 inherited runners. Josh Edgin had filled his lefty specialist role with aplomb. Even Dana Eveland and Buddy Carlyle, whom the Mets did not invite to big league camp this spring, had developed into legitimate weapons.
As a result, a bullpen that struggled mightily in April had enjoyed a complete turnaround. Around the time the Mets appointed Mejia their closer, they transformed their relief unit into one of the game's best, entering Monday's play with MLB's third-lowest bullpen ERA since May 8.
The Mets are not, in other words, used to losing games like this. Nor do they expect it to become a pattern.
"They got Familia and they got me," Mejia said. "That's today. We've got to be ready for tomorrow."
Anthony DiComo is a reporter for MLB.com. Follow him on Twitter @AnthonyDicomo. This story was not subject to the approval of Major League Baseball or its clubs.