Double clutch: Panda comes through, twice
Third baseman's second RBI two-bagger wins it for SF in the ninth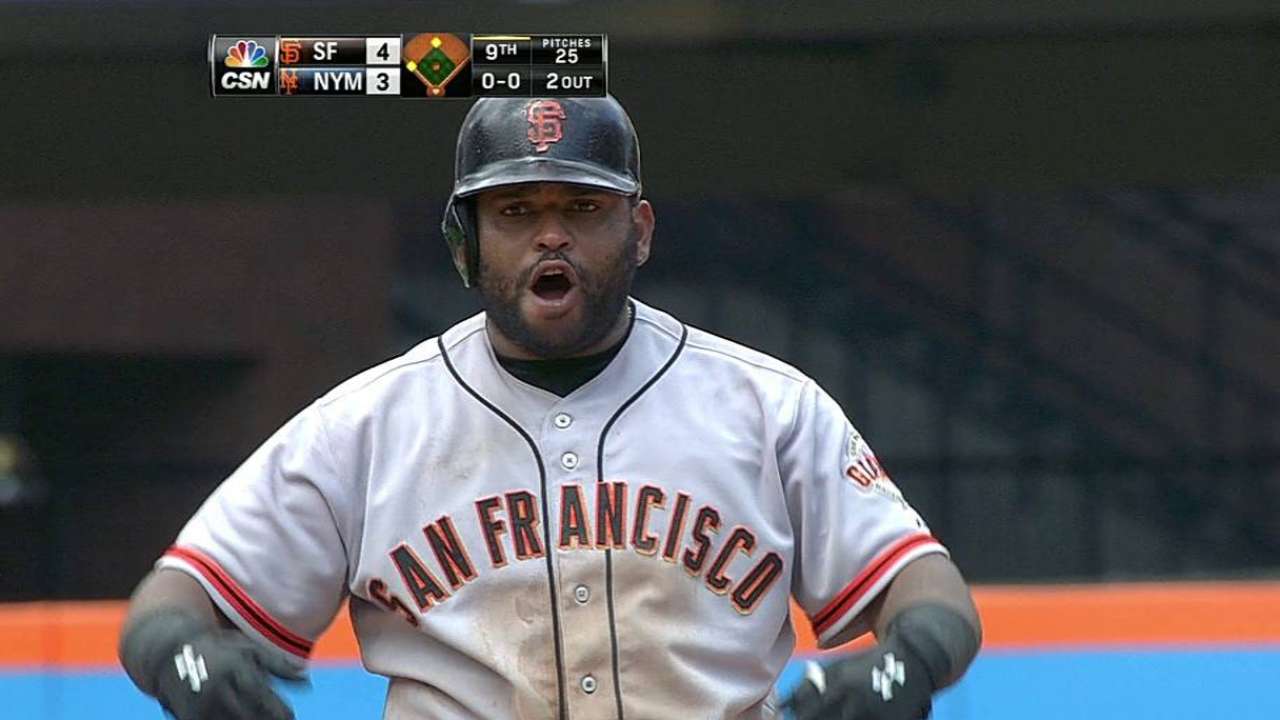 NEW YORK -- Attention must be paid to Pablo Sandoval. The Giants' 4-3 victory Monday over the New York Mets emphasized that.
By now, of course, Sandoval has established himself as difficult to ignore. He's a two-time All-Star, the 2012 World Series Most Valuable Player and, of course, the Kung Fu Panda. But on a team with graceful Buster Posey, unconventional Hunter Pence, massive Michael Morse and a pitching staff full of stalwarts, Sandoval occasionally slips into the background, especially when his offensive production remains merely adequate. But Sandoval's production in San Francisco's series finale demonstrated his ability to shape a game's outcome. Without him, the Giants wouldn't have secured their third triumph in four games against the Mets.
Batting third in San Francisco's order, immediately ahead of Sandoval, Posey matched a career high by drawing four walks. None of the walks were intentional. But the Mets made it obvious that they preferred to take their chances with the free-swinging Sandoval instead of the more disciplined Posey. For one afternoon, at least, they made the wrong choice.
Sandoval drove in three runs, including the go-ahead tally in the ninth inning. Facing Mets closer Jenrry Mejia, Sandoval sliced a ground-rule double into the seats bordering the left-field line to score Gregor Blanco and shatter a 3-3 tie.
Earlier, Sandoval erased San Francisco's 2-0 deficit with a two-run, third-inning double. He nearly drove in another run with a seventh-inning single, but he made such fierce contact that Mets center fielder Juan Lagares apprehended Blanco at home with a perfect throw.
Sandoval relied on his supply of cliches to discuss his hitting: "I try to focus and do my job. ... All year I've felt great. ... I tried to put the ball in play. ... I just try to get a good pitch to hit, focus on not trying to do too much."
It's more impressive to allow Sandoval's deeds to do the talking. He has 13 hits in his last 25 at-bats with runners in scoring position. Impervious to pressure, he delivered each of his run-scoring hits with two outs. He was behind on the count against Mejia, 0-2, before connecting.
"You know Pablo. He gets a bit anxious sometimes," Giants manager Bruce Bochy said. "But you can tell he's comfortable and seeing the ball well."
The subtext to any discussion about Sandoval is his impending free agency. Already saddled with burdensome contract obligations for 2015 and beyond, the Giants might have to rely on creativity to fashion a contract that would enable them to retain Sandoval. As for Sandoval, who possesses ordinary overall statistics (.280, 12 homers, 49 RBIs), his performance down the stretch could determine the value of the deal he'll be able to command.
Sandoval wasn't the sole source of the Giants' success. Bochy lifted starter Tim Hudson for pinch-hitter Travis Ishikawa after five innings, forcing extra duty from the bullpen that received plenty of rest while Ryan Vogelsong and Madison Bumgarner threw complete-game two-hitters earlier in the series. (Trivia question: Who was the only Giant reliever to appear in the series' first three games? Answer: Javier Lopez.) Juan Gutierrez, Lopez, Sergio Romo and Santiago Casilla combined to blank New York for four innings, yielding two hits and walking one. Romo, the deposed closer, continued to regain his previous form by making his fourth consecutive scoreless appearance. Casilla converted his ninth save opportunity in a row.
The Giants even generated some warmth and fuzziness as rookie second baseman Joe Panik, a native of Yonkers, N.Y., pleased legions of relatives and friends in the stands by collecting a career-high three hits.
"It felt really good; I'm not going to lie," Panik said. "Especially with the team winning. That kind of solidified the day and the weekend."
Chris Haft is a reporter for MLB.com. Read his blog, Haft-Baked Ideas, and follow him on Twitter at @sfgiantsbeat. This story was not subject to the approval of Major League Baseball or its clubs.