Price upset with club's 'lack of fight' in loss to Tribe
Reds miss chances to back Simon, who makes mistake on HR ball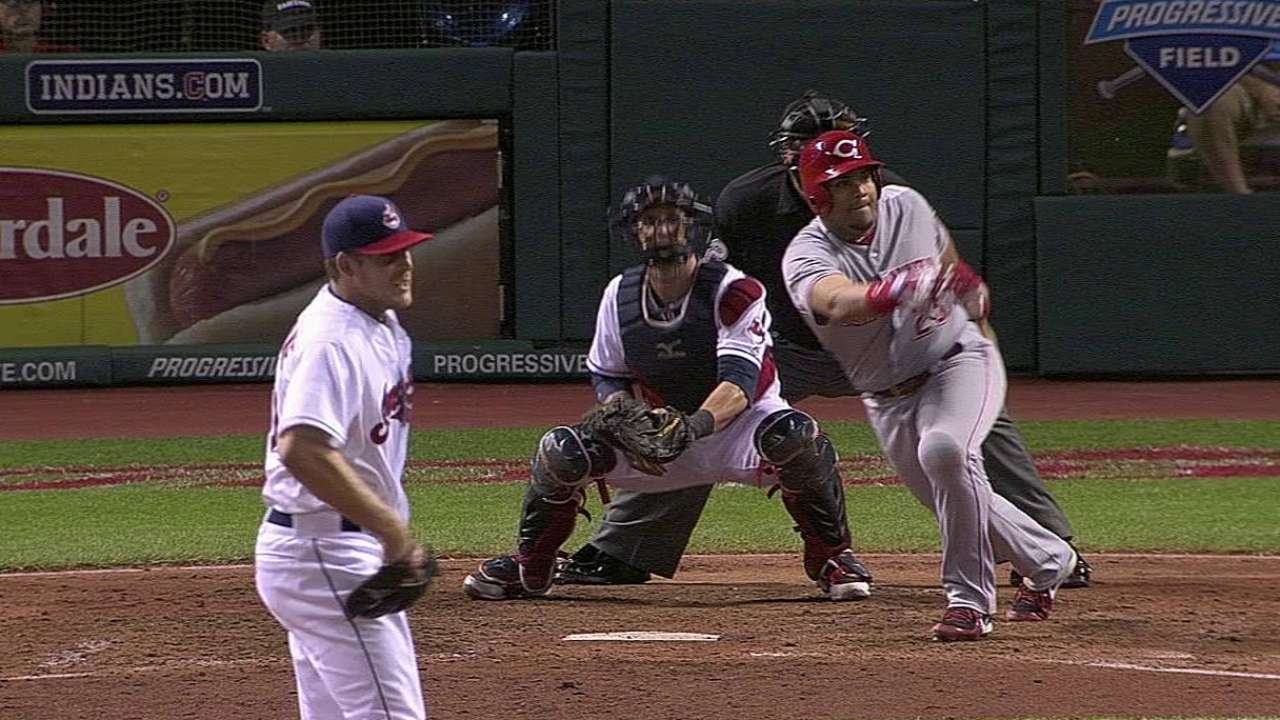 CLEVELAND -- Coming off a pivotal series win in Miami and in the thick of a tight division race, the Reds saw this year's Ohio Cup as an opportunity to leave their second-half slump in the rearview mirror.
Instead, the club's silent bats returned and starter Alfredo Simon fell victim to a three-run homer in Monday night's 7-1 loss to the Indians at Progressive Field. The series-opening defeat marked the 14th time in 17 games since the All-Star break that Cincinnati (56-56) hasn't scored more than three runs.
Reds manager Bryan Price, often tempered in his reactions, blatantly called his team's effort into question after a road performance that was lacking in both energy and urgency.
"What was disappointing and unacceptable tonight was the fact that we didn't have our head in the game at all," said Price, whose team fell to 5-12 since the All-Star break. "Especially those first five innings. We had two guys that forgot how many outs there were, we had a pitcher that didn't cover first base on a ground ball to the right side. We had five baserunners in the first three innings.
"That's just not the way we play. We haven't played that way all year. That lack of fight and lethargy, that's just unacceptable type of play right there."
Simon pitched his way around trouble early, but was ultimately undone by shaky command in his career-high 22nd start. The big right-hander surrendered five runs -- the first time he's done so since May 27 versus the Dodgers -- over five innings while issuing three walks and hitting a batter.
After giving up back-to-back singles to begin the fourth, Simon threw a mistake to Lonnie Chisenhall, who deposited it over the center-field wall for a three-run blast that left the Cincinnati dugout deflated.
"A couple of the mistakes to get the inning started in the fourth," Price said. "Fell behind on Chisenhall and had to give him something out over on the plate to hit and he didn't miss it. Unfortunately for us that was the ballgame. We didn't really put up much of a fight after that."
The Reds squandered a handful of scoring opportunities in the meantime, leaving 11 runners on base while going 1-for-10 with runners in scoring position. Their lone success against Cleveland right-hander Corey Kluber, who relinquished one run over 7 1/3 strong innings, came on an eighth-inning RBI double by Brayan Pena.
"It's one thing for us to get beat, and then you have to tip your hat to the other guy," said Pena. "Today was another thing for guys to beat themselves. I'm not taking anything away from Kluber. He did a great job for them. But it's just us as a team. For us to look outside, that's not going to help us. The thing we need to look at is inside. It's all of us together."
The Indians took an early lead in the first when Jason Kipnis smacked a leadoff double and scored from third on a Michael Brantley groundout. Simon buckled down over the next two innings with the help of his defense, which turned a timely 5-4-3 double play in the second, before Chisenhall went yard to put the Tribe ahead, 4-0.
After allowing one more run in the following frame, Simon did not return to pitch the sixth. He exited at 70 pitches, only 35 of which were thrown for strikes, and has given up six home runs in his last eight outings.
"I just got behind in the count today, wanted to come throw strikes. They took advantage of that," Simon said.
Jay Bruce and Devin Mesoraco each mustered singles in the first, but the Reds couldn't push any runs across. Kluber would go on to allow just one hit over the next five innings -- a Billy Hamilton single in the third -- and at one point had retired 11 batters in a row.
"Our pitching has been unbelievable. And our defense, too," Pena said. "Our offense is the one that wanted to pick it up and just play better."
Right-hander Carlos Contreras allowed four hits, including a two-run homer, over three innings of relief.
Price, who said he will address his issues with the team, noted that he has rarely felt compelled to chastise his players for lack of trying. But there was no hiding the manager's emotions in the immediate aftermath of another subpar second-half showing.
"We haven't done that much this year," Price said. "But what happened tonight was unacceptable from an effort and a mental perspective. That's not the way we play, that's not the way we'll play again. We need a lot better than that."
Alec Shirkey is an associate reporter for MLB.com. This story was not subject to the approval of Major League Baseball or its clubs.