In latest gem, Kluber leaves Reds feeling clueless
Righty allows one run in 7 1/3, while Chisenhall, Gomes provide pop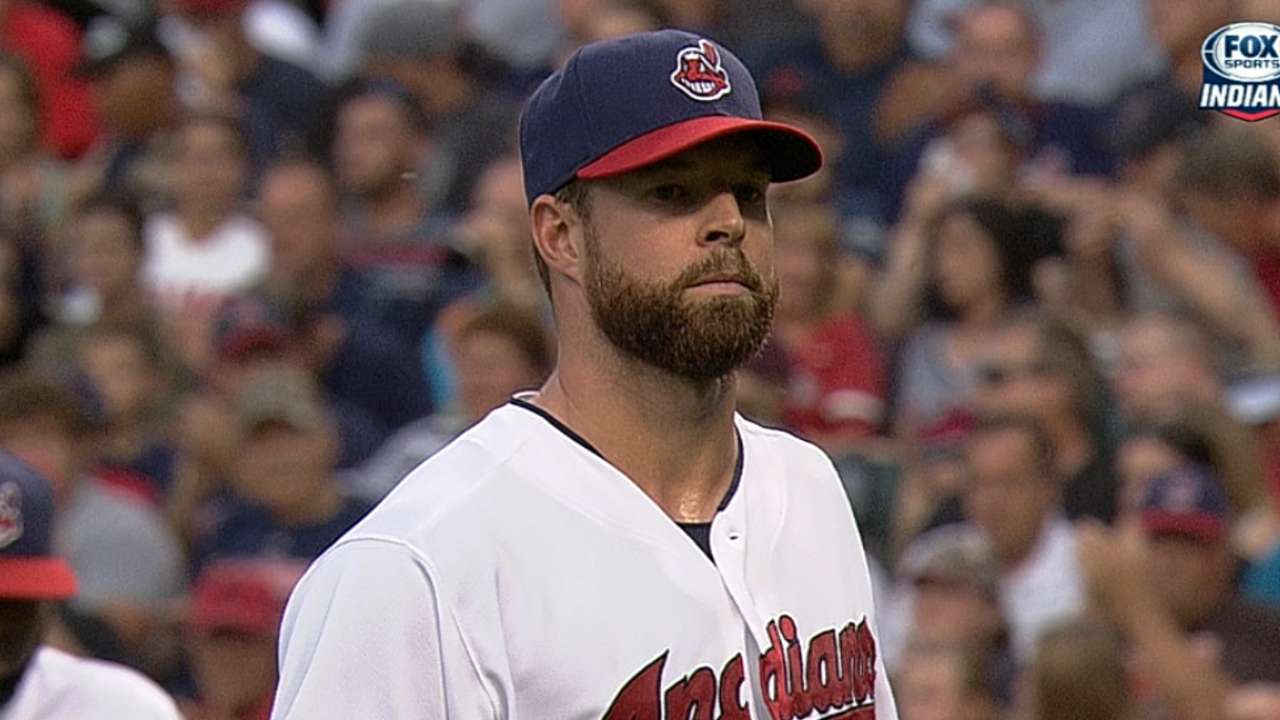 CLEVELAND -- The idea now for the Indians is to keep the foot on the gas pedal over the final two months of the season. There is no better way for Cleveland to accomplish that task these days than to send rotation leader Corey Kluber to the mound.
There Kluber was Monday night, following the Tribe's impressive sweep of Texas, toeing the rubber for the opener of Cleveland's brief two-game set against the Interleague rival Reds. Kluber pitched into the eighth inning, helping the Indians keep their latest push going in a 7-1 victory over Cincinnati at Progressive Field.
Cleveland understands it needs to put an end to the up-and-down aspect of its season to date.
"That's what we need to do now," Kluber said. "For most of the season, it's been, play good, then we'll falter a little bit, then we'll play good, then we'll falter. We can't really afford to do that anymore."
The victory over the Reds marked the fourth win in a row and fifth in the past six games for Cleveland (57-55), which is trying to make up ground in both the American League Central and Wild Card races. Opening August with a 4-0 record is certainly beneficial in that regard.
The win pulled the Indians within 5 1/2 games of the first-place Tigers in the division and within 2 1/2 games of the AL's second Wild Card spot.
Coming off back-to-back nine-inning performances -- during which Kluber became the first pitcher in Major League history to face 28 batters or fewer in consecutive nine-inning starts -- the pitcher blanked Cincinnati's bats over the first seven frames. That extended Kluber's scoreless streak to 17 innings, though he went 25 innings without relinquishing an earned run.
The only run allowed by Kluber on Monday night came after the pitcher bowed out of the ballgame.
"He's human after all," said reliever John Axford, who collected a save after working the final 1 2/3 innings. "We didn't get to quite kick back and relax [in the bullpen] the entire time today, but we'll take seven-plus every time."
In the eighth, Kluber surrendered a leadoff single to Jay Bruce and a one-out hit to Devin Mesoraco, convincing Indians manager Terry Francona to turn to his bullpen. Lefty Nick Hagadone entered in relief of Kluber and immediately gave up an RBI double to Brayan Pena, tacking a run on Kluber's otherwise strong pitching line.
Kluber has not allowed more than four runs in an outing since his season debut April 2, so the seven runs offered by Cleveland's lineup as support was more than sufficient.
Facing Reds righty Alfredo Simon, who entered the evening with a 2.44 ERA over his previous seven starts, the Indians struck for five runs in five innings. Jason Kipnis doubled and later scored in the first, Lonnie Chisenhall launched a three-run home run in the fourth and All-Star Michael Brantley slashed a pitch from Simon to left for an RBI single in the fifth.
In the eighth, Yan Gomes kept the outpouring going with a towering two-run homer to left field, giving the Cleveland catcher 15 home runs on the season.
That damage was ample for Kluber to cruise to his 12th win, lowing his season ERA to 2.55 in the process.
"We scored," Francona said, "and he started really attacking the second time through the order and really became efficient and did exactly what you're supposed to do with a lead."
Kluber needed only 85 pitches to spin a three-hit shutout against Seattle on Wednesday, but was forced to work a little more against the Reds. The right-hander issued only one walk in his past three starts combined, but chalked up a pair of free passes in the win over Cincinnati. Kluber's walk to Jack Hannahan in the second ended the pitcher's 79-batter walk-free streak.
In all, Kluber threw 110 pitches, with 77 registering for strikes in his 7 1/3 frames.
"As advertised," Reds manager Bryan Price said of Kluber. "I know he's a tremendous pitcher. I think we all knew that coming in. But, we did have five runners on in the first three innings, got his pitch count up, we did some nice things, we competed well."
The Reds had at least one baserunner in five of Kluber's innings, but the righty held them to an 0-for-4 showing with runners in scoring position. A fielding error by Tribe shortstop Jose Ramirez in the third threatened to ignite a Reds rally, but Cleveland's starter sidestepped the potential harm and breezed through the next 11 batters without allowing a hit.
"[He] just collects himself and goes on," Francona said. "You don't see the disappointment or the emotion. He just moves on."
With his effort, Kluber improved to 3-0 with a 0.79 ERA in his past four starts, in which he has piled up 35 strikeouts against three walks with a .154 opponents' batting average. The right-hander worked at least into the eighth inning in each of those outings. Across his last eight turns, Kluber has gone 6-1 with a 1.31 ERA and 63 strikeouts in 62 innings.
When Francona did finally pull the plug on Kluber's start, he was rewarded with a rousing ovation from the Cleveland faithful as he headed off the hill.
"You always want to stay in there," Kluber said. "That's what every starter tries to do. You try to go out there and pitch as long as you can. Hopefully, that's deep into the game. Some days it's not. Even those days when you don't have it, you try to go as long as you can."
Kluber has done well in that regard all season, doing his part in keeping Cleveland in the postseason discussion.
"It's really, really amazing to see how well he works and how well he works hitters," Axford said. "He's been learning along the way the entire time, and he seems to get better and stronger as the year goes on."
Jordan Bastian is a reporter for MLB.com. Read his blog, Major League Bastian, and follow him on Twitter @MLBastian. This story was not subject to the approval of Major League Baseball or its clubs.