Royals Minor League Report: Aug. 3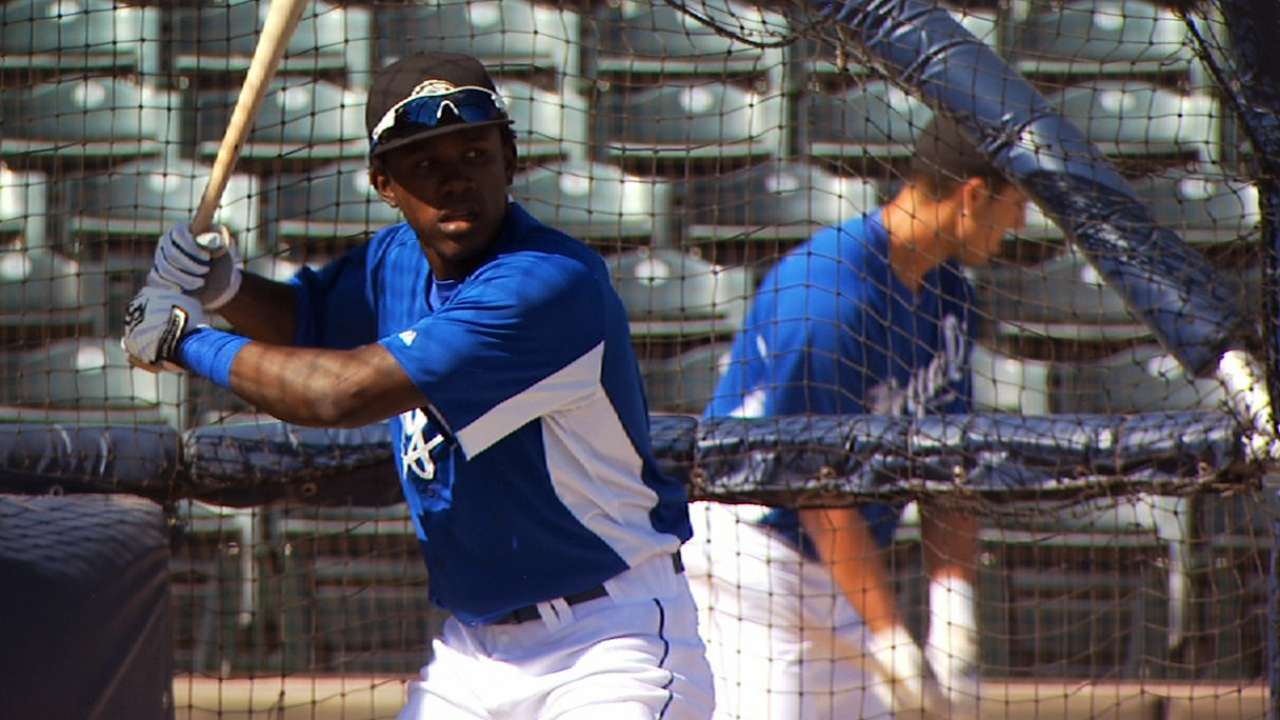 Omaha Storm Chasers (60-54)
Omaha 7, Iowa 5
WP: Aaron Brooks (8-3)
SV: Louis Coleman (5)
HR: Matt Fields (22), Carlos Peguero 2 (17, 18)
Omaha moved into first place with a second straight win over Iowa. Carlos Peguero hit a pair of solo home runs, with Matt Fields adding one. Whit Merrifield recorded two hits and two runs, lifting his Triple-A average to .361 (74-for-205). Aaron Brooks went 5 2/3 innings, allowing three runs on eight hits with five strikeouts to earn his eighth win. Louis Coleman struck out two in the ninth for the save.
NW Arkansas Naturals (21-22 second half, 46-67 overall)
NW Arkansas 3, Tulsa 0
WP: Andy Ferguson (9-9)
SV: Andrew Triggs (19)
HR: Ethan Chapman (1), Orlando Calixte (10)
Northwest Arkansas earned a 2-2 split at Tulsa. Andy Ferguson fired six shutout frames, striking out five while allowing two hits and two walks. Angel Baez, Sam Selman and Andrew Triggs completed the shutout. Ethan Chapman's solo homer put Northwest Arkansas on the board in the sixth. Orlando Calixte hit a two-run homer in the ninth. Cheslor Cuthbert was 3-for-4 with a double and a run. Calixte is ranked 12th among Royals prospects by MLB.com while Cuthbert is 15th.
Wilmington Blue Rocks (20-21 second half, 53-56 overall)
Frederick 5, Wilmington 4
LP: Andrew Edwards (0-2 with Wilmington, 3-7 overall)
HR: None
Wilmington scored four in the fifth to take a 4-2 lead, only to have Frederick score three times in the eighth. Starter Glenn Sparkman held the Keys to two runs (one earned), four hits and no walks over five innings. He struck out five and has a 1.46 ERA on the year (15 ER in 92 1/3 IP). 20th-ranked Royals prospect Ramon Torres had two hits, an RBI and a run.
Lexington Legends (17-26 second half, 46-67 overall)
Lexington 3, West Virginia 0
WP: Matt Alvarez (5-5)
SV: Luis Rico (1)
HR: Frank Schwindel (17)
Lexington finished with a 3-1 record at West Virginia. Matt Alvarez and Luis Rico combined on the shutout. Alvarez struck out eight while scattering two hits and two walks over five innings. Rico pitched the final four innings, allowing two hits and three walks with four strikeouts. Frank Schwindel hit his team-leading 17th home run, a two-run shot in the first. Kenny Diekroeger's double scored Dex Kjerstad in the fourth. Kjerstad had two hits and is batting .382 (13-for-34) over his last 10 games.
Idaho Falls Chukars (2-5 second half, 22-23 overall)
The Chukars were off on Sunday after traveling back from Grand Junction. They open a four-game series on Monday vs. Helena (Brewers).
Burlington Royals (20-22)
Burlington 9, Bluefield 6
WP: Todd Eaton (1-0)
SV: Antonio Cruz (1)
HR: Chase Vallot (6)
Burlington scored the final five runs to win game one vs. Bluefield. Lane Adams began a rehab stint by going 2-for-3 with a walk, a triple, two RBIs and a run. Manny Olloque recorded three hits and three runs. Tenth-ranked Royals prospect Chase Vallot had three RBIs, including a solo homer.