Trading places: Drew ignites comeback vs. Sox
Veteran notches four RBIs; Gardner hits go-ahead homer in sixth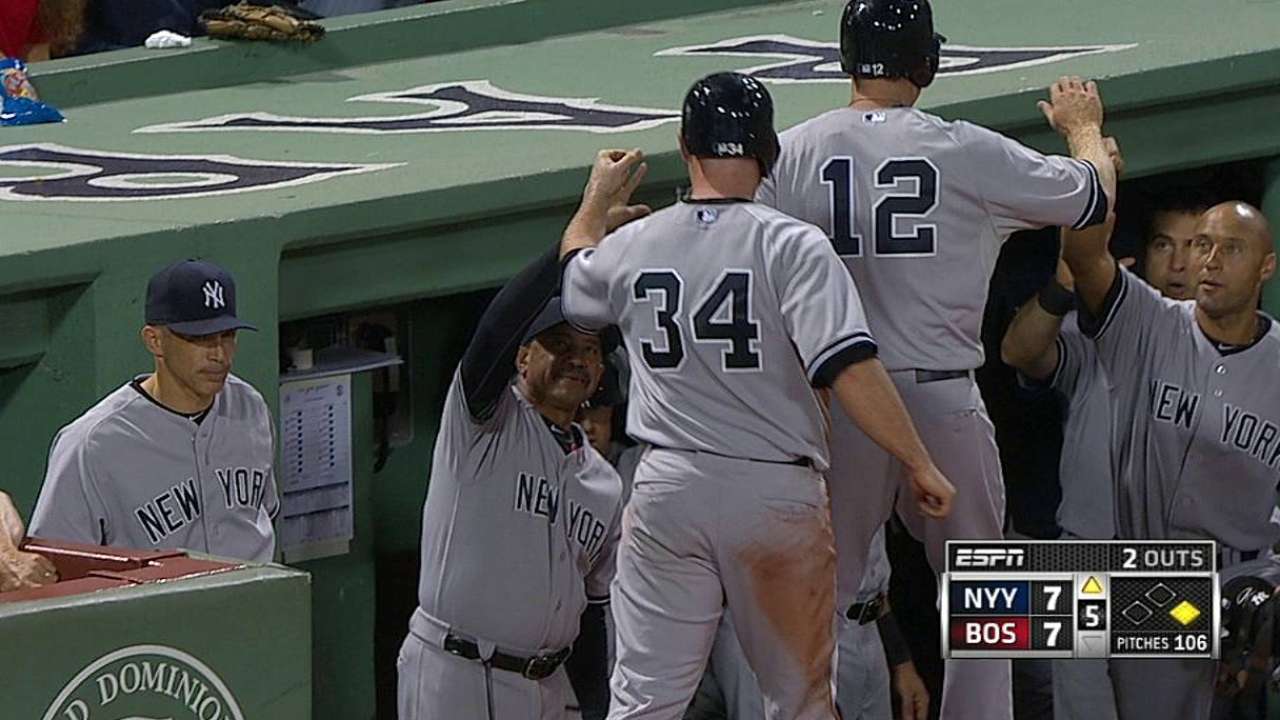 BOSTON -- The Red Sox wished Stephen Drew well when they dealt him to the Yankees last week, offering a fresh start to his season as he relocated from the home clubhouse to join the visitors' dugout, but they didn't expect that he would come back to hurt them so quickly.
Drew had a pair of hits and drove in four runs in his third game against his former club before Brett Gardner gave the Yankees the lead with his career-high 15th home run, powering a wild 8-7 slugfest victory over the Red Sox on Sunday at Fenway Park.
"It was a good game for all of us, getting a win," Drew said. "It's been a whirlwind for three days, but it's still baseball, so you go out there and do your job. That's the way I look at it."
Gardner's solo shot came off Craig Breslow, putting Esmil Rogers in position to pick up the victory in his Yankees debut. New York took two of the three games in Boston, and Gardner said that he sees signs that the offense is finally getting on track.
"I feel like it," Gardner said. "I've been saying that all year and we're [110] games in. It's about time. Hopefully we can take this momentum home with us this week against the Tigers, get on a little roll and get a winning streak going."
Claimed off waivers from the Blue Jays last week, Rogers fired three innings of scoreless, hitless relief, striking out three. It may have served as an audition for a start, as David Phelps exited after two innings with right elbow inflammation.
"I'm here for whatever," Rogers said. "I'm here to help the team; it doesn't matter what I'm going to be. So that's baseball and I'm just here for the opportunity. They give me the opportunity, so I'm going to try to work hard for them."
Stepping in as the Yanks' starting second baseman, a position he only played for two months in high school, Drew may finally be shaking the rust off after missing Spring Training and the first two months of the season.
Drew collected five RBIs in the Yanks' last two games of the weekend; he'd only recorded three RBIs in 18 home games at Fenway with the Red Sox this year.
"Our reports on Stephen Drew were that he was swinging the bat a lot better," manager Joe Girardi said. "This is a good player. He didn't have a lot of at-bats to get ready for the season; he was rushed and I think it probably took him some time to get going."
Dellin Betances blanked the Sox with two strikeouts in the eighth. David Robertson got Brock Holt to line into a double play and survived a deep, but foul, drive by Dustin Pedroia to record his 29th save in 31 opportunities.
"We had a couple of balls hit right at guys," Pedroia said. "The double play in the ninth, that's obviously tough. You've got to continue to battle and try to find ways to overcome that and get the breaks."
Both teams had seven runs and eight hits on the board after 4 1/2 innings. The Sox pounded Phelps for five runs and six hits in two innings, and the Yankees later revealed that Phelps had been dealing with some elbow soreness since a July 18 start against the Reds.
"The last couple of starts, it would loosen up and I'd be good to go," said Phelps, who could be placed on the 15-day disabled list. "Today it just didn't loosen up."
David Ortiz lifted a sac fly, Daniel Nava stroked a two-run double and Pedroia cleared the Green Monster with a two-run shot off Phelps, Pedroia's fifth. It was the second-shortest start of Phelps' career; he recorded just one out on May 29, 2013, against the Mets.
"Anytime we're talking about a DL stint, it's frustrating," Phelps said. "I was really enjoying helping the team win ballgames. It's frustrating. We're playing better baseball and I feel like we're about to go on a run."
Ortiz slammed a two-run homer off Chase Whitley in the fourth to the deepest part of Fenway, the center-field triangle, Ortiz's 26th of the season.
The Yankees produced seven runs and eight hits against Clay Buchholz, who lasted five innings. Drew had a run-scoring fielder's choice and Gardner ripped a two-run double in the third inning, and Drew added a run-scoring double to deep right in the fourth.
New York erased a three-run deficit against Buchholz in the fifth, as Chase Headley stroked an RBI double and Drew -- who hit .176 in 39 games with Boston this year -- picked up his third and fourth RBIs of the night, popping a two-run single to right.
"It's still baseball," Drew said. "Coming over here, these guys are great. It's very easy to fit in and that's the good part. I'm just coming in here and doing my part and doing the best I can. With the experience I have, hopefully it will pay off."
Bryan Hoch is a reporter for MLB.com. Follow him on Twitter @bryanhoch and read his MLBlog, Bombers Beat. This story was not subject to the approval of Major League Baseball or its clubs.