Buchholz unable to protect pair of leads in loss
Pedroia, Ortiz go deep; Breslow gives up go-ahead homer in sixth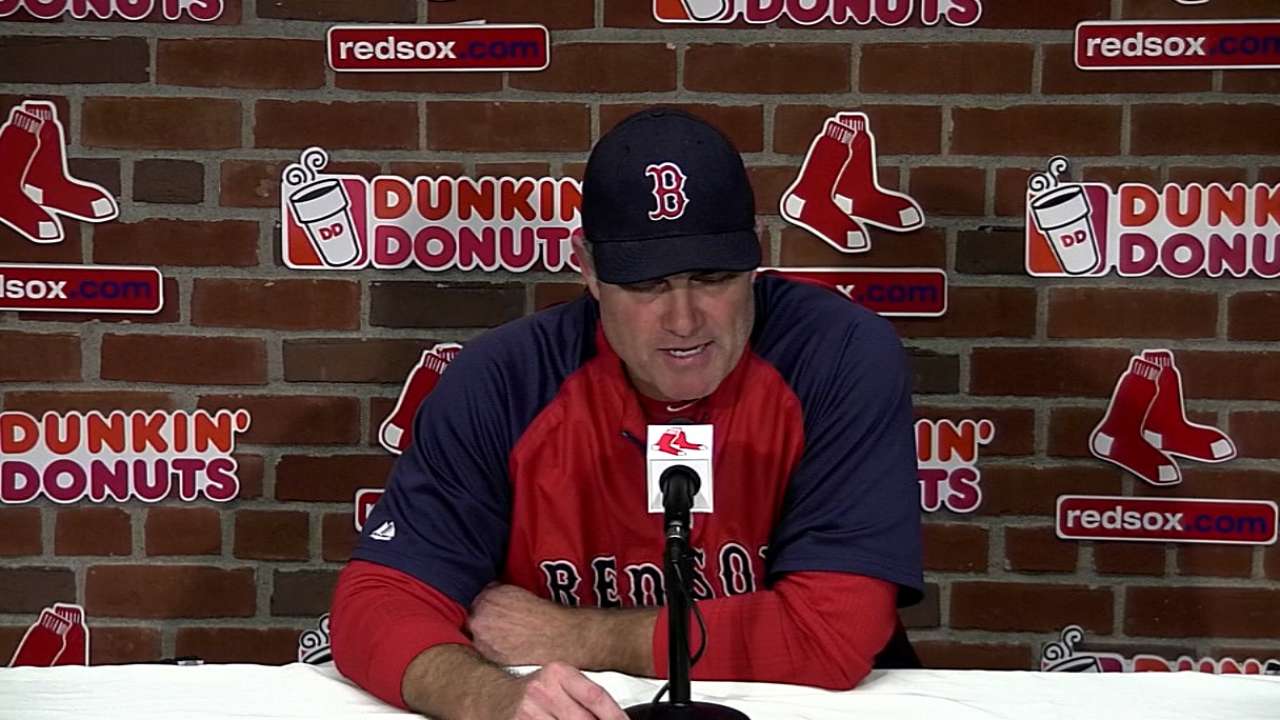 BOSTON -- When Jon Lester and John Lackey were traded in a matter of hours on Thursday, Clay Buchholz suddenly became the Red Sox's most established starting pitcher. On Sunday night against the Yankees, the ascension on the depth chart didn't help Buchholz emerge from his most recent funk.
Instead, the right-hander's mysteriously inconsistent season took another downturn. While throwing a whopping 114 pitches over just five innings, Buchholz allowed eight hits, seven runs and five walks.
Twice, Buchholz had three-run leads. And both times, he gave them back in a game the Red Sox ultimately lost, 8-7, in the rubber match of a three-game series.
Following the game, Buchholz didn't have much in the way of answers.
"Pretty frustrating," Buchholz said. "I don't know. I don't know how to explain it. Definitely frustrating."
Command, or lack thereof, was the obvious issue.
"Everything. Command. I didn't have feel for much of anything," said Buchholz. "Second start in a row where walks killed me."
Craig Breslow came on in a 7-7 game in the sixth and served up a solo homer to Brett Gardner that proved to be the winning run.
It was the second day in a row Breslow was taken deep by the first batter he faced.
"He's made some pitches on the middle of the plate, yesterday to [Mark] Teixeira, today to Gardner," said manager John Farrell. "He's looking to get ahead, and yesterday, where he fell behind in the count, it was a fastball over the plate. Today, just feeling like there was a lefty-righty-lefty matchup for him. Felt like there was an inning in which he matches up well. Pitch stays over the plate to Gardner."
The Red Sox threatened to make a comeback in the bottom of the ninth against Yankees closer David Robertson.
Christian Vazquez led off with a walk, and off the bench came speedster Mookie Betts to pinch-run. Farrell called for a hit-and-run and Brock Holt scorched a line drive, but right at third baseman Chase Headley, the only infielder on that side of the diamond. It was an easy double play, as Betts couldn't get back in time.
Still, Dustin Pedroia threatened to bring the Red Sox back with one swing. As part of a nine-pitch at-bat, he hammered one down the line in left that seemed to have a chance to be his second homer of the day.
"It started out fair and then it kind of hooked foul," said Pedroia. "Just one of those things. It was kind of up and in. I hooked it a little bit."
The game ended when Pedroia hit one hard toward the middle, but shortstop Derek Jeter made a nice play and threw him out to end the game.
"Yeah, we had a couple of balls hit right at guys," said Pedroia. "The double play in the ninth, that's obviously tough. But you've got to continue to battle and try to find ways to overcome that and get the breaks."
For the second day in a row, the Red Sox took an early 3-0 lead and it didn't last.
Holt and Pedroia led off the bottom of the first with singles against David Phelps, who would leave after two innings with right elbow inflammation. David Ortiz lofted a sacrifice fly to center for the first run of the game. After Yoenis Cespedes walked, Mike Napoli lined a single to right to load the bases. Daniel Nava came through with a two-run single to right to make it 3-0.
Buchholz walked three batters in the second. Stephen Drew got a run home on a fielder's-choice grounder. Brett Gardner's two-out, two-run double to right tied it at 3.
"My mindset is always to go out and compete and try to keep the team in the game. I didn't do any of those tonight," said Buchholz.
Pedroia got the lead right back for the Sox, hammering a two-run homer over the Monster with two outs in the second. It ended a 146 at-bat homerless drought for Pedroia, and it was his fifth of the season.
"I think over the last seven, eight days, you're seeing much better bat speed," said Farrell. "He misses another one there in the ninth inning, foul. Just better bat speed and more freedom in the swing."
Drew sliced New York's deficit to a run with an RBI double to right in the fourth.
Ortiz answered by unloading for a 420-foot, two-run shot over the wall beyond the triangle in right-center.
Staked to a 7-4 lead, Buchholz again gave it back with a laborious top of the fifth. After retiring the first two batters of the inning, Buchholz gave up a double to Carlos Beltran that started a three-run rally for New York. Headley came through with an RBI double and Drew drilled a two-run single to tie it.
Going right from the Red Sox to the Yankees in a trade, Drew warmed up for his new team, driving in five runs over the last two games. In 18 games at Fenway this season for the Red Sox, Drew had three RBIs.
"I's been a whirlwind for three days, but it's still baseball so you go out there and do your job. That's the way I look at it," said Drew.
As for Buchholz, he will try to find a way to regain his form, all the while replacing two veteran teammates.
"It's been a frustrating year for me individually and, obviously, the organization," Buchholz said. "It's definitely not the way that we want to go out there and wear the Red Sox uniform, to not perform on any given night. A lot of that is on my shoulders, not picking up the weight I need to pick up during the season."
Ian Browne is a reporter for MLB.com. Read his blog, Brownie Points, and follow him on Twitter @IanMBrowne. This story was not subject to the approval of Major League Baseball or its clubs.