Padres take sweep on second straight walk-off win
Cabrera's single in the 10th boosts San Diego in series finale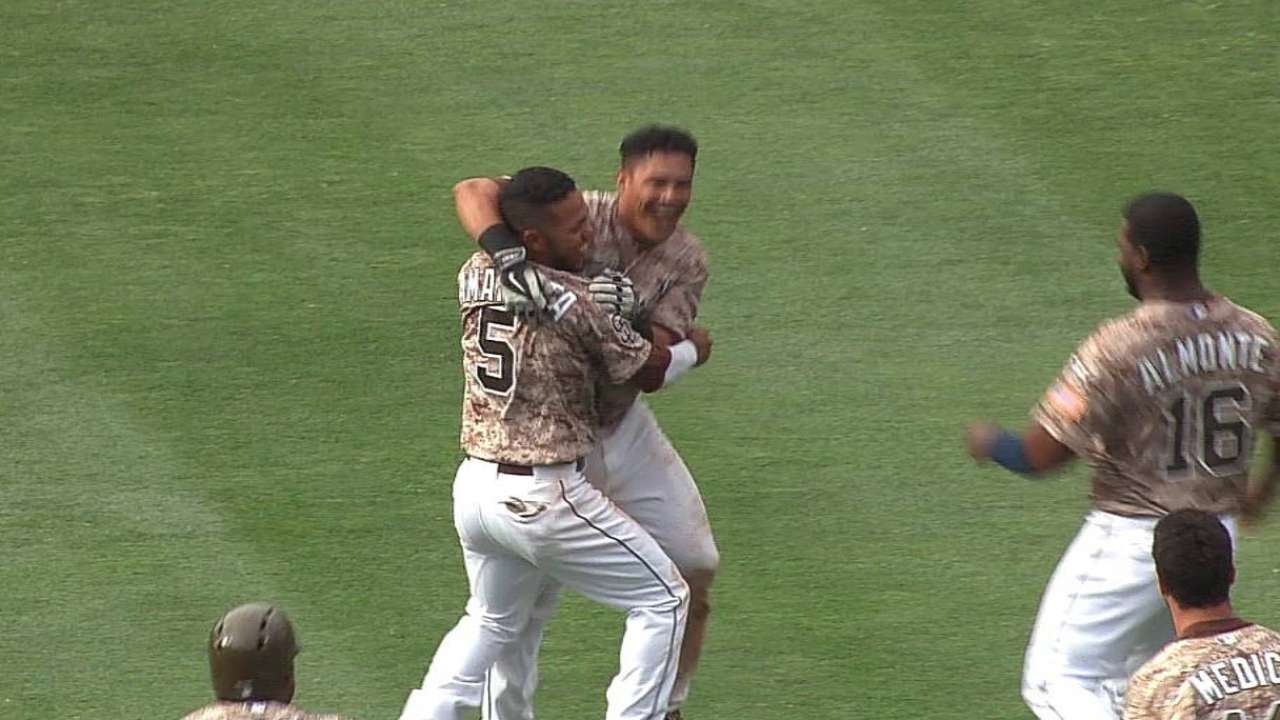 SAN DIEGO -- It's not often that walk-off wins are preceded by an attempted sacrifice bunt that turns into a double play. But on Sunday, that's exactly what happened, and it was a fitting finale of the Padres' unpredictable series sweep against the Braves.
Everth Cabrera delivered a walk-off single in the 10th inning to put an exclamation mark on a wild weekend as the Padres completed a three-game sweep against Atlanta with a 4-3 victory.
After opening the series with a 10-1 rout, the Padres finished off the Braves with two extra-inning walk-offs while narrowly fending off multiple scoring chances for Atlanta throughout both contests.
"Everything that was involved in yesterday's game, it was more of the same today," said Padres manager Bud Black. "We had some big hits, some funky plays. But two great games, and in the end we got the big hit a couple different times."
San Diego initially seemed as though they'd squander the game-winning chance after Rene Rivera bunted into a 1-5-3 double play earlier in the inning, but Cabrera rescued San Diego with a sharp single to center off of David Hale (3-4) that scored Alexi Amarista.
Tim Stauffer (4-2) pitched a perfect top of the 10th to notch the win, as the Padres finished their homestand against the Cardinals and Braves with a 5-1 record. They are 10-6 since the All-Star break despite trading Chase Headley, Huston Street and Chris Denorfia in recent weeks.
"It's good to see these guys gain confidence, especially the newer group that's here," Black said. "What you're seeing is a lot of guys getting an opportunity and trying to make the most of it."
The sweep continued the Braves' tailspin, as Atlanta came into San Diego having been swept by the Dodgers, and has now lost six in a row.
The Padres had wasted a golden chance to end it in the ninth against Braves reliever Juan Jaime, who gave up a leadoff single to Yonder Alonso before walking the bases loaded and going to a 3-0 count against Jedd Gyorko with two outs. But Jaime recovered to get to a full count before retiring Gyorko on a grounder to third.
The Friars got an early lead off Braves starter and San Diego native Aaron Harang when Tyson Ross notched an RBI single off his counterpart in the second inning. Harang gave up two runs off five hits with four walks and three strikeouts, and threw 118 pitches in six innings.
"They're a pesky team over there," Harang said. "They have a lot of guys who make the starter throw a lot of pitches and raise the pitch count real quick. They never let you get in a groove."
Ross mostly cruised through his first six frames, and extended his streak of games with six or more innings pitched with two or fewer earned runs to nine starts, the longest in the National League.
But things unraveled in his third trip through the middle of the Braves' order in the seventh.
Justin Upton walked on four pitches, Jason Heyward ripped an RBI triple and Evan Gattis plated Heyward with a double to tie the game at two and suddenly end Ross' previously promising outing. Nick Vincent then came on and loaded the bases with no outs, and Atlanta looked poised to jump ahead.
"I think the big difference was the leadoff walk, that always comes back to bite you in the butt," Ross said. "They jumped on me after that point."
But Vincent recovered to strike out Emilio Bonifacio on three pitches, and for the second straight day, a 5-2-3 double play halted the Braves' rally attempt.
B.J. Upton, who went 0-for-13 with four strikeouts in the series, hit a sharp grounder to Yangervis Solarte, who threw home to Rivera to start the double play.
"That worked out again today in dire straits," Black said. "That was obviously a critical juncture in the game."
It looked as though Tommy Medica would be the Padres' hero after belting a go-ahead solo home run off Anthony Varvaro in the bottom of the eighth, his third homer of the weekend, but Padres closer Joaquin Benoit committed a massive mental blunder to help the Braves tie it up in the ninth.
With no outs and Heyward on second base after a leadoff double, Gattis hit a chopper back to Benoit. Benoit turned and threw to third to try and erase Heyward, but his attempt was low and scooted past Solarte, and Heyward galloped home to provide yet another twist in a series filled with them.
Medica went 8-for-12 (.667) against the Braves this weekend with five RBIs and five runs scored. His 18 total bases tied the most ever recorded by a Padres player in a three-game series at Petco Park.
"I've just been playing a little more, getting some more at-bats and getting comfortable and the balls have been finding some holes," Medica said. "Any time you can walk off two times in a row, it doesn't get much more exciting than that."
Will Laws is an associate reporter for MLB.com. This story was not subject to the approval of Major League Baseball or its clubs.