De La Rosa gets no support in loss to Tigers
Lefty allows four runs in third, and offense is held to just four hits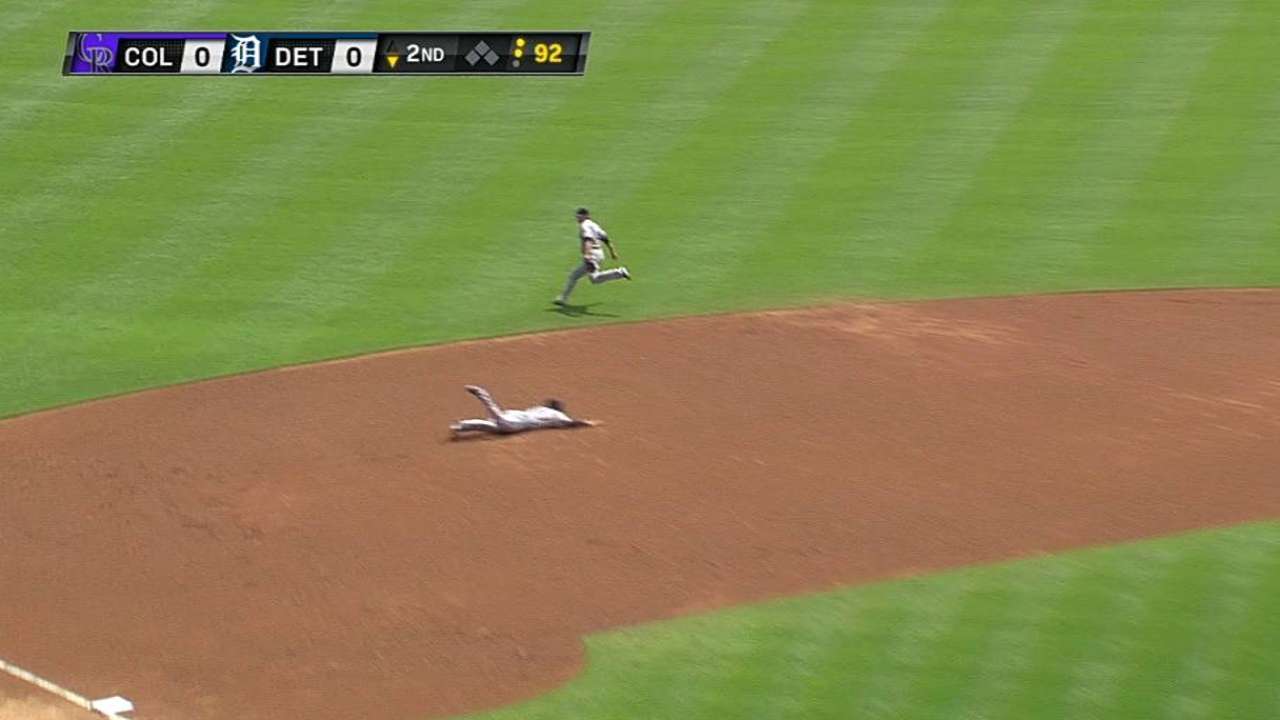 DETROIT -- The Rockies' latest disappointing road trip came to an end Sunday, but not before one more lethargic offensive performance.
The Tigers used a four-run third inning to win, 4-0, at Comerica Park and complete a sweep of Colorado, which lost six of seven games on the road swing and has dropped 18 of its last 20 away from Coors Field.
"The only thing I can tell you is we need to keep grinding it out," said Brandon Barnes, who had one of the Rockies' four hits Sunday. "Good things are bound to happen. We've had some setbacks, some injuries, but at the same time, we need to go out there and battle every single day.
"The season's not over yet."
Detroit starter Anibal Sanchez made quick work of the first seven batters he faced before allowing a single to Barnes. He responded by retiring the next 10 Rockies to come to the plate.
As Colorado manager Walt Weiss put it, Sanchez was "in complete control."
"He commanded all his pitches," Weiss said. "Probably half the balls he threw were by design."
Sanchez struck out 12 over seven scoreless innings as Colorado was shut out for the seventh time this season.
The Rockies finished the seven-game road trip without a home run and with 82 strikeouts and a .205 batting average. It was the first time since 2010 that Colorado went without a homer on a road trip of at least two series.
As for the flood of strikeouts, Weiss had no explanation, saying only that his team struggled when behind in counts, as it constantly was Sunday.
"[Sanchez] got ahead of everybody really quick," Barnes said. "Strike one, right away. He's definitely one of the better pitchers in the league."
For the second straight game, Victor Martinez knocked a three-run homer for Detroit. Rockies starter Jorge De La Rosa got groundouts of the first two batters in the third but ran into trouble after that. He allowed an RBI single to Miguel Cabrera and the homer to Martinez on a cutter low in the zone.
De La Rosa was satisfied with the pitch he threw to Martinez, but obviously not the result.
"It was a really good pitch," he said, "but I think he was looking for it."
De La Rosa pointed to Martinez's ability to anticipate the pitch as evidence of why Detroit has "the best lineup in the league."
"That's when you know what kind of hitters they are," said De La Rosa, who fell to 11-7. "They react really good."
Due to the Rockies' struggles on offense, the four-run lead felt insurmountable. It was.
Prior to the two-out rally, Colorado had relied on the defensive abilities of third baseman Nolan Arenado to keep the game scoreless.
"He's an excellent third baseman," Tigers manager Brad Ausmus said. "He moves well. He's got great body control. The coaching staff was talking about him in the dugout, that his guy is a premier defensive third baseman.
"When I was a special assistant in San Diego, I saw him play a little bit and I knew he was good. But watching him in this series like this every single pitch, and he had quite a few opportunities, he's a legitimate Gold Glove third baseman."
De La Rosa did a nice job of keeping his composure following Martinez's home run. He struck out Torii Hunter to end the inning and didn't allow another hit until there were two outs in the fifth, when a ball bounced off the glove of a diving Arenado.
De La Rosa, the club's 19th straight left-handed starter, ended up allowing four runs on six hits. He lasted 6 2/3 innings, recovering nicely from the blast to Martinez, but the offense continued its feeble run.
Colorado will play host to the Cubs, who took three of four from the Rockies last week at Wrigley Field, for three games beginning on Tuesday.
"There's no magic words," Weiss said of what he can tell his club, which holds the National League's worst record at 44-67. "Get a day off, regroup and try to win the series starting on Tuesday. There's no magic words."
Matt Slovin is an associate reporter for MLB.com. This story was not subject to the approval of Major League Baseball or its clubs.