Anibal dominates Rockies with 12 strikeouts
Tigers provide righty with all the offense he needs during third inning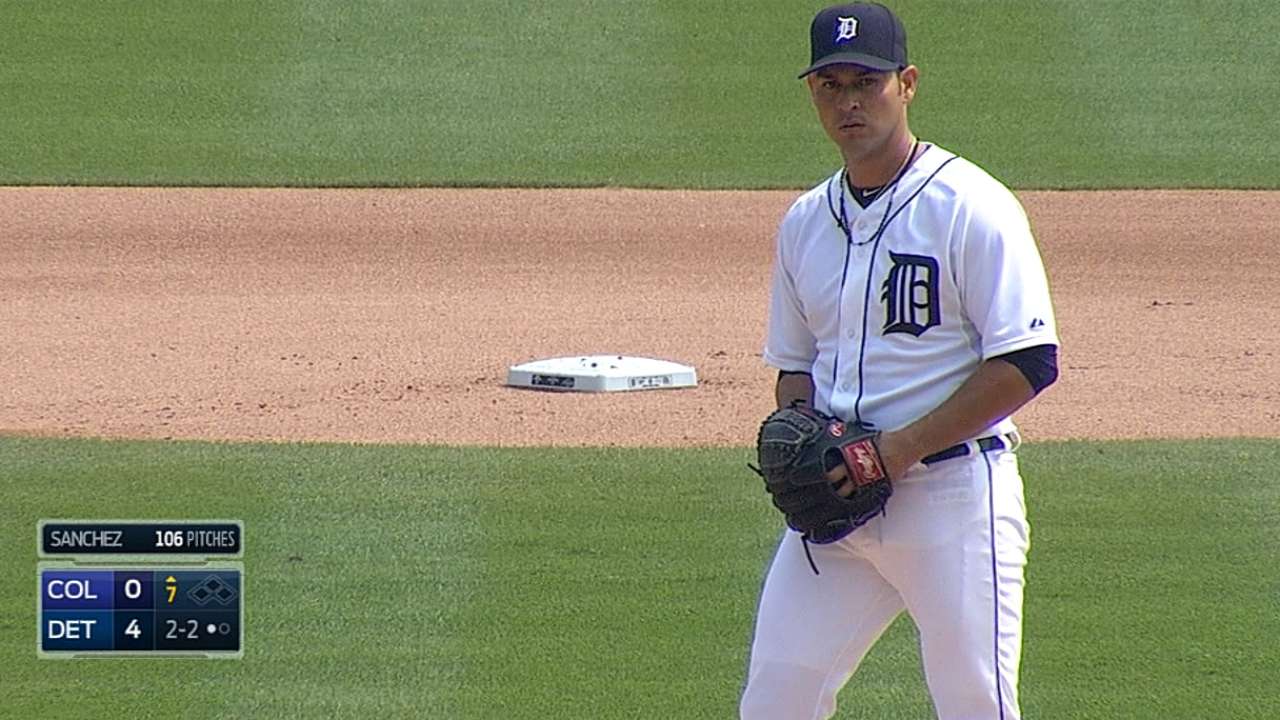 DETROIT -- The Tigers' rotation with David Price now features the last three American League Cy Young Award winners, the AL co-leaders in wins, and last year's AL ERA champion. The nastiest pitcher in the bunch, when he's on, might be one who doesn't have a Cy Young Award yet.
Anibal Sanchez's teammates know how good he can be.
"I've said it before: Sanchez, just pure stuff, might have the best stuff on our team," manager Brad Ausmus said after Sanchez's seven shutout innings in Sunday's 4-0 win over the Rockies at Comerica Park to complete a three-game sweep.
Even after Price's arrival, that still holds. Sanchez's ability to throw so many different pitches that look the same out of his hand makes him nasty.
"He can throw any pitch whenever he wants," Rockies outfielder Brandon Barnes said. "He locates really well. He's got plus secondary pitches. It's tough to just sit on one pitch."
If baseball games lasted six innings, Sanchez might be in line for an award. It's the seventh inning, the third time through a batting order, that has held Sanchez back.
He entered Sunday allowing a .175 average his first time through a batting order, .225 the second, then .288 in the third. He had gone three consecutive turns through the rotation without a quality start for the first time since joining the Tigers in 2012 because of the mid-to-late innings. It's not a fitness issue; Sanchez spent his Spring Trainings running stadium steps in Lakeland, Fla., and he can outrun most of the team.
While Ausmus downplayed it, Sanchez did not. It was on his mind as he cruised for six innings, facing just two batters over the minimum while striking out half of them, including five out of the last seven batters entering the seventh.
"That's the key today," he said. "When I came to the seventh inning, I said I need to keep the ball down, I need to keep strong like I used to do and I need to show that I can stay longer in the game. So today was a big game for me."
The way he carved up a Colorado lineup without injured Troy Tulowitzki, Carlos Gonzalez and Michael Cuddyer, the Rockies seemingly realized their best chance was to lengthen at-bats and drive up his pitch count. Sanchez never gave them much of a chance.
Instead of trying to keep hitters off-balance, Sanchez saw his advantage and dared Rockies hitters to break it up, pounding the strike zone with fastballs.
As impressive as the pitching line was -- seven innings of two-hit ball, no walks and 12 strikeouts -- the way Sanchez got there was staggering. He threw 61 fastballs out of 117 pitches, according to MLB.com's Gameday app and brooksbaseball.net. Rockies hitters swung at 32 of them and missed 16 times, including Nolan Arenado for Sanchez's 11th strikeout leading off the seventh.
"I didn't try to throw a couple fastballs and go to another pitch," Sanchez said. "I just keep my fastball, keep it on the corners, and I used it all the time."
The Rockies did not put a fastball in play through six innings. The lone hit in that span, Barnes' third-inning single, came on a slider.
Sanchez's 100th pitch of the game was his 73rd strike, a called first strike to Justin Morneau. He worked Sanchez for eight pitches before whiffing on a 70 mph breaking ball -- 26 mph slower than his top fastball.
"He commanded all his pitches," Rockies manager Walt Weiss said. "Probably half the balls he threw were by design."
The first Rockies player to connect on the fastball was their 23rd batter of the game. Drew Stubbs' liner to right not only extended the seventh, but nearly ended Sanchez's day. As Jason Pridie stepped to the plate, Sanchez looked to the scoreboard and realized the urgency.
"When I saw the pitch count, I knew that was the last at-bat," Sanchez said. "That's the last hitter I'm going to face."
Stubbs stole second base, but he didn't score. Sanchez got a first-pitch strike on a fastball, then threw everything at Pridie -- sinker, slider, splitter, back to the sinker, curveball and changeup. Pridie fouled off four -- all in the strike zone -- and took three, all inside.
With his 117th pitch, Sanchez threw a splitter over the plate that Pridie hit into the ground. Catcher Alex Avila pounced on it and threw to first for the out. The normally placid Sanchez pumped his fist.
It wasn't a big deal to Ausmus. It was a big deal to Sanchez.
"It was exciting for me," he admitted.
Jason Beck is a reporter for MLB.com. Read Beck's Blog and follow him on Twitter @beckjason. This story was not subject to the approval of Major League Baseball or its clubs.