Stuck in early hole, Marlins' bats mostly quiet
Turner gives up fives runs on nine hits in four innings; Jones homers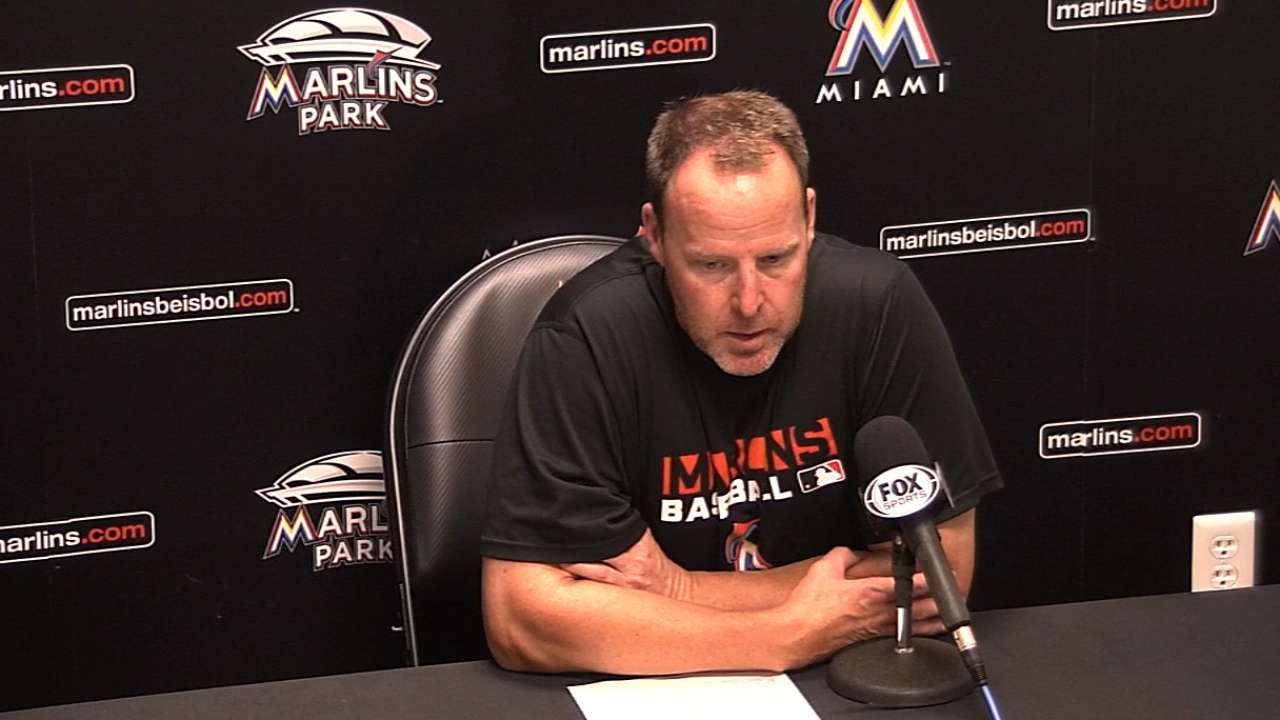 MIAMI -- The Marlins won eight of 10 games before the Reds came to town, and they had outscored their opponents, 40-28, in that span. But the bats went cold in the four-game set against Cincinnati, in which they dropped three games, including Sunday's 7-3 loss at Marlins Park.
The Fish, who were outscored 16-8 in the series, barely got to the Reds' starters all weekend; they only logged one run against each of them. And they also had just five hits in 24 tries with runners in scoring position.
"We had some chances with runners in scoring position where, had we gotten a hit or two, it could've changed the entire outcome of this series," manager Mike Redmond said. "Sometimes you give the other teams some credit for the way they pitched. They executed their game plan better than we did. That's really the bottom line."
So when Marlins starter Jacob Turner took the mound on Sunday, he already had his work cut out for him against Cincinnati's Mike Leake. The deepest Turner had gone in his two starts since rejoining the rotation was 5 2/3 innings last Sunday.
But Turner seemed to get off to a good start, needing nine pitches to get through the first inning.
Then control eluded him in the second inning. He gave up a single to Devin Mesoraco on the first pitch of the frame and walked a batter one out later. Giancarlo Stanton made a sliding catch on a line drive off the bat of Kristopher Negron in the right-field corner for the second out. But Mesoraco ended up scoring anyway on a Zack Cozart single to left field.
The Reds tacked on two runs in each of Turner's last two frames -- the third and fourth -- as his pitch count rose to 65. It didn't help that the Reds stole three bags on him, either, as all three of those runners came around to score.
The nine hits Turner allowed matched his season high from May 3 against the Dodgers, a start in which he allowed six runs on 69 pitches in four innings.
"I didn't get ahead of anybody today. I just couldn't locate the fastball," Turner said. "I left too many pitches over the middle, and when you're doing that in 2-0 counts, it's a tough way to pitch. It's extremely frustrating from my end to not give [my team] the chance to win, to not pitch deep into the game and, you know, really just didn't pitch well."
Dug into a 5-0 hole, the Marlins could only muster one big hit off of Leake, an RBI single from Jeff Mathis in the fourth.
But the Fish weren't totally lacking in chances to score on Leake, who gave up three hits but walked four. The Marlins loaded the bases with no outs in the third, but second baseman Jordany Valdespin grounded the ball softly to first, enabling Todd Frazier to get the forceout at home. Mesoraco threw back to Frazier on a double-play attempt, but Valdespin was safe at first, and the call stood after a review.
With two outs, Casey McGehee, who entered the game 4-for-10 with nine RBIs with the bases loaded this season, grounded into a forceout at second. The third baseman went 3-for-21 with six strikeouts on the homestand. He did, however, have seven walks.
The Marlins played 17 games in a row after the All-Star Break, so Monday's off-day gives McGehee, Stanton -- who struck out four times Sunday -- and the rest of Miami's lineup a chance to regroup.
"Guys are beat up. It's been an emotional last three days, no doubt," Redmond said. "We got a lot of guys that played a lot. They're grinding and a little frustrated at times, which is natural. We'll be fine, though. [McGehee] will be fine."
Maria Torres is an associate reporter for MLB.com. This story was not subject to the approval of Major League Baseball or its clubs.