Shields, big inning by bats lead Royals past A's
Righty perfect into sixth; KC takes series win over MLB's top team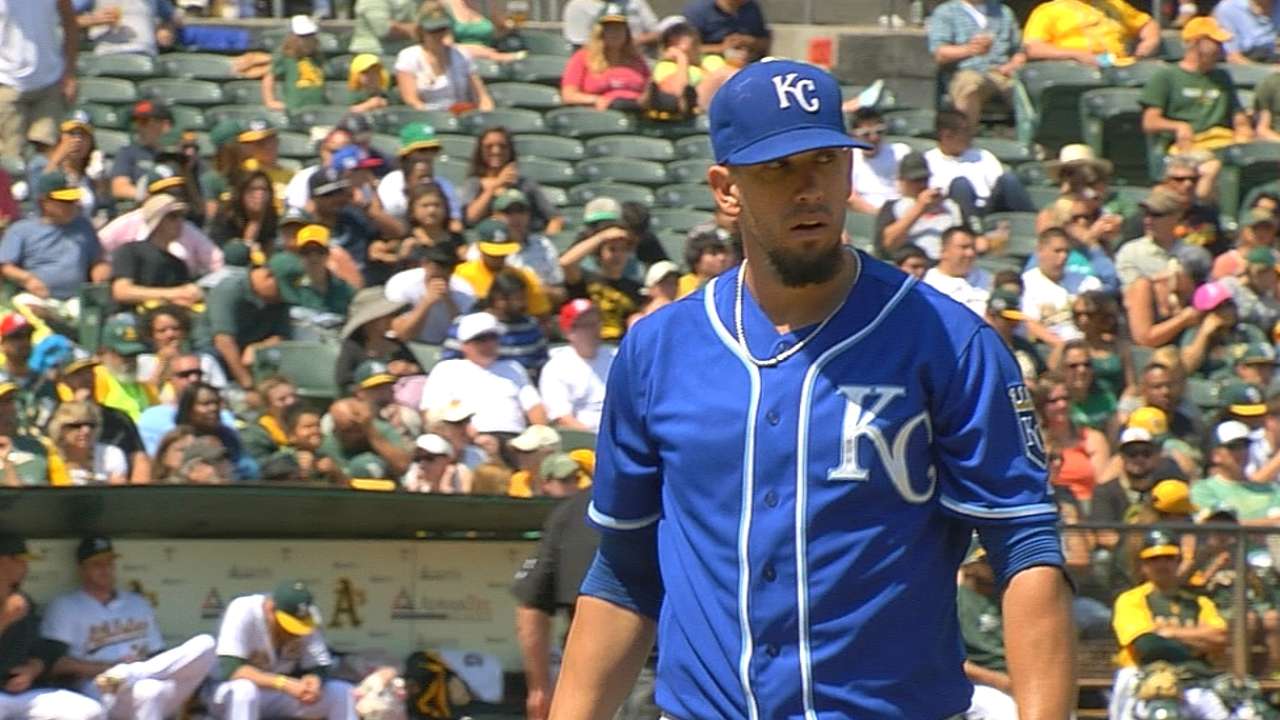 OAKLAND -- As they picked at their postgame meals in the visitor's clubhouse, Royals outfielders Alex Gordon and Jarrod Dyson lamented the lack of baseballs hit their way on Sunday afternoon.
They can blame James Shields for that.
The Kansas City right-hander mastered the A's for eight innings in a 4-2 victory, helping the Royals send Oakland to its first home series loss in nearly three months. Despite facing the best team in baseball with a trio of starting pitchers sporting sub 2.70-ERAs, the Royals were able to take two out of three in a tough road environment.
"As far as I'm concerned, we can match up with anyone, any team, any starting rotation," Shields said. "I don't care who it is. I believe in our guys. We have some good young talent in our starting rotation, as well as some veterans. We're going to compete with anybody. As long as we go toe to toe with those guys, we're going to be in every game."
Since Shields didn't let many balls leave in the infield all afternoon, you can see why his outfielders might have felt a bit bored playing behind him on Sunday.
It was something of a one-upper act from Shields. Friday night, righty Jeremy Guthrie started his outing with three perfect frames for the Royals. On Saturday, southpaw Jason Vargas tossed four spotless innings to begin his start before finding trouble in the fifth.
On Sunday, Shields (10-6, 3.43 ERA) tossed five perfect frames to start the contest before Josh Reddick led off the sixth with a solo shot. So when Shields and the Royals took the field in the sixth inning, were his teammates pondering a perfecto?
"You're thinking it, but you definitely don't want to say it," first baseman Billy Butler said with a smile.
Reddick would go on to hit another solo blast in the eighth, but Shields was able to get out of the inning before his afternoon was over. He allowed two earned runs on four hits and no walks while striking out two in his eight innings of work.
Over his past six starts, Shields is now 2-2 with a 1.99 ERA and 35 strikeouts in 40 2/3 innings pitched. He also became a 10-game winner for the eighth straight year, joining six other active pitchers that have accomplished the feat.
"Just tried to stay consistent throughout my career," Shields said. "Having another double-digit [wins] season is nice. Hopefully these next nine games or so I can get a [few] more."
Shields said he noticed early on that the A's -- renowned for their patience at the plate -- were being aggressive with their approach, so he tried to use that to his advantage. It resulted in a low pitch count, and he was able to finish eight innings for the second time this year.
"A lot of teams have been super patient against me, and this team was a free-hacking team today, which is not really their game," Shields said. "They have a bunch of hitters over there that were being aggressive, and I was able to execute my pitches early in the count."
Aside from Reddick, Shields didn't have many problems at all. His location was on-point, his changeup was deceiving, and his skipper knew it from the get-go.
"I thought he threw the ball great," Royals manager Ned Yost said. "We start that game and you watch the way that he's pitching, it's like, 'OK boys, let's just give him a couple runs and he'll take it from there.' And when that fifth inning came about, we put together a nice inning."
As Yost mentioned, Kansas City put together a big rally in the fifth to take control of the game against A's lefty Scott Kazmir (12-4, 2.53 ERA).
Rookie Christian Colon, making his first start since being promoted from Triple-A Omaha earlier this week, started off the big rally by belting a double to right field. Nori Aoki drove Colon home with an RBI single before Omar Infante roped a double down the left-field line to bring home Aoki and Alcides Escobar. Salvador Perez made it 4-0 in favor of Kansas City when he plated Infante with another base knock to left.
"We just didn't miss pitches out over the plate," Butler said after going 3-for-4. "Sometimes you foul them off, but today we were getting it done out over the plate and capitalizing on his mistakes. He didn't make a ton of them, but we just capitalized on them."
With the way that Shields was dealing on Sunday, the big rally was all the Royals needed at the plate. Following Shields' gem, closer Greg Holland shut down the A's in the ninth to convert his American League-leading 31st save.
Alex Espinoza is a contributor to MLB.com. This story was not subject to the approval of Major League Baseball or its clubs.