Reds ride Leake's arm, 15 hits to elusive series win
Righty gives up one run in six; Frazier paces offense with four hits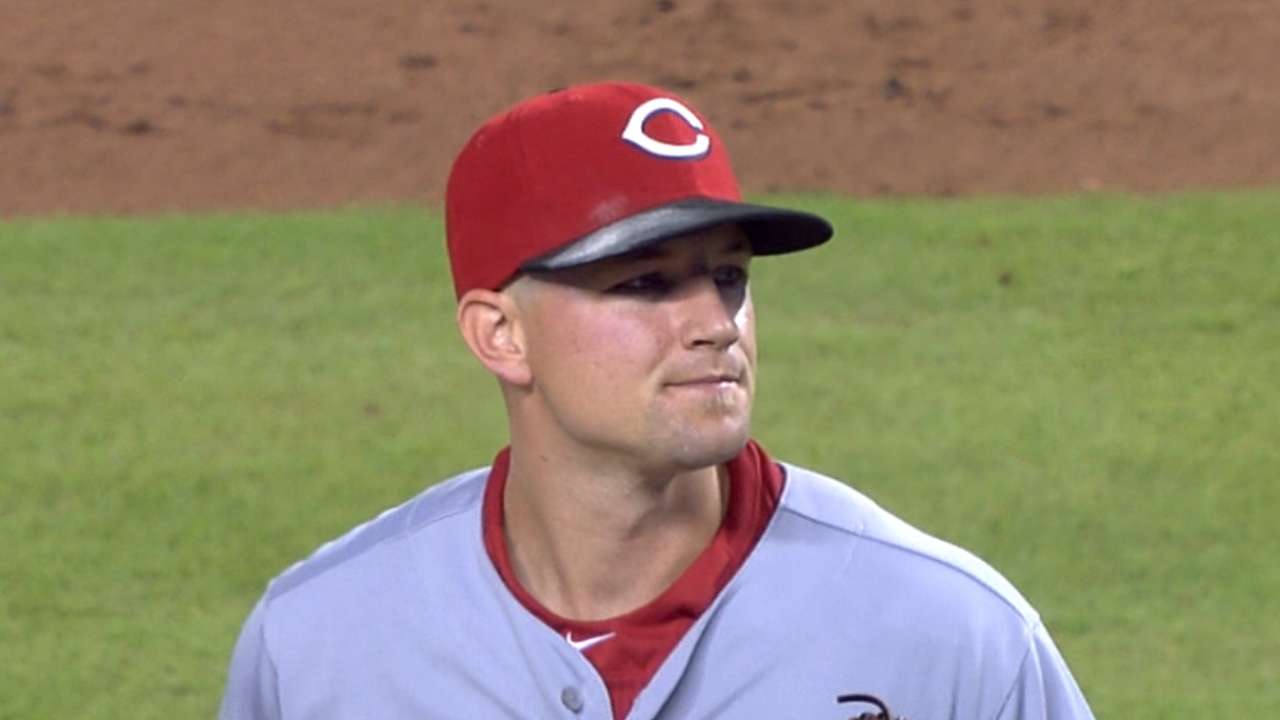 MIAMI -- Several things that have eluded the Reds throughout the second half were finally achieved on Sunday.
Most important, there was a series victory when the Reds left town winners of a 7-3 game over the Marlins to take three of four.
And, the 5-0 lead Cincinnati had in the top of the fourth was its biggest since the break. The team's 15 hits were also the most since it had 19 on June 15 vs. the Brewers. Every Reds hitter except Kristopher Negron, but including pitcher Mike Leake, had at least one hit.
"Everyone did a good job today manufacturing runs," said Todd Frazier, who had a four-hit game for the second time in his career. "[Ryan] Ludwick hit a double -- but we were hitting singles. That goes to show you we do have the power, but at the same time, we know how to get runs in doing the little stuff."
Entering the day, the Reds' post-All-Star break offense was ranked last in batting (.192), runs scored (33), hits (95) and hitting with runners in scoring position (.155). Consequently, they lost each of the four series coming out of the break and every single game -- even the wins -- felt tense throughout as they clawed and scraped for runs.
"It's nice to be able to -- I hate to say 'sit back' -- but at least have some wiggle room where every decision or maneuver we try to make or roster usage isn't one that's deciding the game," Reds manager Bryan Price said. "That's a lot more fun."
The beneficiary on Sunday was Leake, who gave up one earned run and three hits over six innings with four walks and five strikeouts. It wasn't a crisp game for Leake, but he had one big key going for him. He kept the Marlins' 1-6 batters hitless and struck out the best hitter in the building, Giancarlo Stanton, three times during the slugger's four-K day.
During the four games vs. Miami, the Reds' rotation posted a 1.33 ERA with four runs allowed over 27 innings. Each starter gave up one run each.
"Forget the quality start and the statistics, everybody was going out there and pitching like we've come to expect with this group," Price said. "It's not just a six-inning, three-run quality start, but really pitching deep in the game and limiting the runs and giving us a chance to get a lead. We've been very good with a lead this year."
Lots of small dogs yipped away during the Marlins' Bark at the Park promotion, but the Reds' bats had the loudest bark, and the biggest bite, against pitcher Jacob Turner. Just after Stanton saved two runs in the second inning with a diving catch in right field, Zack Cozart's RBI single to left field made it a 1-0 game.
That was just the beginning.
Billy Hamilton was the third-inning catalyst with a single and a stolen base. It allowed him to score easily on Jay Bruce's rolling opposite-field single through the left side. A two-out RBI double by Ryan Ludwick made it 3-0.
The lead didn't feel too comfortable in the bottom of the third when Miami had the bases loaded with no outs. Leake partly created his own mess with his fielding error on a Turner sacrifice bunt attempt. After he had the first out, he struck out Stanton on a 1-2 slider, and then got Casey McGehee to ground into a fielder's choice to escape.
"I made that error, which you never want to do, but the only way to make up for it is by getting yourself out of it," said Leake, who has given up one run over his last 13 2/3 innings (two starts).
The only Marlins run against him crossed on a Jeff Mathis RBI single to left field in the fourth. By then, two more Reds runs had already scored, as two-out RBI singles by Hamilton and Frazier had created more daylight in the top of the inning.
With Milwaukee losing to St. Louis, the 56-55 Reds are 4 1/2 games behind the first-place Brewers in the National League Central. Leake was not subtle in his hopes that Reds general manager Walt Jocketty can improve the club with offensive reinforcements -- and that the Reds can help themselves.
"We had a chance to take all four [games]. At least we got out of here with three out of of four -- that's always a good job," Leake said. "We're still in this. We've still got a chance if we put ourselves in a good position and Walt in a good position, I feel like he'll put his cards in this year. It's up to the players and up to us whether we want to bear down and make it a good year or if we want to kind of throw it in."
Mark Sheldon is a reporter for MLB.com. Read his blog, Mark My Word, and follow him on Twitter @m_sheldon. This story was not subject to the approval of Major League Baseball or its clubs.