Kazmir finds bump in fifth while bats struggle vs. KC
Lefty allows four runs in single inning in loss; Reddick hits two HRs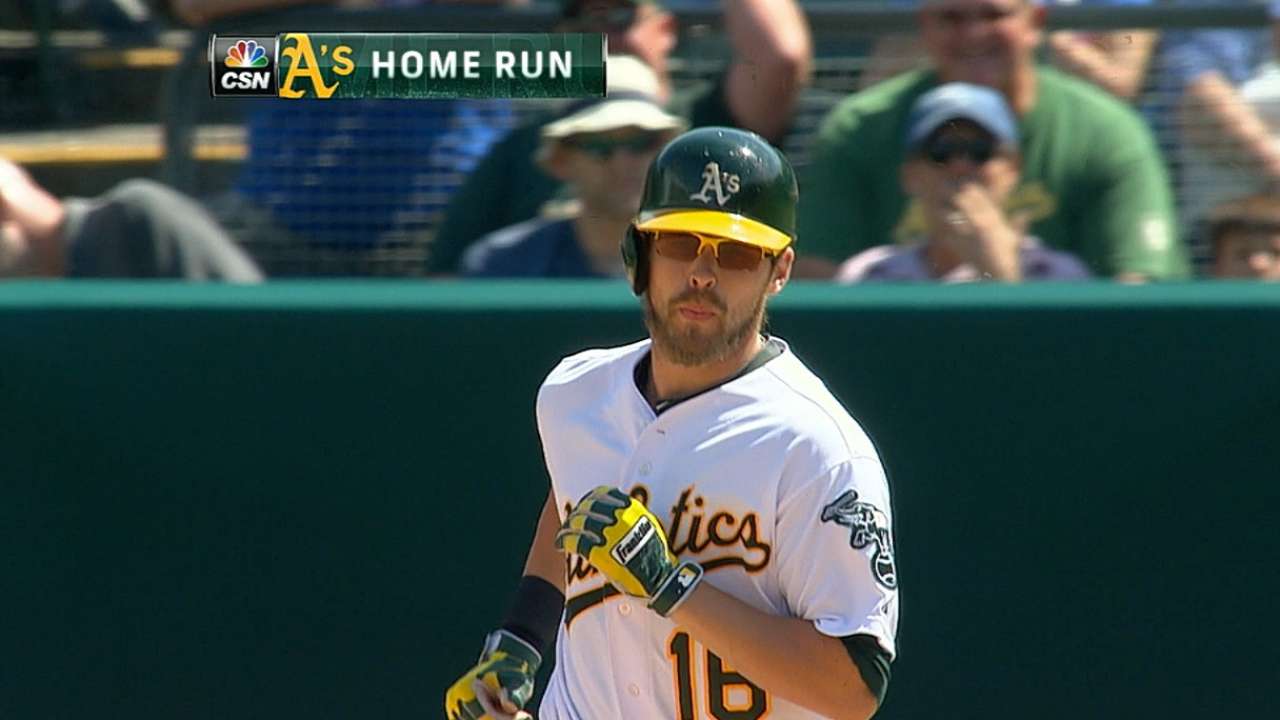 OAKLAND -- The A's stopped hitting even before Yoenis Cespedes left them, but this ongoing trend has magnified in his absence.
Their anemic ways continued Sunday afternoon against Royals right-hander James Shields, who allowed just four hits over eight dynamic innings. Two of them belonged to Josh Reddick, whose pair of homers marked the only sign of life for the A's in a 4-2 loss.
It's the second straight series the A's have dropped, but the first at home since the beginning of May, and their lead over the Angels in the American League West has dwindled to one game.
Outside of Saturday's eight-run outburst in the fifth, Oakland has scored just three runs in its other 35 innings since Wednesday.
"Our at-bats aren't where we want them right now in the last week or so," said Reddick. "We just gotta keep going and keep working. We know we're going to come out of it, we're just all tired of waiting. We're a better lineup than what we've shown in the last week, and we all know that."
It was on Thursday the A's sacrificed Cespedes -- a key cog to their winning ways -- for yet another proven arm in Jon Lester. The left-hander gives an already-formidable rotation a true ace, but he can't hit, too, and that's where the A's are lacking these days.
Reddick is swinging a hot bat, but others, like Brandon Moss and Stephen Vogt, are not, and the A's also have been without the injured Coco Crisp for more than a week, exploiting this lineup's feast-or-famine nature.
Crisp took batting practice in the indoor cages Sunday morning and had a "good day," according to manager Bob Melvin, who is optimistic for the outfielder's return soon.
"We're not swinging great," said Melvin, "and to not have him in there, a guy that gets on, creates a little havoc and a lot of times take the pitcher's attention off the hitter, gets big hits for us, it hurts.
"We just haven't been at our best offensively here, and now we come up against some good starting pitchers who are on their game early. Certainly Shields was today, using all his pitches, right away going to the changeup, the cutter, had good command. He threw really well today."
It left little wiggle room for Scott Kazmir, who could've used some. The lefty was bit by a four-run fifth in a six-inning outing, giving up four consecutive hits and five total, along with a walk, in the inning, as Omar Infante provided the biggest blow with a two-run double.
Kazmir scattered 10 hits in all and struck out two in the loss, his first since June 24 to the Mets in New York.
"One bad inning," said Kazmir. "I don't look too far into it. I know what I did wrong. It was a couple pitches that were up in the zone, and they were in hitters' counts. Something you can't do that, especially to hitters like that."
"Just got a couple balls up and missed location on a few pitches, but really not all that bad," said Melvin. "Balls weren't hit all that hard, found some holes. We hit a couple balls hard a little later in the game, starting to get momentum, and they were going right at people. But you have to give [Shields] credit, he pitched a really good game."
For Reddick, it was the sixth multi-homer game of his career, and his second this season (May 16 at Cleveland). He's 16-for-41 with four homers in 12 games since coming off the disabled list, numbers that could prompt a bump up in the batting order, Melvin hinted.
"I'm just not trying too hard," Reddick said. "Even with the home runs today, I'm not trying to hit them, they're just happening. That's when I'm the best hitter I can be, when I'm not trying to do everything and hit it out of the park. You can't do that against a guy like James Shields. Everything is balanced, everything feels great."
Jane Lee is a reporter for MLB.com. This story was not subject to the approval of Major League Baseball or its clubs.