Garza's injury opens door for Cardinals
Crew bullpen falters after righty's six shutout innings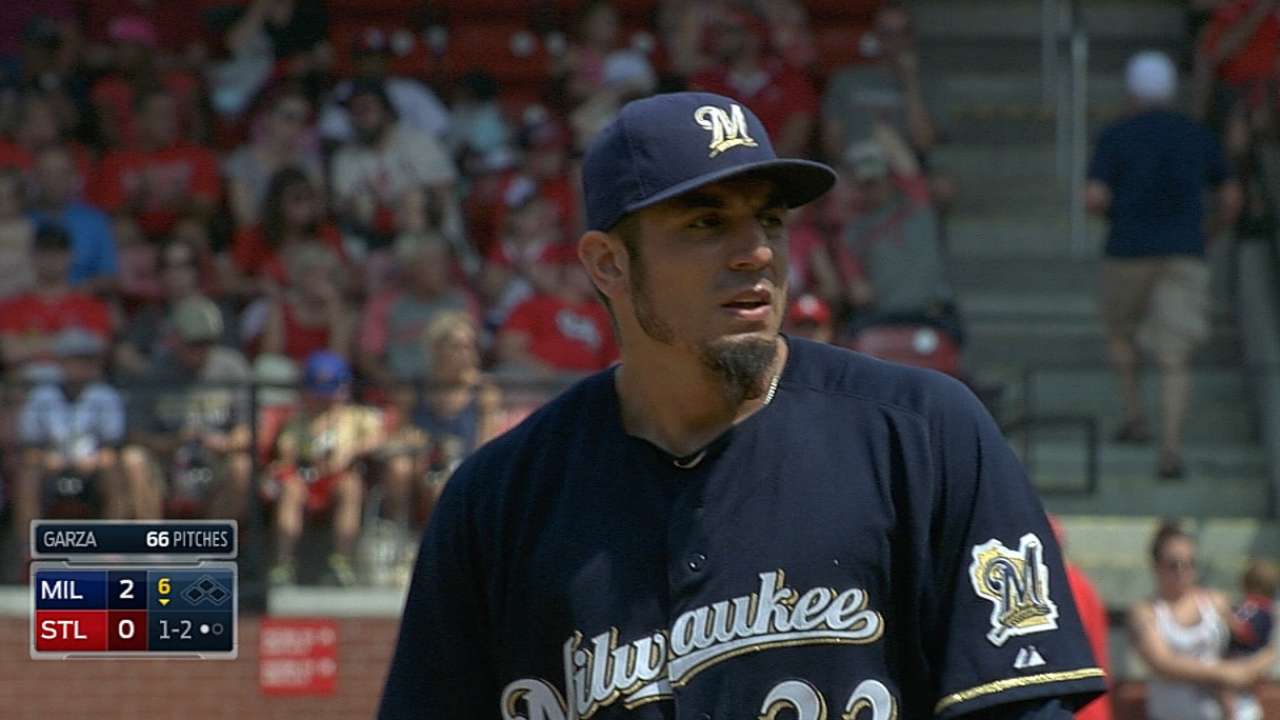 ST. LOUIS -- The conspiracy theorists can discuss all they want the circumstances surrounding Matt Garza's sudden departure Sunday, but the final result was not open for debate.
A 3-2 loss to the Cardinals sent the Brewers away from Busch Stadium with the slimmest of leads in the National League Central.
Garza exited a one-hitter after 71 pitches and six scoreless innings because of a left rib cage strain, a troublesome development in itself that was made worse by the fact it was not relayed to the radio and TV broadcasters covering the game. That opened Brewers manager Ron Roenicke to significant second-guessing as the Cardinals rallied quickly against Garza's replacements.
Zach Duke retired only one of the three batters he faced and Jeremy Jeffress opened his outing by allowing three straight singles, including Oscar Taveras' go-ahead hit, as the Cardinals scored three times in the seventh inning to claim the series, two games to one.
"They dodged a bullet today," Garza said.
The Brewers, meanwhile, absorbed one. Including his outing Sunday, Garza has allowed only two runs and eight hits in 21 innings over three starts since a nightmarish outing in Washington D.C. coming out of the All-Star break. Against St. Louis, he allowed only a Matt Adams double that sneaked down the line past Brewers first baseman Mark Reynolds, while striking out four batters, hitting one and walking none.
Garza said he felt a muscle grab on his left side on his next to last pitch.
"It was like, 'Son of a gun,'" Garza said. "You put a bullpen in that situation where everybody is caught off guard. Your starter has 70 pitches, nobody assumes he's coming out."
Garza told reporters it was his own decision to come out of the game, prompting questions about why television cameras saw him with a helmet on his head and a bat in his hand in the top of the seventh inning. Garza was quickly called back and replaced by pinch-hitter Lyle Overbay.
It was a miscommunication, according to Roenicke.
"He wasn't going on deck. He didn't understand what I was telling him down below," Roenicke said. "I told him he was done, but he figured he was still going to go up there [to bat]. I talked to him before that. He said he couldn't go [pitch]. When you're talking about obliques, it's not a question of whether a guy can go out there or not. He can't go out there."
Asked whether there was a chance of it being a long-term issue, Roenicke said, "there's a chance."
"I'm going to stay positive and say it's not bad," Garza said, "but it's bad enough to where I had to take myself out of the game, and I don't do that. I had to look at long-term more than short-term. I could have kept going and made it worse, and I could have been out, probably, the rest of the year."
As it is, he could still miss some time. Garza will be examined in Milwaukee on Monday, an off-day for the team, by Dr. William Raasch. Garza suffered a similar injury, but more serious in his estimation, during Spring Training with the Cubs last year and did not debut until May 21.
If the Brewers need a replacement, Marco Estrada would be the likeliest choice. He made 18 starts this season before a move to long relief.
"[Garza] wasn't giving us much room, there's no question," Cardinals manager Mike Matheny said. "But their bullpen has been very good as well, so we didn't think necessarily once we got him out of the game that we were going to be able to do just as we wanted. But the guys put together some great at-bats."
Duke entered first and surrendered a home run to Matt Holliday, the first homer off him by a right-handed hitter this season in 97 plate appearances. When another lefty hitter, Adams, followed with a single, Roenicke went to hard-throwing right-hander Jeffress, who surrendered singles to the first three batters he faced, including Taveras' floater to center field which gave the Cardinals a 3-2 lead. Jeffress had Tavares in an 0-and-2 count before just missing with two consecutive inside pitches. Jeffress was convinced he had Tavares struck out on a 1-and-2 offering, but did not get a call from plate umpire Will Little.
When Jeffress came back with a 96-mph fastball toward the middle of the plate, Taveras served it into center field for a go-ahead hit.
"These umpires haven't seen me much, and my ball moves a lot," Jeffress said.
Duke had not allowed a run in 16 straight appearances before the Cardinals scored against him in back-to-back outings in this series.
Cardinals right-hander John Lackey earned the victory in his St. Louis debut by holding the Brewers to two runs on seven hits in seven innings. Milwaukee did its scoring early, getting Aramis Ramirez's two-out RBI single in the first inning and Reynolds' solo home run in the second.
Reynolds, who leads the Brewers with 19 homers this season, had been 2-for-11 with eight strikeouts in his previous meetings with Lackey.
Adam McCalvy is a reporter for MLB.com. Read his blog, Brew Beat, and follow him on Twitter at @AdamMcCalvy. This story was not subject to the approval of Major League Baseball or its clubs.