Bumgarner hurls two-hit shutout on 94 pitches
Lefty throws 75 strikes vs. Mets; Pence (2 HRs), Posey, Belt go deep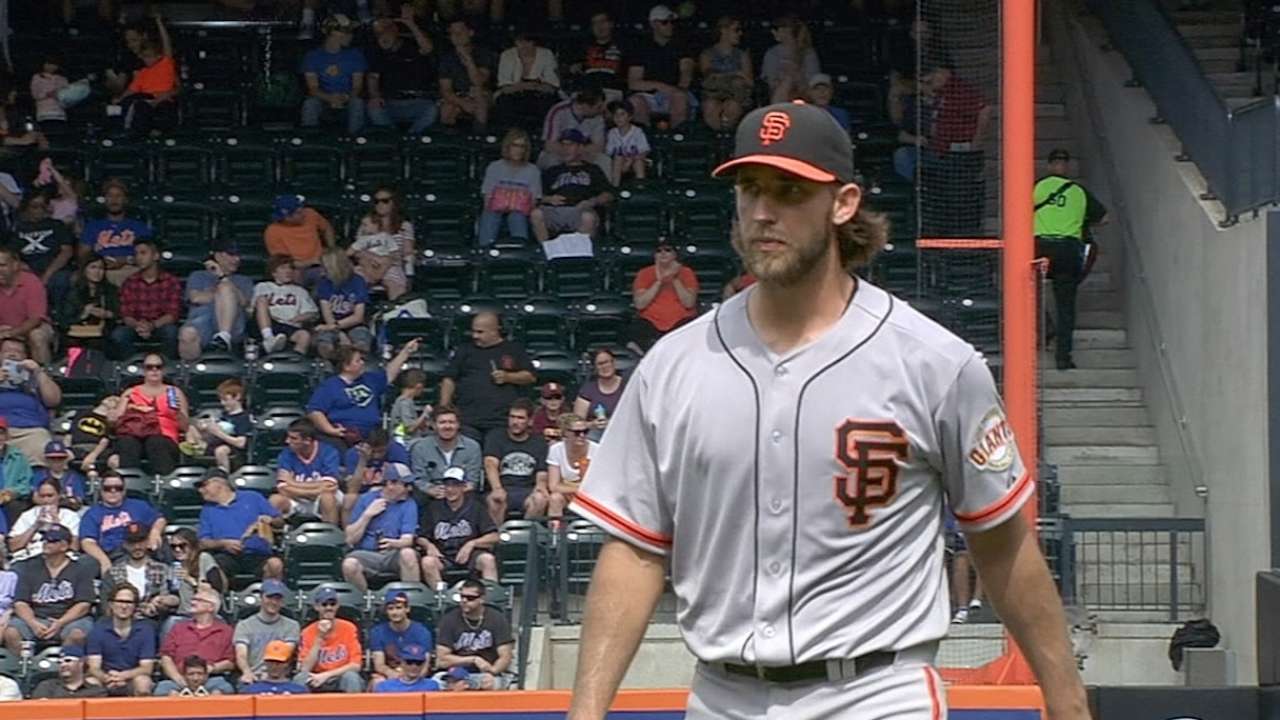 NEW YORK -- Even as the Giants' hitters stood tall in Sunday's 9-0 rout of the New York Mets, Madison Bumgarner's performance loomed over everything.
Bumgarner reached his zenith, weaving a two-hitter for his second career shutout. And the offense, which tends to surge when the left-hander pitches, clobbered four home runs, including two by Hunter Pence. San Francisco homered only twice in its previous 10 games.
While the home runs were akin to cymbals crashing, Bumgarner provided the steady drum roll. He threw a remarkably low number of pitches, 94, and an astonishingly high number of strikes, 75. He forged those totals despite walking the first batter he faced, Curtis Granderson, who drew the Mets' lone free pass.
Bumgarner, who struck out 10 for the fourth time this season, flung first-pitch strikes to 24 of the 30 hitters he faced. He attributed his dominance to his control in general and his fastball command in particular.
"Being able to get ahead and throw strike one and get some quick outs with the fastball made the difference," said Bumgarner, whose other shutout was a one-hitter against Cincinnati on June 28, 2012.
Preceded in this series by Ryan Vogelsong's two-hitter Friday and Jake Peavy's 6 1/3 perfect innings Saturday, Bumgarner (13-8) sustained that pattern. His brief encounters with adversity occurred in the third inning, when Wilmer Flores lined a leadoff double, and the seventh, when David Wright sliced a one-out single. Mets manager Terry Collins employed a lineup consisting entirely of right-handed hitters, except for Granderson, in an effort to gain a platoon advantage. Bumgarner made a mockery of the time-honored strategy as he struck out at least one batter in every inning but the eighth.
"His delivery is such that you saw him get inside to a lot of right-handed hitters today," Collins said.
Bumgarner has won at least 13 games in four consecutive seasons. But perhaps the most impressive statistic associated with him is his age. He turned 25 last Friday and already has won 62 Major League games. He's among the biggest bargains in the Majors, with a contract that pays him $28 million from 2015-17. The Giants hold $12 million options on his services in '18 and '19.
It's quite possible that the person who cares least about any of that is Bumgarner himself.
"A lot of people are impressed with him on a daily basis -- who he is, how he handles himself," Pence said. "He's just a very special individual. It's not just how great he pitches."
Bumgarner's 9-2 road record is due largely to his 1.58 ERA away from home, third best in the National League. It helps that the offensively erratic Giants usually score sufficiently for him. Bumgarner entered Sunday with the league's third-highest run support, and the trend didn't change against the Mets.
The Giants could have expected a challenge from Mets starter Bartolo Colon (10-9), who had pitched a Major League-high eight consecutive home games in which he worked at least seven innings. That streak ended as he allowed six runs and eight hits in 4 2/3 innings.
Pence interrupted a .105 (4-for-38) skid with a line-drive two-run homer that opened the scoring in the third inning. Brandon Belt, playing his second game since returning from the disabled list following a concussion, walloped a homer one inning later that took an impossibly parabolic trajectory over the right-field barrier.
The Giants added three runs in the fifth inning, an uprising that featured Bumgarner's single, RBI doubles by Pence and Buster Posey and Pablo Sandoval's run-scoring single that finished Colon. Posey contributed a two-run homer in the seventh before Pence added his second homer in the ninth.
Giants manager Bruce Bochy relished the proficiency of key figures such as Pence (3-for-5, four RBIs), Posey (4-for-5, three RBIs) and Belt (11 homers in 172 at-bats).
"We're going to need them," Bochy said. "We're going to have to score runs down the stretch. We're going to see good pitching, and those are the guys you lean on."
Chris Haft is a reporter for MLB.com. Read his blog, Haft-Baked Ideas, and follow him on Twitter at @sfgiantsbeat. This story was not subject to the approval of Major League Baseball or its clubs.