Colon, Mets have no answer for Bumgarner
Righty allows six runs in 4 2/3 innings; bats muster only two hits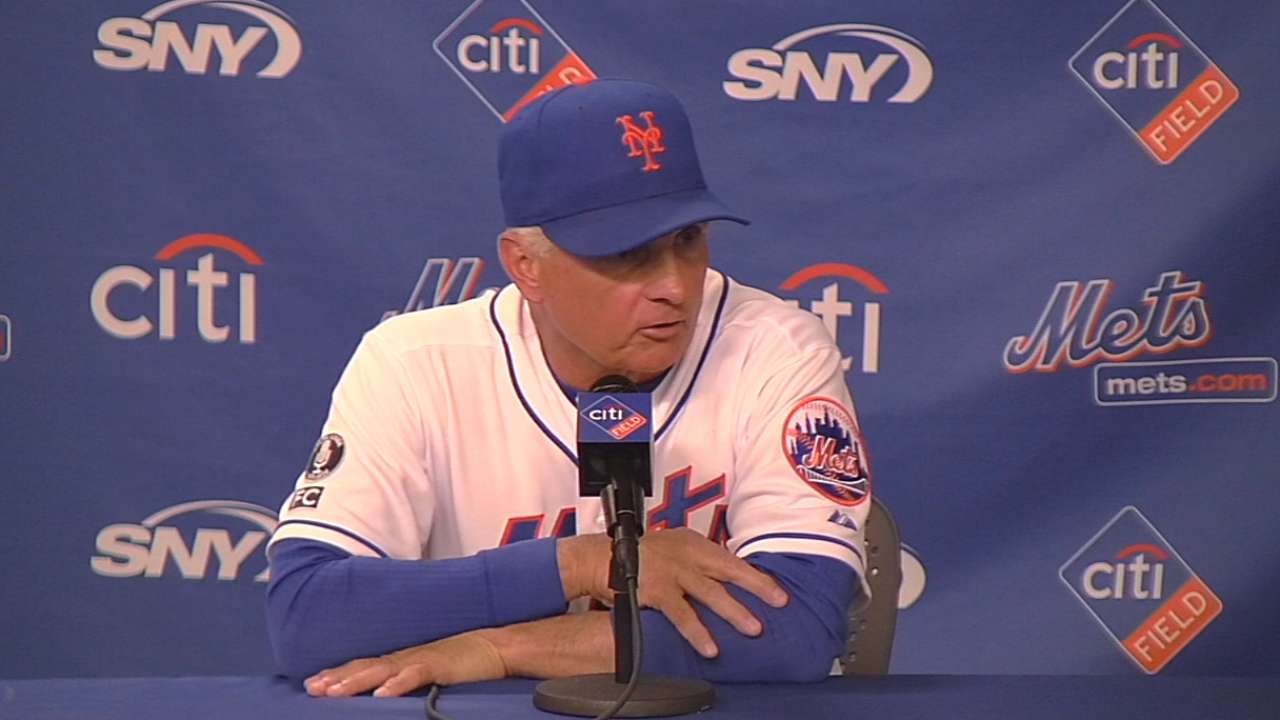 NEW YORK -- The Mets knew early on that they would struggle to hit Madison Bumgarner. When he arrived at the ballpark early Sunday morning, Mets manager Terry Collins scrawled out an unorthodox lineup card, stacking right-handed hitters in the hope that some of them might solve one of the National League's premier lefties.
None did; Wilmer Flores' double and David Wright's broken-bat single were the only knocks the Mets mustered off Bumgarner in a 9-0 loss to the Giants. And so Collins' club, which began this seven-game stretch at Citi Field amidst elevated expectations, was left needing a win Monday to secure a winning homestand.
"When you run into performances like this," Wright said, "whether you're going well offensively or not, you run into a buzz saw like that, sometimes you've just got to tip your cap."
The Mets never came close to doing anything else on Sunday, with Bartolo Colon's subpar start making Bumgarner's excellence stand even taller. Hunter Pence's line-drive homer in the third inning sparked a steady barrage of offense from the NL Wild Card-leading Giants, who plated one more run in the fourth inning, three in the fifth, two in the seventh and one in the ninth. Brandon Belt contributed a solo homer off Colon. Buster Posey added a two-run shot off Carlos Torres. Pence homered again in the ninth off Dana Eveland.
It was the type of outing that Colon has endured often this season, though not as much lately as early in the year. In his 10 wins, Colon holds a 1.74 ERA, vs. a 6.91 mark in his 12 other starts. This one cost him a chance at his 200th career victory, which Colon called "important."
"I was pitching just the same," the right-hander said of his execution throughout the game. "I just think the batters adjusted."
Bumgarner, by contrast, was deadly efficient in the Giants' second two-hitter of the series, throwing 75 of his 94 pitches for strikes. After walking Curtis Granderson to open the bottom of the first, Bumgarner threw a total of six additional balls over the next five innings. He retired consecutive batters before Flores' third-inning double and 13 in a row after it, breaking the streak only when Wright dumped a bloop single into right field on a pitch that sawed his bat in two.
"It was about as difficult as it looked," Wright said of facing Bumgarner, who improved to 13-8 with a 3.21 ERA.
"It just seemed like he missed a lot of barrels," Mets catcher Anthony Recker said. "He had a lot of movement on his pitches."
By that point, the Mets were down eight runs, more concerned with giving Wright some rest -- he spent the final two innings on the bench -- than mounting any sort of epic comeback.
The break seemed long overdue for a Mets team that has seen Wright struggle since receiving a cortisone shot in his balky left shoulder three weeks ago, batting .183 with one extra-base hit -- the fewest of any big leaguer with at least 60 plate appearances since the All-Star break -- over that stretch. Characteristically clipped when discussing his shoulder after Sunday's game, Wright insisted multiple times that he is "fine."
"I don't know how else to explain it," Wright said. "I feel I can go out there and play. Results-wise, I'm just not getting the results that I want. It's a process. I wish I could just snap my fingers and bust out of this thing and go 20-for-my-next-20. Unfortunately, it hasn't gone that way quite yet, but every day I'm trying to feel something, trying to get back into some sort of groove."
How Wright performs may well determine how the Mets fare over the season's final eight weeks, with time running short for an unexpected playoff run. "Fine" won't cut it when opponents such as Bumgarner are countering with excellence on a regular basis.
"You're going to have times where you just don't have it offensively, defensively, pitching-wise," Wright said. "Today was one of those days."
"This happens," Collins said. "It doesn't happen very often, but you move on, get ready for tomorrow. Today, we got outmatched."
Anthony DiComo is a reporter for MLB.com. Follow him on Twitter @AnthonyDicomo. This story was not subject to the approval of Major League Baseball or its clubs.