Angels ride first-inning wave to win over Rays
Trout drives in pair; Weaver allows two runs in six innings for 12th win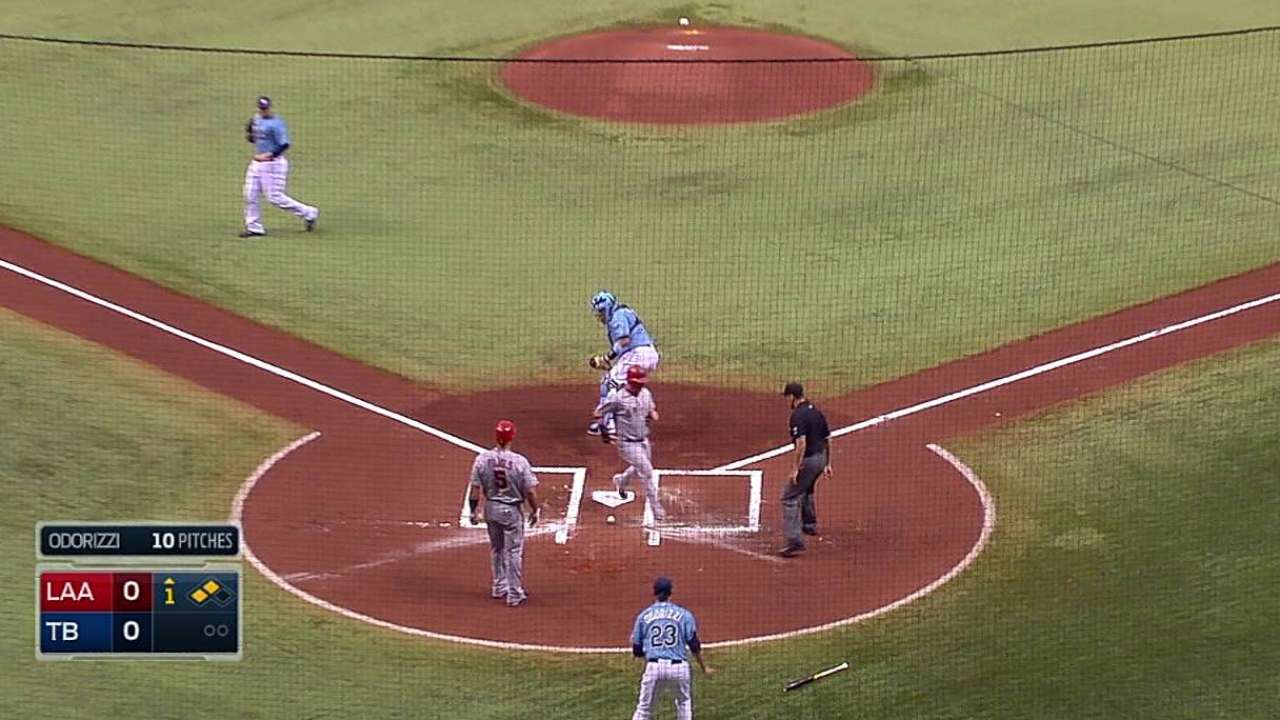 ST. PETERSBURG -- With thunderstorms surrounding Tropicana Field on Sunday afternoon, power to the stadium light banks went out for 19 minutes in the third inning of the Angels' 7-5 win over the Rays -- and ... wait, was that a replay of the first inning on the video board?
No, it was the 1946 Bugs Bunny cartoon "Baseball Bugs," providing the entertainment during the delay, with the power-hitting Gas-House Gorillas -- looking an awful lot like what the Angels lineup did against Rays starter Jake Odorizzi -- strutting a conga line around the bases in the middle of a hit parade.
The Gorilla-esque Angels pounded out five runs on five hits off Odorizzi in the first inning on Sunday, riding the big inning to a win in the series' rubber game. Los Angeles, still in control of the first American League Wild Card spot, scored its most runs in a game since the All-Star break to continue its MLB-best 35-16 run since June 6.
"You can't complain too much when [the bats] put five runs on the board there in the first," said starter Jered Weaver, the beneficiary of the outburst. "It makes the starting pitcher's job a little bit easier."
And the opposing pitcher's job much harder. Six straight Angels batters reached base to start the series finale in St. Pete, teeing off on Odorizzi, who was fooling no one. The Angels didn't make their first out for 20 minutes -- and that was on a hit, when Howie Kendrick got caught up between first and second on a long single to right field.
"We got some pitches we could hit, and we just didn't miss them," said Mike Trout, who was 3-for-4 in the game with two RBIs. "And when we were sitting on a pitch, we didn't miss it."
Trout, Josh Hamilton, Kendrick, David Freese and Efren Navarro drove in a run apiece in the frame -- Trout with a double launched into the left-center-field gap, Hamilton with a sharp single to center, Kendrick with his single after a 13-pitch at-bat with 10 foul balls, Freese with a sacrifice fly and Navarro with a two-out double.
"We got into some terrific hitting counts in the first inning," Halos manager Mike Scioscia said. "I thought we did a good job all afternoon, but that first inning in particular, we got into some good counts and took advantage of it."
By the time Chris Iannetta struck out on a slow slider -- one of the few Odorizzi threw sharply all inning -- to end the frame, Angels batter were 5-for-6 with two doubles, two walks, and five runs batted in. They had forced Odorizzi into a career-high 46 pitches in the inning.
"It was just one of those days where you make a bad pitch, it finds holes. You make a good pitch, it finds holes, too," Odorizzi said. "You just have to fight through it. Today was just a tough day overall for me. Started off bad, didn't get any better."
The Rays had no Bugs Bunny waiting in the wings to rescue them from the Angels -- in the cartoon, Bugs comes on in relief, plays all nine positions and pulls off a 96-95 comeback against the Gorillas -- although the Rays did make things interesting late.
After Weaver gave up two runs over six innings, the usually stellar Angels bullpen got tagged for three runs in the seventh that cut the lead to 7-5. Jason Grilli was charged with all three runs, although two of them scored on a wild pitch by Kevin Jepsen and a bases-loaded walk issued by Joe Smith.
"I'm gonna focus on us getting some big outs," Scioscia said. "We got big outs all afternoon."
Smith might have gotten the biggest, recovering from the walk to retire Kevin Kiermaier to end the inning, stranding the bases loaded when a hit might have tied the game or given the Rays the lead. Smith went on to pitch a scoreless eighth, and closer Huston Street shut things down in the ninth for his 30th save in 31 chances.
"It's something you need to take advantage of in games like that, and I didn't," said Kiermaier, who left the bases loaded twice in the game. "I feel like I let the team down and just couldn't find any holes today."
Smith, on the other hand, had already moved on from the bullpen's hiccup.
"We'll be all right, man," Smith said, "It's a bump in the road, but we've been good."
Still, he was more than ready to get out of St. Pete and back to Los Angeles after three straight games at The Trop lasted well over three hours.
"We gotta get outta here. We gotta get back home," he said.
David Adler is an associate reporter for MLB.com. This story was not subject to the approval of Major League Baseball or its clubs.