Leadoff HR lifts O's in Tillman's outstanding outing
Game-opening blast supplies only run for first time in team history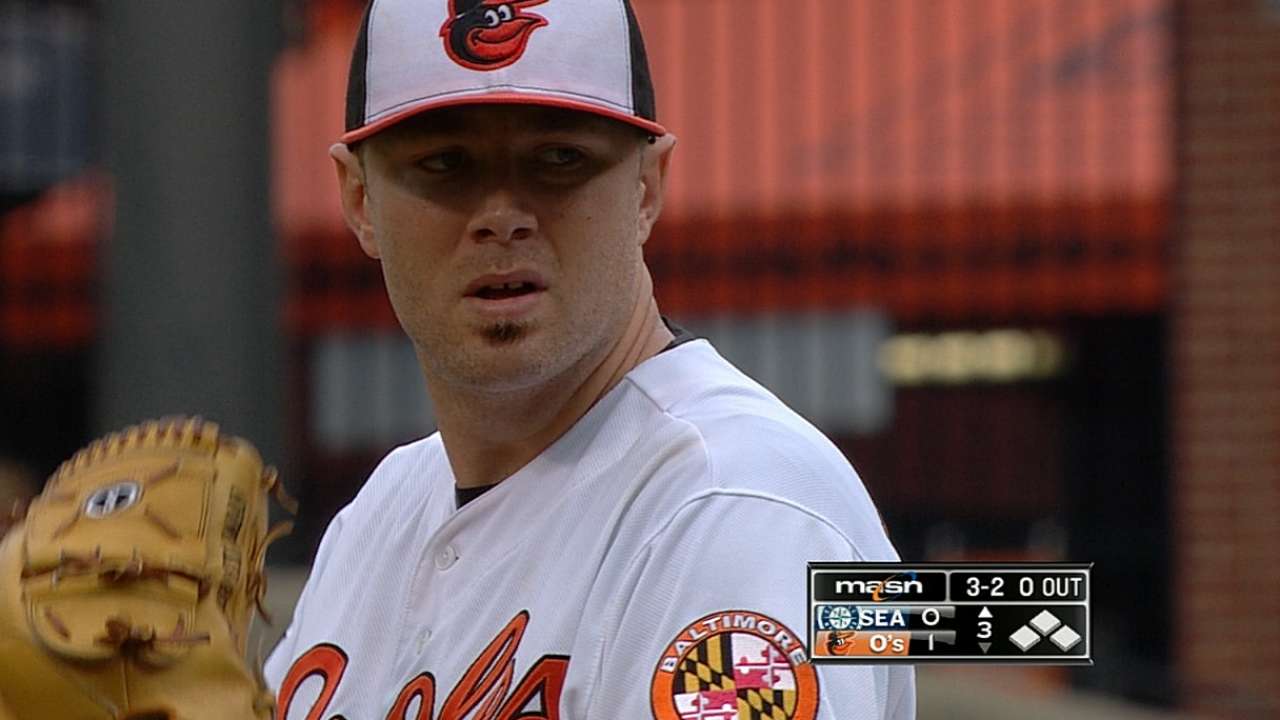 BALTIMORE -- Sometime around the fourth inning, with the Orioles nursing a one-run lead against the Mariners thanks to Nick Markakis' leadoff home run, Buck Showalter looked over at Richie Bancells.
"You know, I've never had a leadoff home run and won the game," Showalter told the head athletic trainer. "But today's going to be the first. Hopefully."
In reality, Showalter had been in wins like that before. Sunday was still a bit of history, though. The O's held on for a 1-0 win at Oriole Park at Camden Yards thanks to a spectacular outing by Chris Tillman and a pair of shutdown innings by relief pitchers Andrew Miller and Zach Britton, who notched his 23rd save.
For the first time in club history, Baltimore (62-48) won a game with its only run coming on a leadoff homer.
Markakis had been in the leadoff spot 191 times before Sunday. As a staple atop the O's order, the outfielder had been among baseball's best at starting off games, posting a .345 on-base percentage and 30 extra-base hits entering the finale of the series with the Mariners.
Before all of the 35,217 in attendance on Sunday had filled in the stands, Markakis turned on a Hisashi Iwakuma splitter and launched the pitch into unfamiliar territory. The ball towered over the right-field wall and landed by Eutaw Street. Markakis had the first leadoff home run of his career and the Orioles had a 1-0 lead.
"I didn't even know that [was my first]," the 30-year-old outfielder said. "I don't know what to say. Good to get the first one out of the way, I guess."
Tillman (8-5) labored through his first two innings before settling down to give Baltimore its 12th quality start in 13 games.
Through two innings, Tillman had thrown 41 pitches. He surrendered three hits and faced every batter in the Mariners' (57-54) lineup. With runners on the corners and a full count to Mike Zunino the second inning, Tillman had to bear down. He trusted his fastball and struck out the catcher on a foul tip, then threw four straight fastballs to strike out shortstop Brad Miller and end the inning.
Those two outs were the first of 14 in a row for the starting pitcher, who allowed four hits and struck out six in seven innings to keep the Mariners at bay.
"The fastball command came to me as the game went on," Tillman said. "I was kind of fighting all game to throw first-pitch strikes, but we were able to attack some pitches and not overthrow it."
With the O's offense continuing to scuffle, they needed another strong effort from their improving pitching staff. After gathering just five hits and two walks on Sunday, the Orioles still have the worst batting average and on-base percentage in the American League since the All-Star break.
During that same stretch, Baltimore's ERA (2.78) and opponents' batting average are the third best in the league. Eight of the O's last nine games have been decided by one run and all of their last six wins have come by that margin.
"That's what we're out here to do," Markakis said. "We're out here to win ballgames, no matter if it's by one run like today or if it's by 10 runs."
On the day that he collected his 1,500th career hit, Markakis finished a triple short of the cycle, carried a limited Orioles offense and was the only batter to consistently solve Iwakuma.
In Baltimore's advance room, there's a chart to track Markakis' place in O's history. The table keeps track of Markakis' career hits and how that stacks up with the club's greats.
With 73 more hits, Markakis will catch Boog Powell, the former AL Most Valuable Player and four-time All-Star, for fifth on the Orioles' all-time list. Milestones like those will help etch his name in team history. Moments like his home run in the first are what make him a star in the present.
"I don't even know if he's seen [the chart] yet, and if he did, he would probably slip in there and take it down," Showalter said. "I hope everybody understands what we're watching here. We talk about some of those guys through the years that were solid Orioles, you've got to mention his name, hopefully for many years."
David Wilson is an associate reporter for MLB.com. This story was not subject to the approval of Major League Baseball or its clubs.