Feldman, Astros in complete control of Jays
Right-hander goes distance for fifth win, while Carter adds key knock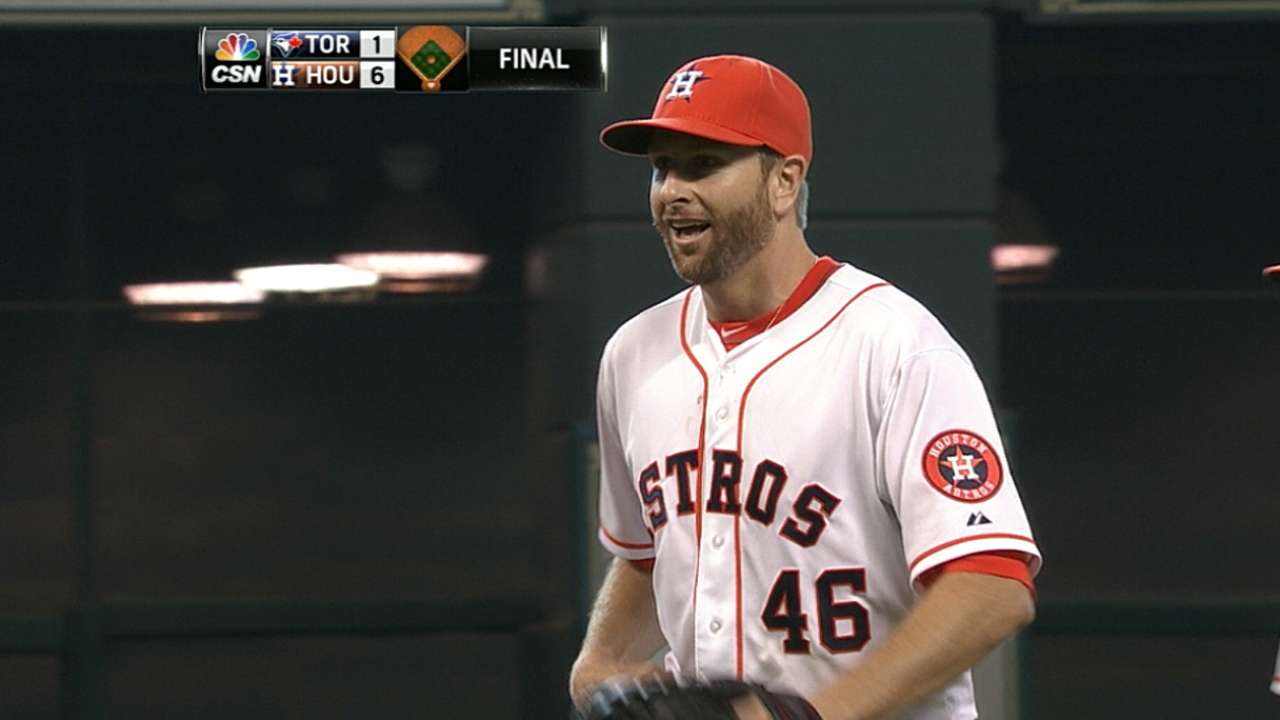 HOUSTON -- One day after playing "maybe the best game all year," as manager Bo Porter put it, the Astros submitted another nomination for that distinction on Sunday.
Behind Scott Feldman's dominant arm and some timely hitting with runners in scoring position, Houston cruised to a 6-1 win over the Blue Jays to take three out of four games from an American League playoff contender.
The Astros are now 11-11 in their last 22 games -- their best stretch since late May into June -- and are a full 10 games better than their pace through 112 contests last season. They are also 3 1/2 games clear of the American League West cellar, where the in-state rival Rangers reside.
"I really felt like at some point, we'd get back to playing baseball the way we were in May," Porter said. "The guys are excited and this is great momentum to build on."
Even with a lengthy injury list that includes their entire starting outfield, the Astros appear to be firing on all cylinders for the season's final third.
Feldman, in particular, delivered his second straight dominant start with a complete game after settling for a no-decision due to bullpen woes against the A's last week.
The Blue Jays tagged Feldman for a run in the second inning and had multiple baserunners on in the each of the first three innings. It was nothing a couple double play balls couldn't fix as the Astros turned in another sound defensive game.
"Had the double plays working luckily because I had a lot of runners on early," Feldman said. "That was just from staying on the same page with [catcher Jason] Castro the whole time, and the guys made the plays behind me."
After a double play ended the top of the third, Toronto managed only two more hits in what was Feldman's third career complete game and first since Sept. 6, 2013.
"Towards the end, I started getting some confidence like I could repeat my delivery," he said. "It's been awhile since I've thrown nine innings, so it was good to get that out of the way."
Feldman recorded just two strikeouts and allowed eight hits, but he appears to be back to the form that made him the Astros' ace in April.
"He looked like he looked at the beginning of the season," Porter said. "The cutter was really working and getting in on lefties, and he had late life to the fastball, sinking it away.
"It sets a great tone [coming down the stretch]."
Houston found Toronto starter Marcus Stroman a bit easier to hit. Chris Carter's two-run, two-out single capped a third-inning rally. No surprise, as Carter's been on a tear since the beginning of July and has quite the track record with the bases jacked.
That hit upped his RBI total to 14 in seven at-bats this season with the bases full, including two grand slams. Carter is a career .421 hitter when the bases are loaded.
"I was just thinking get a ball up in the zone and put the ball in play, and not strike out in that situation," Carter said. "That was big because we were down, 1-0, and it got the offense going."
New center fielder Jake Marisnick added to the fun with his first Astros RBI on a fourth-inning base hit. That was sandwiched between Matt Dominguez's run-scoring single and a bases-loaded walk by Robbie Grossman in the three-run frame.
That sequence ultimately drove Toronto starter Marcus Stroman out of the game, a surprising development given that Stroman had gone at least seven innings while allowing one run or fewer in four of his previous five starts.
"He was centering a lot of balls," said Blue Jays manager John Gibbons. "He was throwing across the plate and they whacked him pretty good. They're hot right now, they're swinging the bats."
Dominguez finished 2-for-3 with a pair of RBIs, including a fifth-inning single to bring in Jon Singleton, owner of a second consecutive multi-hit game. The Astros wrapped up their season-long,10-game homestand at 5-5, winning series from Oakland and the Blue Jays.
"Feels nice to get some big-time team wins after getting swept by the Marlins and bouncing back strong," Carter said. "We're feeling good."
Chris Abshire is a contributor to MLB.com. This story was not subject to the approval of Major League Baseball or its clubs.