Chances slip late as Braves fall in 12th inning
Kimbrel tagged with loss after allowing bases-loaded knock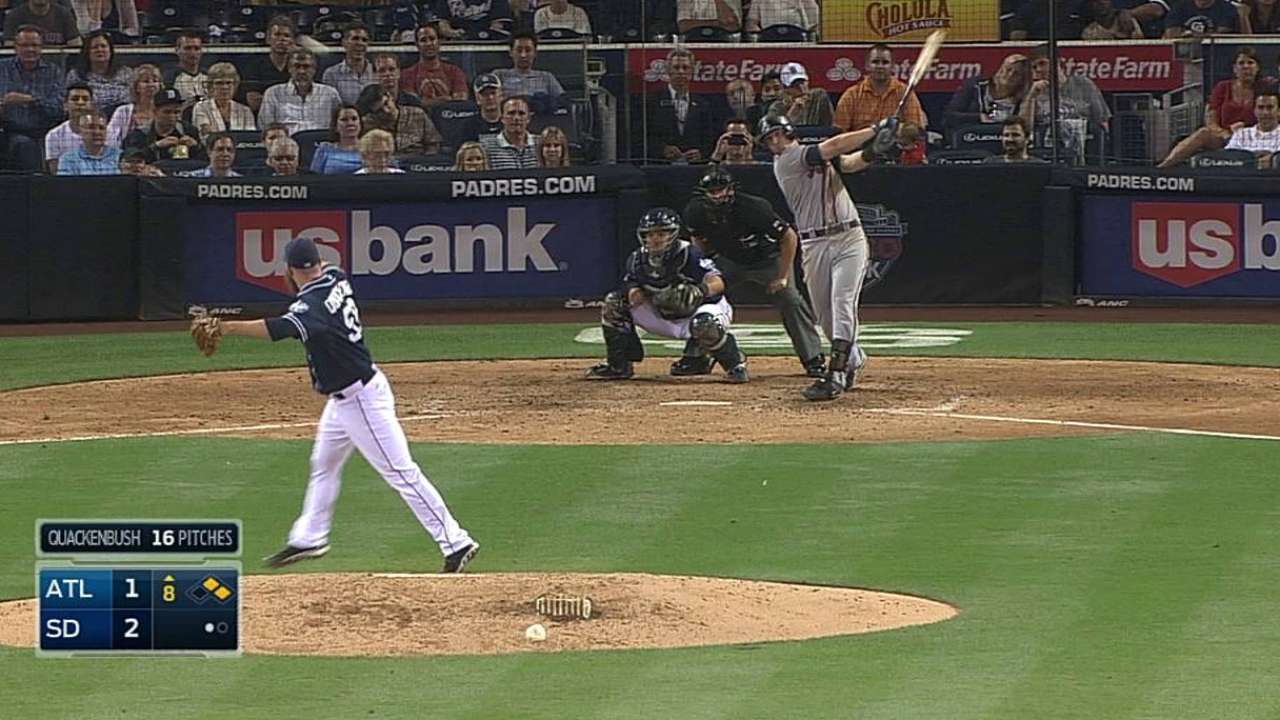 SAN DIEGO -- Instead of enjoying their trip to California, the Braves have spent this week enduring a frustrating stretch that was extended on Saturday night, when Craig Kimbrel faltered in a multi-inning appearance that might not have been necessary had Atlanta's slumbering offense not squandered far too many prime opportunities.
Kimbrel's second inning of work proved disastrous as he walked the bases full and then allowed Will Venable's RBI single that gave the Padres a a 3-2, 12-inning win over the Braves, who have lost each of the first five games of this West Coast trip that began in Los Angeles.
"We had a lot of opportunities with the right people hitting," Braves manager Fredi Gonzalez said. "All we needed was one lousy run. It's hard to get a lousy run sometimes. But we had plenty of opportunities to do it. … We're going through a little slump right now. We're a better team than we're showing."
Kimbrel worked a scoreless 11th inning and then walked three of the first four batters he faced in the 12th inning. After creating this jam, the All-Star closer could only watch helplessly when Venable lined his game-winner to right field. Kimbrel threw 38 pitches, matching the career-high mark he had totaled when he completed the most recent of his two career two-inning outings on April 21, 2011. This marked just the seventh time in 276 career appearances that he completed more than one inning.
"I wouldn't say I was fatiguing," Kimbrel said. "I did throw a lot of pitches. I don't normally go out there and throw that many pitches. But when you go out there and throw a lot of balls and walk guys, that is what happens. The plan was to go out there and throw one or two and hope we scored. I just can't go out there and walk guys like I did tonight."
Kimbrel would not have been forced into this situation had the Braves not recorded just three hits in 16 at-bats with runners in scoring position. They squandered multiple opportunities including the top of the 12th inning, when they loaded the bases with none out and then saw Evan Gattis ground into a double play. Chris Johnson, who had provided a game-tying single in the eighth, then saw his hot shot stopped by first baseman Yonder Alonso.
"It's not where you're trying to be," Padres right-hander Tim Stauffer said of having the bases loaded with no outs. "[Black] said, 'Let's go with the best pitch here and get a ground ball.' So that's what we did. It was a curveball, down and away. Fortunately, [Gattis] hit it and we got the ground ball."
As Gonzalez reviews the game, he will also vividly remember Jason Heyward being stranded after reaching third base with one out in the 10th. The newly acquired Emilio Bonifacio contributed to the mistakes when he misread a fly ball to center and got doubled off second base. After tying the game in the eighth, the visitors also saw Andrelton Simmons outthink himself with the decision to lay down a bunt that fooled Gattis, who was easily retired at the plate.
Simmons chose not to talk to reporters after the game.
"It was a tough game," Braves starting pitcher Ervin Santana said. "We had a lot of opportunities to score a lot of runs, but we didn't do it. But at the same time, you have to look at it like they had great pitching and they did everything to win. So, there's nothing else we can do."
This has been a trying week for the Braves, who now stand 2 1/2 games behind the Nationals in the National League East. They have scored two runs or fewer in each of their past four games. Some of the offensive struggles could be blamed on matchups against Clayton Kershaw and Zack Greinke. But during the first two games of this Padres series, they have made Eric Stults and Ian Kennedy look like Kershaw and Greinke.
Santana was effective as he surrendered half of his six hits in the seventh, which is also when he surrendered his only two runs. The second of those runs were tallied when Gattis was unable to handle Jordan Walden's pitch in the dirt.
Freddie Freeman's double during Kennedy's 27-pitch first inning was the only run the Braves tallied until the eighth inning.
"We just have to do the little things with bunting or base hits when we need to," Santana said. "That's the only thing we can do. We're pitching very good. So, that's it."
Mark Bowman is a reporter for MLB.com. This story was not subject to the approval of Major League Baseball or its clubs.