Miggy's blast highlights Tigers' rout of Rox
Detroit scores in every inning to support Porcello, who was strong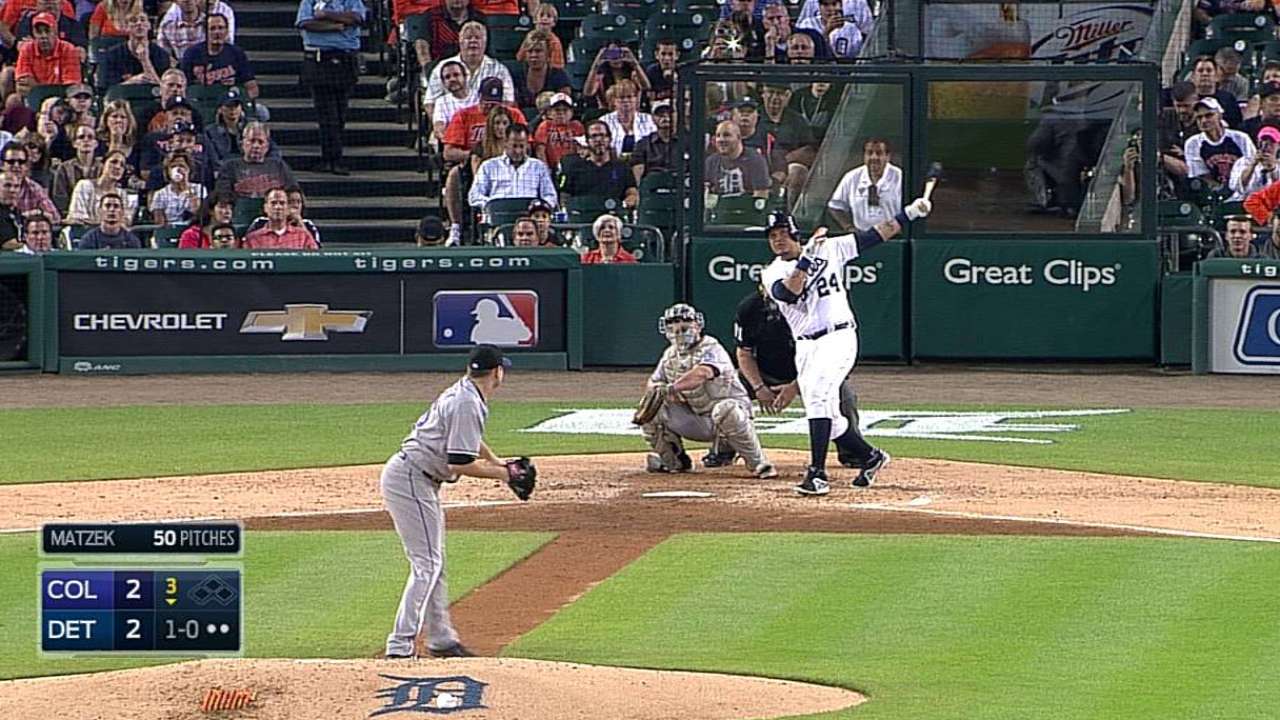 DETROIT -- The strong line of storms that passed through the Motor City on Saturday night barely missed Comerica Park, leaving only a brief spurt of light rain and a few minutes of gusty winds blowing straight out to center field. The winds were still blowing, though, when Miguel Cabrera launched a ball to near-straightaway center field in the third inning, providing a little extra distance on an estimated 445-foot drive into the shrubs.
The winds died down by the next inning. The Tigers' offense did not, becoming the first team since 2006 to score in every inning.
"It was nice to have a little bit of separation in a game and score some runs," manager Brad Ausmus said after Victor Martinez's three-run homer and J.D. Martinez's solo shot helped Detroit pull away for an 11-5 win over the Rockies. "Our offense has been a little sluggish overall the past week and a half or so, so it's nice to score some runs."
The Tigers have had their share of double-digit scoring outputs -- 10 of them now, the third-highest total in the Majors behind the Rockies (13) and the A's (15). In fact, they had one 10 days ago in Arizona. They scored six the next night against the Angels, then went into their tailspin.
Saturday was a breakout. Just as important was the way the offense broke out, from Victor Martinez's first home run in a month to two clutch RBI hits for Alex Avila off left-handed pitching to J.D. Martinez's opposite-field blast.
None of that, however, compared to Cabrera's tape-measure shot.
"That," winning pitcher Rick Porcello said, "was pretty sweet. I just keep thinking about Miggy's home run. It was awesome to watch."
Cabrera leads the American League with 36 doubles, but he entered August with 16 homers, off the pace from any of his previous six seasons as a Tiger. He showed some signs of getting his punch back last week with two homers on their West Coast trip, but had homered just twice at home since May 10.
Every summer, his home-run barrage includes at least one test of the depths of center field. Even if the barrage hasn't been there, he put up his test on Saturday.
After taking a first-pitch slider inside from Rockies lefty Tyler Matzek, Cabrera got a fastball up and on the outer half. Instead of trying to pull the ball, he went with it. For that pitch, he flashed the effortless power of the opposite-field swing.
It wasn't a line drive, but in this case it might have helped. Even without the wind, the ball was headed out. With the passing storms, however, the drive got a boost as it hung in the air, giving it a few extra feet as it carried out.
"Frankly, everybody knew it was gone when it was hit," Ausmus said. "It's not like we were on the edge of our seats. There's not many people that can reach that."
By the time it came down, it had cleared the first row of shrubs and reached the second tier. The calculations from ESPN Stats and Information, which has handled distances on home runs at Comerica Park the past few years, estimated it at 445 feet -- Cabrera's longest home run since reaching the depths of Tropicana Field on June 28, 2013. It's also the longest home run by any player at Comerica Park this season, barely topping Matt Dominguez's homer on May 8.
Only Torii Hunter's May 20 homer to deep left field in Cleveland, also estimated at 445, matches Cabrera for longest by a Tiger in 2014.
The winds had calmed next inning by the time Nick Castellanos hit an opposite-field shot to the deepest part of right-center field, bouncing it just shy of the out-of-town scoreboard for a two-out triple ahead of an Avila double.
Matzek intentionally walked Cabrera his next time up in the fifth with Ian Kinsler on third base. Victor Martinez turned on the first pitch he saw and sent it over the left-field bullpen for his 22nd home run on the year and his first since July 3.
Matzek gave up eight runs on 10 hits over four-plus innings. Eugenio Suarez singled and scored off Matt Belisle in the sixth before J.D. Martinez homered off Rex Brothers in the seventh.
All the run support was plenty for Porcello (13-5), who moved back into a tie for the Major League lead in wins with teammate Max Scherzer among others. He shrugged off a two-run second inning to retire 11 Rockies in a row, including the side in order in the seventh.
Jason Beck is a reporter for MLB.com. Read Beck's Blog and follow him on Twitter @beckjason. This story was not subject to the approval of Major League Baseball or its clubs.