Reds rally, but drop extra-inning battle of bullpens
Cincinnati can't convert in 10th after Hamilton picks up Bailey in eighth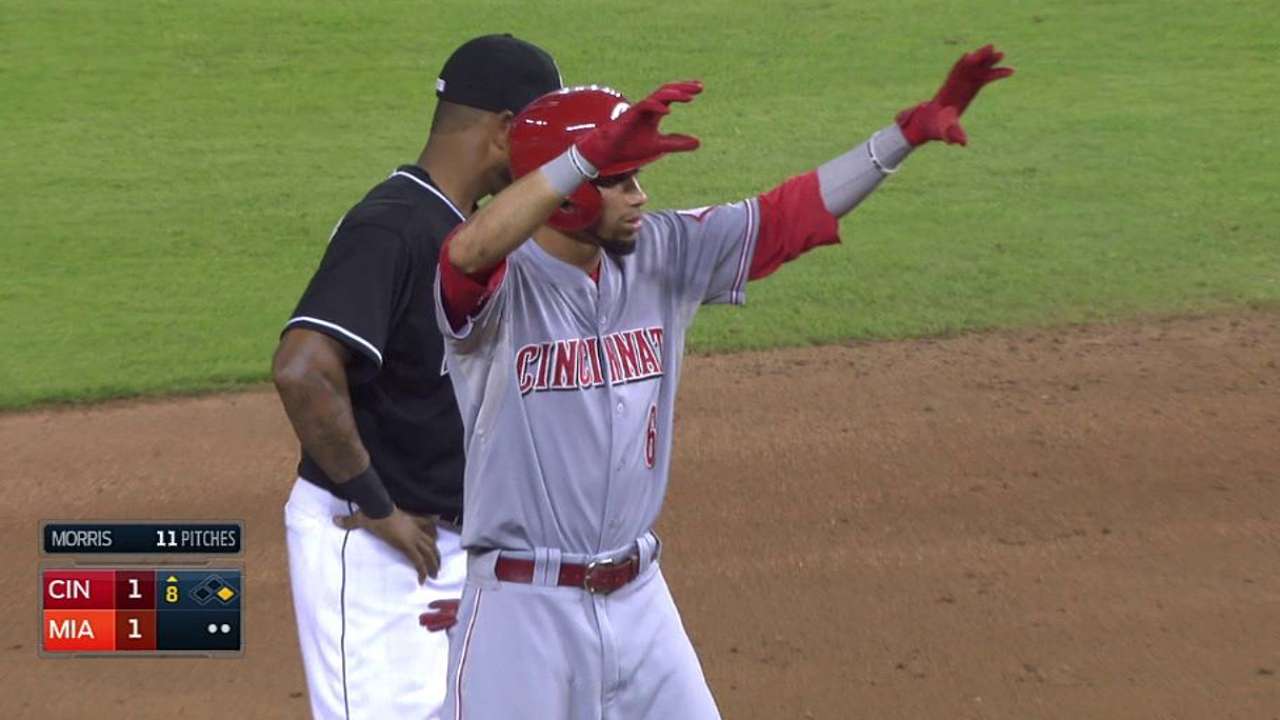 MIAMI -- Before you could utter the "mo" in "momentum" after back-to-back wins over the Marlins, the Reds' offense was back to being neutralized again on Saturday night.
It wasn't just Marlins starter Nathan Eovaldi shutting down the Reds. Homer Bailey often kept Miami at bay much of the night. Then both teams' bullpens did likewise.
The Marlins broke through in the bottom of the 10th to hand the Reds a 2-1 defeat on a walk-off RBI single from Christian Yelich off reliever Sam LeCure. Miami snapped its three-game losing streak, and a seven-game losing streak vs. Cincinnati that dated back to 2012.
"It was going to be one of those games," Reds manager Bryan Price said. "We got two good bullpens going after each other after two quality starts by Homer and Eovaldi, who was terrific. That's what it comes down to. It's going to be one pitch, one play, whatever it may be."
LeCure began the Miami 10th by giving up a Jeff Mathis double to left field past third baseman Todd Frazier, who was guarding the line. Pinch-hitter Reed Johnson dropped a sacrifice bunt that moved Mathis to third base.
Cincinnati was forced to play its infield and outfield in when Yelich hit a 3-1 pitch into center field to end it.
"These guys [the Reds], they've got some arms," Marlins manager Mike Redmond said. "So we definitely have our work cut out for us. But it's a nice win and a great game, and fortunately we were able to match the pitching and get the big hit."
The Reds had their own chance to take the lead in the top of the 10th, but didn't get it done with a runner on third and one out. Facing closer Steve Cishek, pinch-hitter Chris Heisey roped a one-out triple to the center-field wall.
Heisey was kept 90 feet from scoring as lefty reliever Mike Dunn took over and struck out Billy Hamilton and Jay Bruce to end the threat. Price contemplated going with a squeeze bunt with Hamilton, but decided to let him swing away.
"That was something we thought about, but Billy's been really good with runners in scoring position, as evidenced earlier in the game when he drove in our only run with a big base hit," Price said. "It just seemed like if he puts the ball in play -- even if he ends up at first base and the run doesn't score, he can still steal a base and be in scoring position within a pitch or two for Jay. There were a few options there, but what we needed was a base hit there -- as both teams did for most of the ballgame."
In a quality start not rewarded with a winning decision, Reds starter Homer Bailey allowed one earned run and three hits over seven innings with three walks and five strikeouts. Bailey has given up two runs over 15 innings in his last two starts.
Bailey wiggled out of a 27-pitch first inning after a two-out double by Giancarlo Stanton and a Casey McGehee walk. In the bottom of the third inning, Yelich hit a one-out double to left field. The next batter, Jordany Valdespin, lined an RBI single to left-center field to break the scoreless tie.
"I wasn't extremely sharp and I was having trouble finding the umpire's zone. But overall, we got good results," Bailey said. "It was a very long first inning. We were able to get out of a few jams the first couple of innings. After that, we kind of found our stride and were able to get some quick outs."
Eovaldi came into the night with a 4.37 ERA, but Reds hitters struggled against him as the right-hander was at times reaching 99 mph. One of the harder-hit balls, a leadoff grounder by Devin Mesoraco in the top of the second, was stopped by diving shortstop Adeiny Hechavarria. With a throw from his knees, Hechavarria got Mesoraco out at first base by a half-step.
Two batters later, Skip Schumaker hit a soft liner to center field for the first Reds hit of the night. As Eovaldi retired 16 of his next 18 hitters, the second hit didn't come until Ramon Santiago's soft liner to right field that began the top of the eighth. That would be Eovaldi's final batter before he was replaced by reliever Bryan Morris.
"He was throwing 96-99. How much off-balance do you need to keep the hitters off?" Price said of Eovaldi. "He had a nice curveball and slider and threw a small handful of changeups. He was very sharp."
A Zack Cozart sacrifice bunt moved Santiago into scoring position. With two outs and a 2-2 count, Hamilton came through with a soft single to left field off Morris that scored the tying run. But one more big hit wasn't there in the end, as Cincinnati fell to 3-7 in extra-inning games and 17-24 in one-run games to remain 5 1/2 games behind first-place Milwaukee in the National League Central.
Mark Sheldon is a reporter for MLB.com. Read his blog, Mark My Word, and follow him on Twitter @m_sheldon. This story was not subject to the approval of Major League Baseball or its clubs.