Yelich lifts Marlins in 10 after late lead gets away
Outfielder delivers walk-off single; dazzling Eovaldi takes no-decision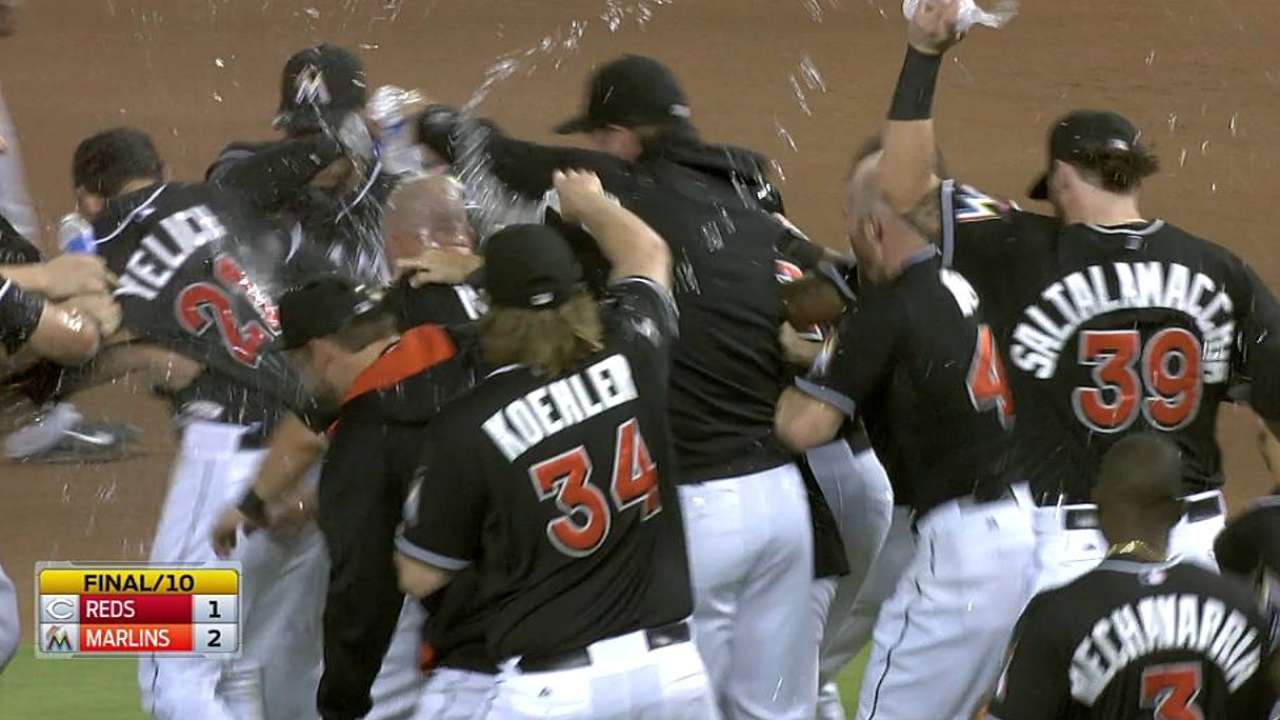 MIAMI -- On the eve of Christian Yelich Bobblehead Day at Marlins Park, the 22-year-old left fielder showed fans why he's so valuable to the Marlins.
With a runner on third and just one out in the 10th inning, Yelich hit a single over the glove of second baseman Ramon Santiago, lifting the Marlins to a 2-1 win over the Reds on Saturday night.
The Marlins, who walked off for the ninth time this season, made Yelich the target of their celebratory water flinging. And when he was interviewed at his locker, he had stripped off his jersey and was still soaked through.
"For us to get a win tonight and get back on track is important. Obviously we've had a couple tough nights the last couple days," said Yelich, who scored the Marlins' other run in the third inning. "It's just cool to get a walk-off hit, get the guys a win."
And although Nathan Eovaldi didn't factor into the decision, Miami was in position to win after the starter finally turned the page on his recent struggles, allowing only two hits in seven-plus innings.
Eovaldi gave up 18 runs over 16 1/3 innings in his previous three starts. In his most recent outing against the Nationals on Monday, he yielded five earned runs on six hits, but was saved from his seventh loss of the season by the Marlins' late-inning heroics.
He turned in what was arguably his best start of the season on Saturday. The righty needed just nine pitches to get through a perfect first inning, and then ended up scattering only three baserunners through the next three frames.
What allowed him to get back to throwing like the Eovaldi from earlier this season -- the pitcher who struck out 69 batters and recorded 10 quality starts across his first 13 outings -- was his control of his offspeed pitches. Between starts, Eovaldi worked with pitching coach Chuck Hernandez on extending his stride, which he said kept him in line.
"I felt [my offspeed pitches] were a lot more consistent tonight, being sharp," Eovaldi said. "I was able to work ahead in counts and threw all my offspeed pitches over the plate for strikes and good swing-miss pitches."
He said he hadn't felt this good in a start since he threw seven innings of four-hit, one-run ball against the D-backs on July 9. The difference between that Arizona start and the one on Saturday was his command of the fastball, which allowed him to strike out six batters, the most he's recorded since he fanned eight Cubs on June 6.
"You could tell he was a man on a mission. He carved through their lineup pretty good," manager Mike Redmond said. "That's the stuff that we know he has. It's really just about consistency."
Before Ramon Santiago led off the eighth with a lined single to right field, Eovaldi retired 11 batters in a row and was still hitting the upper-90s on the radar gun. In fact, Santiago's hit came on a 98-mph fastball.
But that was the last batter Eovaldi faced, as Redmond took the righty out of the game after 97 pitches. Eovaldi was charged with a run when Santiago scored the tying run on a Billy Hamilton single to left field off reliever Bryan Morris.
Morris got out of the inning with a strikeout of Todd Frazier, but he was seen in the dugout throwing his glove against the wall. In his last outing on Thursday, the reliever allowed three inherited runners to score in the Marlins' 3-1 loss to the Reds.
"Mo, man, Mo, he's had a couple of soft hits go against him, plays [too], but he's got such good stuff," Redmond said. "Hopefully we can get him back in there tomorrow in that same situation."
Jeff Mathis -- who was at the center of the controversy of Thursday's game, when he was ruled to have blocked the plate, allowing the tying run to score -- was in a way able to redeem himself by leading off the 10th with a double and scoring the game-winning run. Pinch-hitter Reed Johnson bunted Mathis over to third before Yelich drove in the catcher, giving the Marlins a chance to gain a split of the four-game series on Sunday.
"To get a win in that fashion and come back on those guys who have been grinding too [is good]," Mathis said. "They grinded and tied it back up. ... It's just a good game all the way around."
Maria Torres is an associate reporter for MLB.com. This story was not subject to the approval of Major League Baseball or its clubs.