More of the same: Bullpen implodes, star player HBP
D-backs allow seven runs in last two frames, Delgado drills McCutchen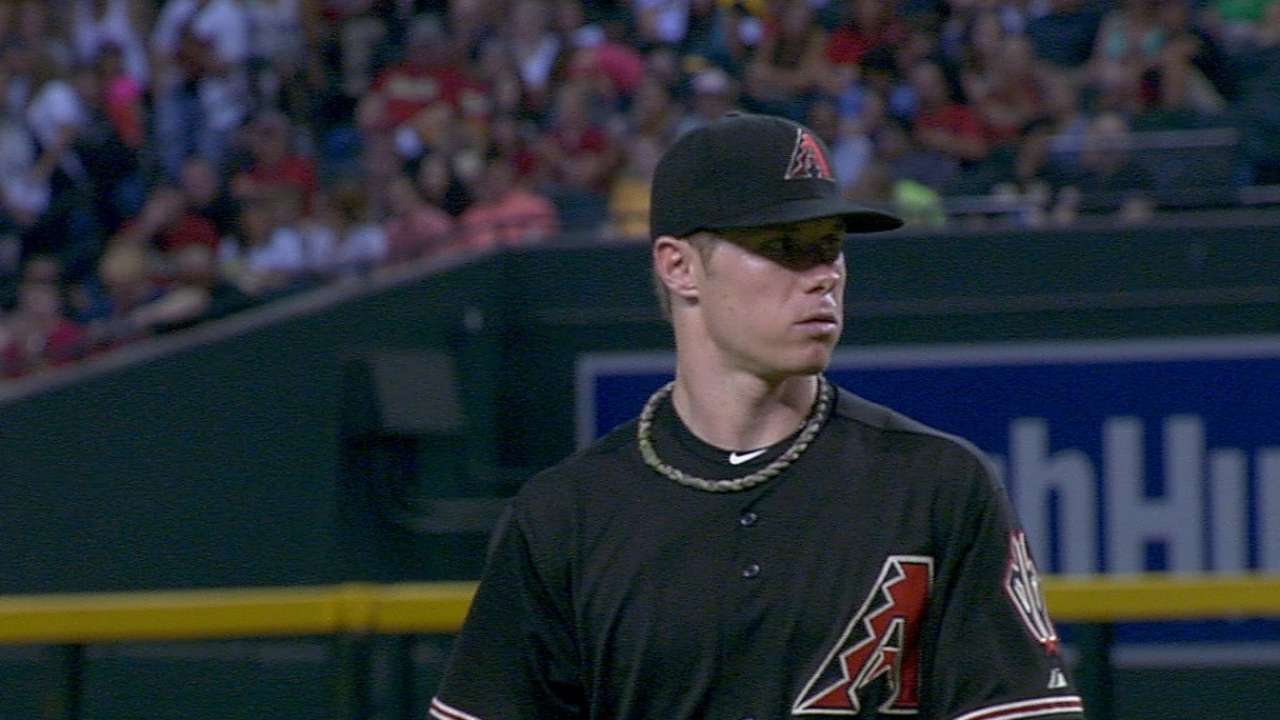 PHOENIX -- Ejected early in the game after arguing a reviewed call, D-backs manager Kirk Gibson watched from the Chase Field clubhouse as Saturday's game against the Pirates took a turn that closely resembled Friday's loss -- in more ways than one.
For the second straight night, the D-backs' bullpen collapsed in the late innings, and for the second straight night, a star player was hit by a mid-90s fastball. Unlike Friday, the latter was the D-backs' doing, but the result was nearly the same -- an 8-3 loss.
Tensions ran high after All-Star first baseman Paul Goldschmidt was placed on the disabled list with fractured left hand caused by a pitch from Pirates reliever Ernesto Frieri on Friday.
After the Pirates broke a 1-1 game open in the eighth, the other domino fell. Reliever Randall Delgado hit Andrew McCutchen with a 95-mph fastball in the back in the ninth, and a furious McCutchen slammed his bat to the ground and took his base.
"I can deal with being hit by a pitch. That's the game. It happens," McCutchen said. "You hate for someone like their star player to go down like that -- and of course we didn't mean to do that, but we understand. Retaliation is going to happen in this game -- but there is a right way to do it."
The D-backs' clubhouse and players in it were quiet after losing their second straight game and their best hitter. Delgado, catcher Miguel Montero and Gibson all denied any possibility of the hit-by-pitch being a form of retaliation for Goldschmidt.
"[It] got away," Gibson said.
Added Montero: "Pitches middle, middle-away, [McCutchen has] been crushing it. And if the pitch is inside, he just kind of rolls it over. So we were starting to go in, and we got a base open. If we walk him, we walk him. I believe it got away from [Delgado]. He got him pretty good."
Delgado's fastball may or may not have gotten away from him, but the game definitely got away from the D-backs in the last two innings.
Brad Ziegler entered the game to start the eighth, and the usually reliable reliever ran into quick trouble on odd plays.
After Josh Harrison singled, rookie Gregory Polanco was awarded first base on catcher's interference against Montero. McCutchen followed with an RBI single that deflected off third baseman Andy Marte's glove, and the Pirates were back in the driver's seat.
The Pirates continued their rally when Russell Martin chopped a ball off the plate. The ball took too long coming down for Ziegler to get an out at home, and he rushed the throw to first, throwing it into the basepath. First baseman Jordan Pacheco couldn't handle the throw, and another run scored.
The four-run rally finally ended after Brent Morel doubled in another run, ending Ziegler's outing.
"I was getting ground balls, just not at guys," Ziegler said. "That's the way it goes sometimes."
Delgado came in to pitch the ninth, and the Pirates continued to pile on. Delgado hitting McCutchen loaded the bases. Eury De La Rosa replaced him when home-plate umpire Ron Kulpa ejected Delgado, and De La Rosa let in three more runs on a pair of singles.
"You still have to stop and cut it off," Gibson said. "I think we've given up 15 runs in the eighth and ninth inning in the last two nights. They're a good ballclub, and you just can't allow them to do that."
The D-backs certainly had chances of their own. Starter Chase Anderson delivered his fourth straight quality start and held the Pirates to one run through six innings, but the offense didn't give him support. David Peralta delivered an RBI single while Anderson was in the game, then hit a two-run home run in the ninth.
The D-backs had a pair of runners in scoring position in the seventh inning, putting them in prime position to take the lead, but the offense couldn't bring anyone around.
"The seventh inning kind of set the stage," Gibson said. "We had a golden opportunity to score some runs."
Adam Lichtenstein is an associate reporter for MLB.com. This story was not subject to the approval of Major League Baseball or its clubs.