Brown reflects on his career at SABR panel
After leaving medicine, ex-player never thought he'd return as AL president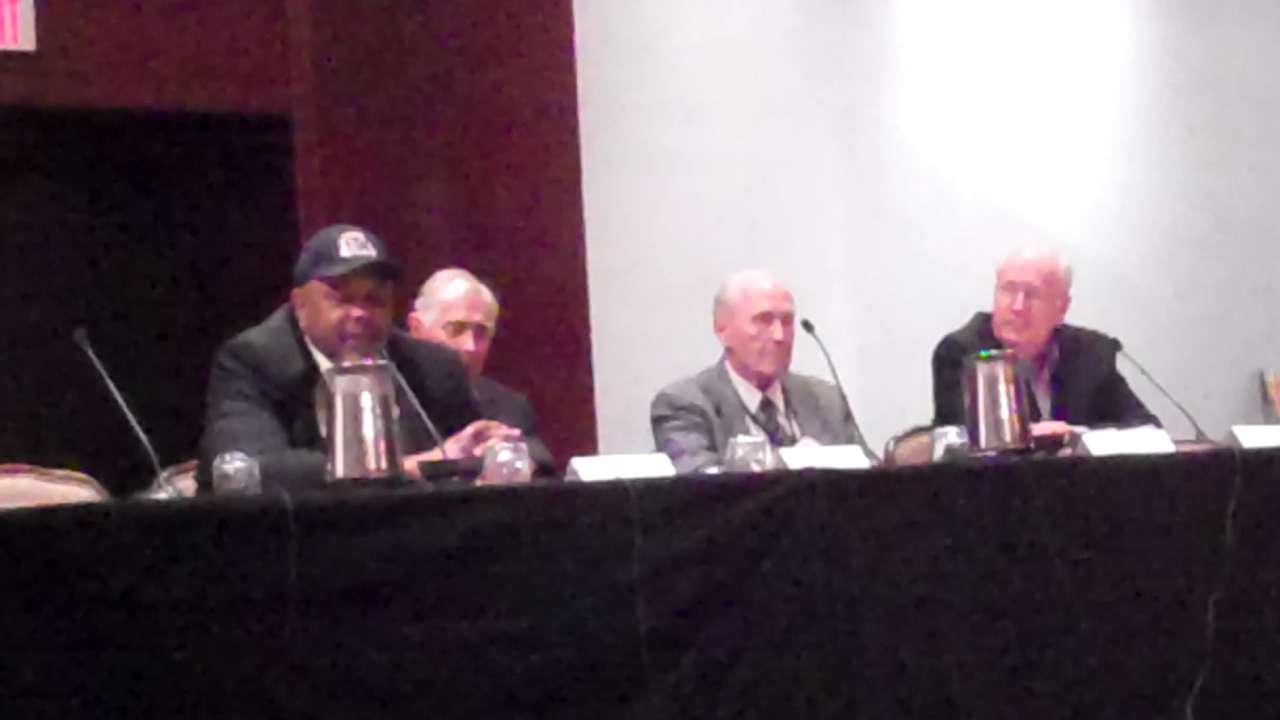 HOUSTON -- When Dr. Bobby Brown left baseball for a career in medicine, he never thought he'd look back. But then life happened. Brown, who spent 25 years as a cardiologist, later returned to the game he loved as the president of the American League, a job he'd never imagined for himself.
Brown told those stories and many more on Saturday, when he teamed with Bob Watson and Eddie Robinson to form an interesting panel discussion at SABR 44. All three men used their playing careers as a springboard for an executive role in baseball, and all three took a different path to get there.
For Brown, one of the most unique characters in the annals of the game, there was nothing traditional about his path. Brown, a four-time World Series champion, retired at 29 to become a doctor, and he spent the better part of three decades helping people to heal their dangerous heart ailments.
Then, with his second career coming to a close, something interesting happened. Brown was approached to interview for the role of Commissioner of baseball, and though he didn't get it, he realized something. Brown remembered his love for the game and that it all came naturally.
"I was going to turn 60 that year, and I was practicing [medicine] 25 years, night and day," said Brown. "I was getting tired, and I knew that I could go another five years but not any longer than that. But this was a baseball thing. Doctors can't do anything once they retire; they sell suits or houses or something like that. Here was something baseball, and I didn't need a refresher course in baseball."
Major League Baseball wound up hiring Peter Ueberroth that year, but Brown returned to the game as the president of the American League and stayed in that capacity for 10 seasons. Brown joked that he then retired at age 70 because he didn't want to be told he was too old to continue doing his job.
Needless to say, both Watson and Robinson found their late-career roles in slightly different fashion. Robinson followed his manager, Paul Richards, to another city to pursue a role in player development, and Watson first contemplated being a general manager while taking a round of batting practice.
Watson told that story Saturday, saying that former executive Bill Lucas planted the seed in his mind when he was still a player. The concept took a few years to germinate, and Watson realized he wanted to have a hands-on role when he was interviewing to be a hitting coach with the Oakland A's.
"Sandy Alderson was the general manager, and in that interview, he asked me what was my ultimate goal," said Watson recalling his first post-playing job. "I'm interviewing for the hitting coach job, but I told him I wanted to sit in his chair. He said, 'You know what? I'll help you.' I was hitting coach by season and taking all kinds of notes, basically assistant GM in the offseason. That's how it started for me."
And by doing so, he made Lucas proud. Lucas had basically been a general manager for the Braves but held the title of director of player personnel. Watson would later become general manager of the Houston Astros and the Yankees, winning a World Series title in 1996 in the latter role.
Robinson, who played for seven of the eight existing AL teams during his career, said that he always knew he wanted to stay in baseball. He coveted a player development job, and he realized his dreams by first working as a farm director and then later as the general manager of the Braves and Rangers.
"I had a champion in Paul Richards who was my manager in Chicago, and he knew I wanted to stay in baseball," he said. "He was my mentor. I loved the guy. When I was through playing, he was managing the Baltimore Orioles, and I wound up my career with the Orioles. He gave me a job in the player development department, and in 1961, we came to Houston when they didnt have a team."
That's right. The Astros didn't even exist yet.
Richards and Robinson helped put together the fledgling Colt .45s, a team close to the heart of the capacity crowd at SABR 44, the annual convention of the Society for American Baseball Research. And if the crowd enjoyed the trip down memory lane, they got even more than they bargained for.
Brown, a rich storyteller whose life intersected with all-time greats like Yogi Berra and Joe DiMaggio, told of his experience in World War II and other tales. Brown, stationed in Japan during the Korean War, even told of spending time with DiMaggio and Marilyn Monroe during their honeymoon abroad.
But his richest reminiscence centered around Berra, his roommate during their Minor League days. Brown told of how Berra would read Superman comic books while he was thumbing through his medical textbooks, and he recalled meeting with Berra once they had both stopped playing.
Berra, at this point, was a coach, and they compared notes on how their lives had changed.
"He said, 'I'm going to play golf. I take my clubs with me on the road,' " said Brown. "He said, 'I play nine or 18 holes, then I get a bite to eat and I head to the park at 3 or 3:30. When I'm at the park, I hang around the batting cage and if they ask me about hitting, I talk to them about it. If they don't ask me, I don't say anything, I just pick up the fungo bat and hit ground balls to the infielders.' So I said, 'What about the game? What do you do then?' And he said, 'I sit next to the manager. If he asks me any questions, I give him answers. If he doesn't ask any questions, I just watch the game.' "
Brown then started telling Berra about his typical day of work. He'd wake up at 6 a.m. and be in the hospital at 7, and then he'd make his rounds until 9. Then he'd go to his office and see patients until 5 p.m. Then, after that, he'd go back to the hospital and check back on patients in the cardiac unit.
There was no time for lunch, he explained to Berra, and sometimes he had to be on call to work nights or weekends. The typical day, said Brown, saw him get home at 8 and in bed by 10 p.m. Berra listened to all of that, took it in, and then he cut right to the heart of the matter in inimitable fashion.
"He said, 'Do you do that every day?' "said Brown, recalling the conversation. "I said 'Yeah, but if I'm on call, I have nights, too. I have to get up at night, once or twice usually, and if I have the weekend, it's 48 hours where you don't get much rest.' He said, 'You do that all the time?' and I said, 'Yeah, pretty much all the time.' So he looked at me and said, 'Where the hell do you think you went wrong?'"
Robinson, not to be outdone, told his own story about Berra, his former teammate with the Yankees. Robinson played with the Yankees for parts of three seasons -- 1954 and 1955 before being traded to Kansas City midway through 1956 -- and he recalled one unforgettable Yogi anecdote.
One day, Robinson explained, the Yankees had to play a doubleheader the day after having played a night game. So Robinson showed up late the next day, opting not to take batting practice.
"As I'm getting my uniform on, batting practice is over and the players are filing into the locker room," he said. "As soon as Yogi came through the door, he came over to my locker and said, 'Where the hell were you today?' I said, 'Well, Yogi, I didn't want to take batting practice so I got here late.'
"He said, 'You really missed it. ...There were two streakers. They jumped on the field down the line at the right-field foul pole and they ran all the way across the field to the left-field foul pole and jumped up into the stands.' He said, 'They didn't have any clothes on.' So I said, 'I guess I did miss it. What were they, boys or girls?' And he said, 'I don't know. They had bags on their heads.' "
Those stories -- and several more like them -- were just part of the final day of SABR 44, and the scene later shifted from the Royal Sonesta Hotel to Minute Maid Park. The Astros hosted a panel featuring a few former Astros and another on decision science starring general manager Jeff Luhnow.
Spencer Fordin is a reporter for MLB.com This story was not subject to the approval of Major League Baseball or its clubs.