Hanley's first career walk-off homer douses Cubs
Bullpen comes through on a rare rainy night at Dodger Stadium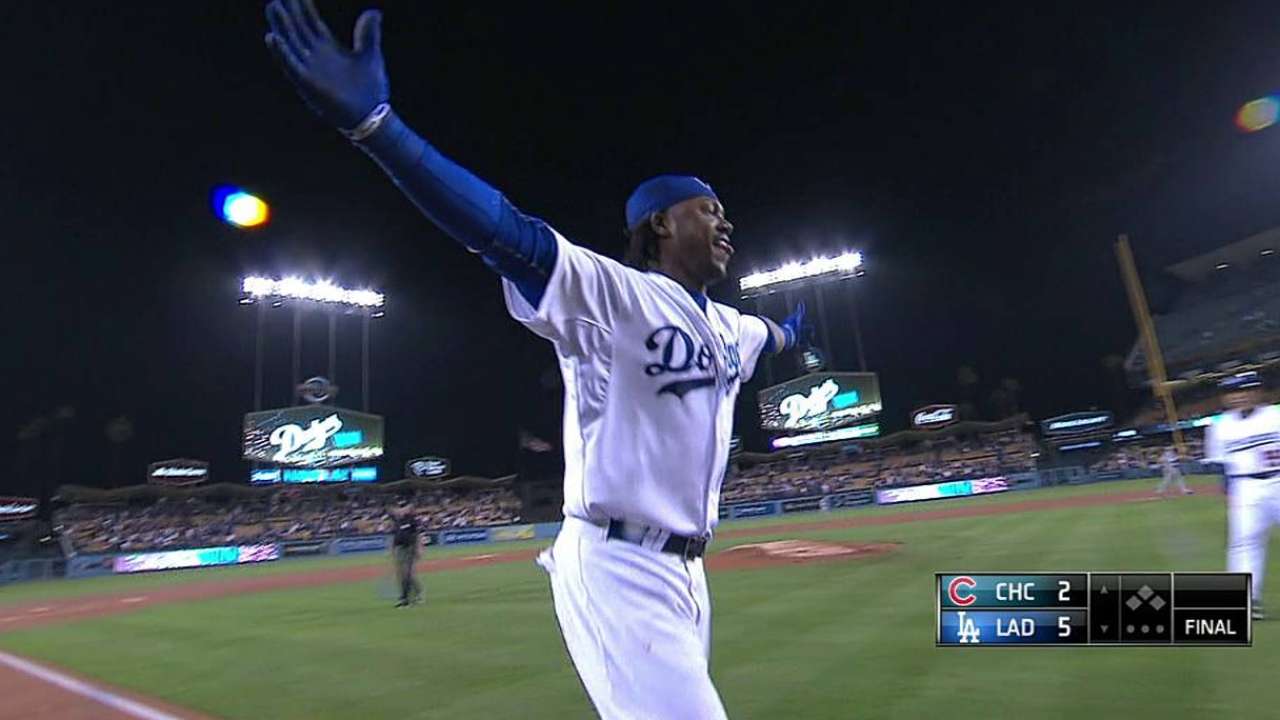 LOS ANGELES -- With free agency looming, riches await Hanley Ramirez if he keeps this up. He crushed his first career walk-off home run Saturday night, a three-run shot with two out in the bottom of the 12th inning to give the Dodgers a 5-2 win over the Cubs.
The rain-soaked highlights will feature Ramirez's blast off Blake Parker that landed, fittingly, in the Dodgers bullpen. It was the bullpen that had as much to do with this win as Ramirez, as much as Matt Kemp's fourth-inning two-run homer or starting pitcher Hyun-Jin Ryu's seven solid innings.
Ramirez got the hero's welcome at the plate and the dugout bubble party and the sports-drink shower, but just as deservedly it could have been winning pitcher Jamey Wright, the fifth Dodgers reliever.
After pitching one inning Friday night, Wright pitched two more Saturday to contain what has suddenly become a pitching emergency for the Dodgers.
Their bullpen -- which picked up 4 2/3 innings after Dan Haren's short start Friday night and lost Paul Maholm with a season-ending knee injury -- pitched five scoreless innings Saturday.
Here's the roll call: Brandon League, with two-thirds of an inning; J.P. Howell, with a critical strikeout of Luis Valbuena to strand a pair of inherited runners (he's allowed only two of 31 to score); Kenley Jansen with a scoreless ninth; Brian Wilson striking out Anthony Rizzo, Starlin Castro and Justin Ruggiano in the 10th; and the 39-year-old Wright finishing it up.
Paco Rodriguez was recalled to replace Maholm, but he pitched Friday night for Albuquerque and wasn't used Saturday night. Neither was Chris Perez.
The crisis could continue Sunday, when Josh Beckett makes his third start since returning from the disabled list with a hip impingement. He didn't get past the fifth inning in the other two starts, so a reliever callup could be upcoming, although how to make room for one won't be simple.
Having won seven of eight and restored the lead to 3 1/2 games, Dodgers management will juggle Minor League arms in and out until it can pull off a waiver deal for a veteran. In the meantime, they need to win more games like this one.
It came with a rare August rainstorm dampening Dodger Stadium over the final four innings. The winning rally started with Dee Gordon singling up the middle with two outs. After three pickoff attempts, Gordon stole second base on Parker's first pitch to Justin Turner, his 51st steal.
"Him getting in scoring position is really what causes the true stress because then they know every pitch they throw -- a dinker, a ball through the hole or something -- is game over," said manager Don Mattingly. "So Dee being able to get a stolen base there is really big for us."
Turner worked a full-count walk to bring up Ramirez, who clubbed the game-winner.
"I was watching the way they pitched to J.T. and they didn't want to pitch to him, so I know I got to come through," said Ramirez. "He just made a mistake, left something on top of the plate and I hit it out."
It was Ramirez's 12th homer of the year and first since June 17. He went 3-for-5 with a walk, double and homer and the walk-off.
Production from Ramirez and Kemp was essential, as the starting lineup was missing Yasiel Puig, Adrian Gonzalez and A.J. Ellis. Puig, nursing a hamstring, according to the club, came off the bench with a pinch-hit single, then was picked off. Gonzalez, with a scheduled day off, struck out as a pinch-hitter. Ellis has a bruised right knee and will probably miss Sunday's game as well.
"We're not a one-man band," said Mattingly. "There's no one guy that's going to keep us from moving forward."
Kemp turned the score around in the fourth inning, following Ramirez's leadoff walk by former Japanese League star Tsuyoshi Wada with a towering blast to left-center. Kemp has four homers in the last five games, is 7-for-18 on the homestand and 18-for-49 since the All-Star break.
"I feel good at the plate. I hit a couple balls hard tonight," said Kemp.
And coming off two injury-plagued seasons, the one-time ironman has now played in 100 games, tied for most by a Dodgers outfielder this year with Puig.
Ryu took a one-run lead into the seventh inning, which figured to be his last. With one out in the top of the inning Junior Lake bunted perfectly for a single and with two out was doubled home by Arismendy Alcantara to tie the game, Alcantara taking third base on the throw. A slick glove play by Turner, starting at first base for Gonzalez, robbed Coghlan of another hit and stranded Alcantara at third base.
Ryu was charged with two runs on nine hits in seven innings with six strikeouts.
Ken Gurnick is a reporter for MLB.com. This story was not subject to the approval of Major League Baseball or its clubs.