Parker gives up walk-off homer in 12th to take loss
Wada has solid outing, but Cubs can't capitalize on chances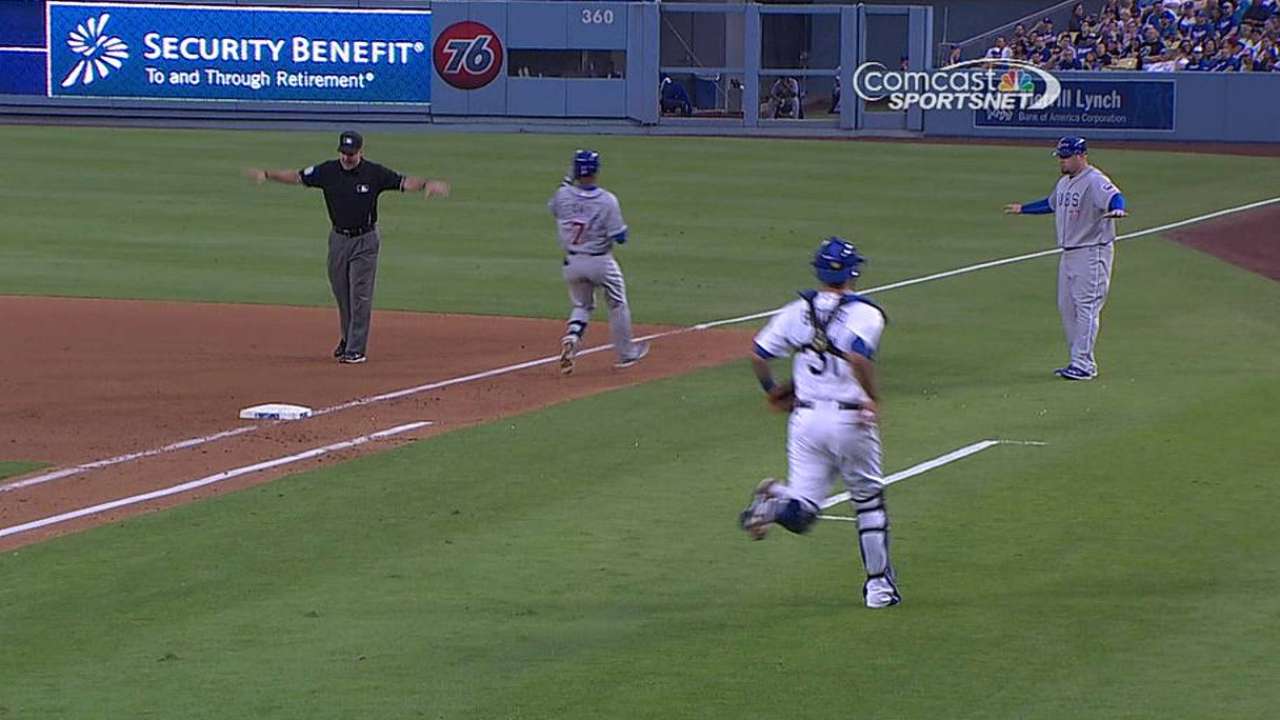 LOS ANGELES -- Dodger Stadium has been special to Tsuyoshi Wada, but not on Saturday night.
Wada did not get a decision as the Dodgers rallied, posting a 5-2 win over the Cubs thanks to Hanley Ramirez's walk-off, three-run homer with two outs in the 12th inning in front of 53,354, the second largest crowd in the Majors this season.
With the game tied at 2 and light rain falling at Dodger Stadium in the 12th, Blake Parker got Drew Butera to hit a soft comebacker for the first out and then struck out pinch-hitter Adrian Gonzalez. Dee Gordon singled past second baseman Arismendy Alcantara, and then swiped second for his 51st stolen base of the season.
Justin Turner walked to set up Ramirez, who launched a 1-0 pitch from Parker to left. It was Ramirez's first career walk-off home run.
"I was watching the way they pitched to [Turner] and they didn't want to pitch to him, so I know I got to come through," Ramirez said. "He just made a mistake, left something on top of the plate, and I hit it out."
The Dodgers were 0-for-9 with runners in scoring position before Ramirez's hit. The Cubs are used to working overtime. This was the third time they've played extra innings in the last five games.
They had chances. The Cubs had two on and two outs in the eighth but J.P. Howell struck out pinch-hitter Luis Valbuena to end the inning. Chicago had two on again and two outs in the 12th but Justin Ruggiano struck out against Jamey Wright. The Cubs went 1-for-6 with runners in scoring position.
"We had some missed opportunities," Cubs manager Rick Renteria said.
Wada remembers watching Hideo Nomo pitch at Dodger Stadium on television. It was the first U.S. big league game he saw. And Dodger Stadium also was the first Major League stadium Wada saw live as a collegian.
"It was very exciting to pitch here," Wada said. "It could've been better if I won the game, but it was exciting, definitely."
On Saturday, he had to adjust his pregame routine just a little because of hundreds of cheerleaders on the field for a pregame event. No problem, Wada said.
"They were very cute," he said.
The six hits off Wada were a season-high, but he did keep the Dodgers in check.
"He did a nice job and worked through some traffic and minimized damage -- two runs is pretty good," Renteria said.
The Cubs took a 1-0 lead in the first against Dodgers starter Hyun-Jin Ryu on Starlin Castro's RBI single.
Wada, making his fourth big league start for the Cubs, walked Ramirez to start the Dodgers fourth and Matt Kemp connected on a slider for his 12th home run of the season and fourth in his last five games to go ahead, 2-1. It was the first home run off Wada in his four starts.
Kemp, who has a career .332 average against left-handers, faced Wada again in the fifth with a runner at second and two outs, but this time, the Cubs lefty got him to ground out.
The Dodgers had two outs and a runner at third in the sixth inning when Wada was pulled in favor of Carlos Villanueva, who is normally used in long relief. Villanueva needed just one pitch to retire Butera. Brian Schlitter, who is usually the short man, then started the seventh inning.
"I wasn't surprised [to be pulled]," Wada said. "We're trying to win the game, and I respect the manager's decision."
The Cubs tied the game in the seventh when Junior Lake reached on an infield single, and scored one out later on Alcantara's double.
"We've played a lot of extra inning ballgames this year," Renteria said. "No matter who their opponents are, these guys compete and we had some opportunities to cash in runs today and we weren't able to do it."
Carrie Muskat is a reporter for MLB.com. She writes a blog, Muskat Ramblings, and you can follow her on Twitter @CarrieMuskat. This story was not subject to the approval of Major League Baseball or its clubs.