Longo's blast sets tone for bats vs. Angels
Offense plates 10 runs on 16 hits to club L.A. and even the series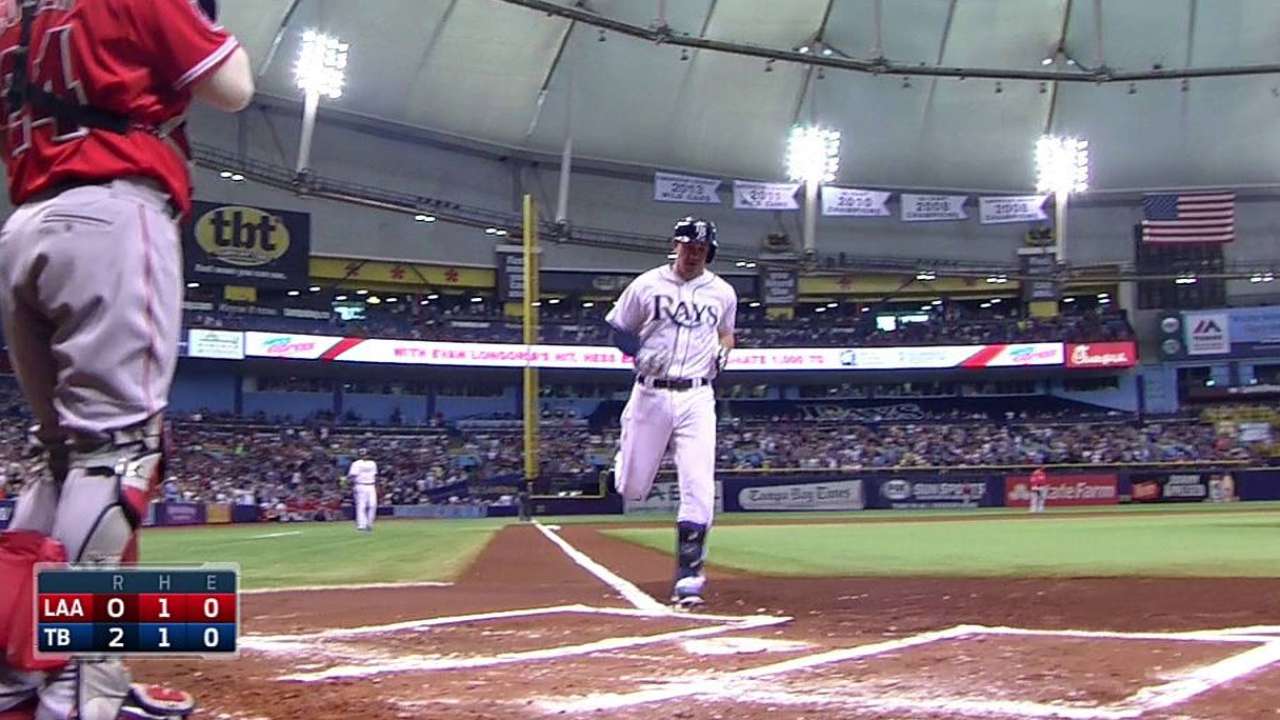 ST. PETERSBURG -- Early runs backed a solid effort by Chris Archer as the Rays defeated the Angels, 10-3, Saturday night at Tropicana Field.
The Rays snapped a two-game losing streak heading into the series finale Sunday afternoon. Rays manager Joe Maddon has stressed the importance of winning series if they want to remain in contention. The Rays have claimed their last five series and the first two series of the current homestand.
"Our objective is to win series," Maddon said. "The Angels, you can see, are really, really good. But I think the Rays are really, really good. It's going to be a fun afternoon, but it's going to be tough."
The American League East-leading Orioles took a 6-3 loss to the Mariners Saturday night, which means the Rays will wake up Sunday morning trailing by 7 1/2 games. They have won 12 of their last 15 games and are 30-14 since June 11, the best record in baseball.
Evan Longoria got the Rays started Saturday night with a two-run first-inning homer off Angels starter C.J. Wilson.
"That was huge," Brandon Guyer said. "Any time you can jump out to a lead with a pitcher like they had throwing and we had throwing, it always helps out."
The Rays hardly sat on their early lead.
James Loney singled in the second with one out and moved to second when Curt Casali walked. Logan Forsythe's single to center scored Loney while Casali advanced to third.
A healthy dose of small ball followed. Desmond Jennings' bunt single scored Casali. The next hitter, Ben Zobrist, also bunted, loading the bases for Guyer. The rookie outfielder singled to center to drive home two to complete the four-run outburst and give the Rays a 6-0 lead.
"We just capitalized on [Wilson's] mistakes," Guyer said. "Some stuff just went our way today."
Wilson, who had just been reinstated from the 15-day disabled list, made the second-shortest start of his career, only recording four outs on 50 pitches.
"The velocity was good, all the pitches were where they needed to be in terms of speed and sharpness, it was just a matter of, I threw a couple of bad pitches," Wilson said.
With his team taking the early 6-0 lead, Maddon noted that it was up to Archer, "Who did bend, but not break."
Archer made his 22nd start of the season for the Rays and posted three scoreless innings before hitting a bump in the fourth. Howie Kendrick and Hank Conger each had RBI doubles and David Freese grounded out to drive home another, cutting the lead to 6-3.
"I had a couple of 3-2 counts that ran my pitch counts up," Archer said. "Then I had that fourth inning, obviously, where I gave up a few hits in a row. But I felt like I was in total control of my mind, my body, my delivery. Didn't execute some pitches, but tonight was one of those nights where the team gave me plenty of wiggle room. So three runs was plenty, more than enough to win."
Archer allowed three runs on six hits and two walks while striking out nine en route to his seventh win of the season.
Joel Peralta and Brad Boxberger held the Angels scoreless in the seventh and eighth innings before the Rays added four more runs in the bottom of the inning to help secure the win. Cesar Ramos added a scoreless ninth to finish out the win.
Ben Zobrist paced the Rays' 16-hit attack with a four-hit performance, his second of the current homestand. Guyer went 2-for-2 and reached base in all four plate appearances and Loney had a three-hit day, extending his on-base streak to 21 games.
"We normally do pretty good when we get out on top," Maddon said. "... Up and down the lineup, we hit the ball well. Good at-bats, a lot of hits and eventually, eventually scored 10 runs."
Bill Chastain is a reporter for MLB.com. This story was not subject to the approval of Major League Baseball or its clubs.