Wilson's return to mound spoiled by Rays
Veteran lefty lasts just 1 1/3 innings, allowing four runs at Tampa Bay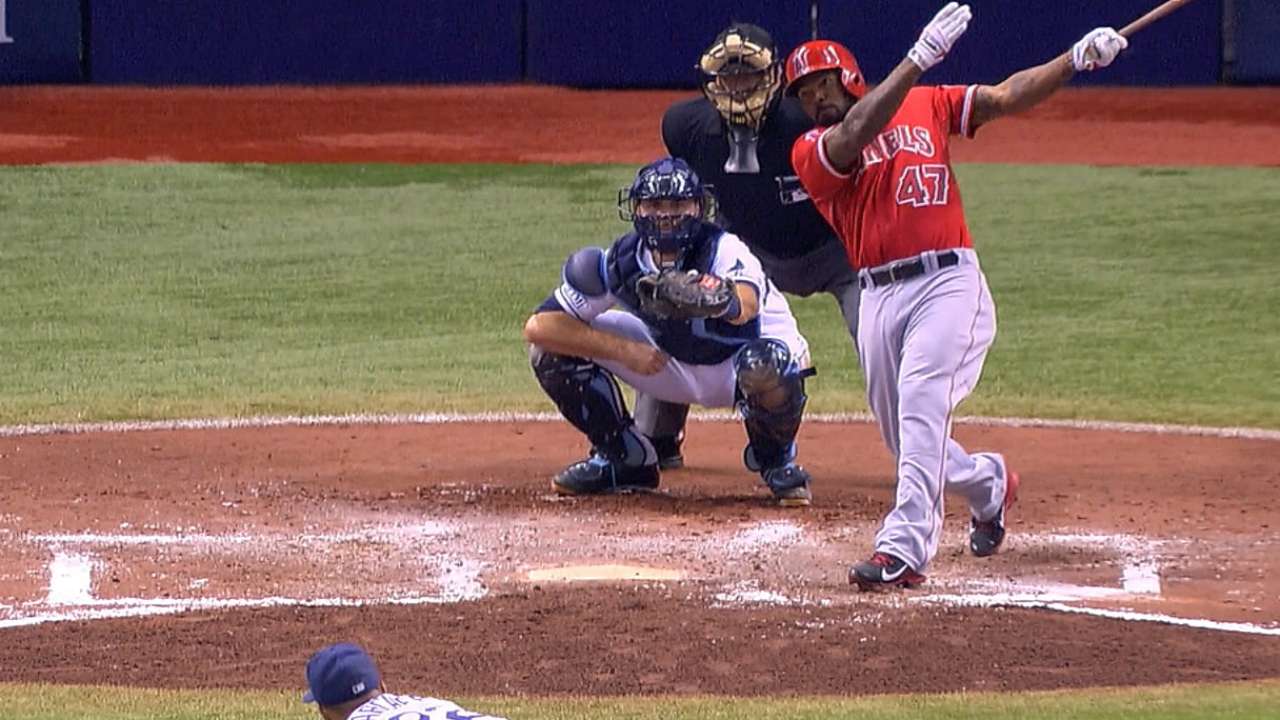 ST. PETERSBURG -- It was only the bottom of the second inning, and as far as C.J. Wilson was concerned, the game was already over.
Just four outs earlier, the left-hander had walked onto a mound in a big league game for the first time in three weeks, having been sidelined with a sprained right ankle. Now, he was walking off the Tropicana Field rubber -- well, he had been yanked off of it by manager Mike Scioscia, really -- after a six-run shelling, with the Angels on their way to a 10-3 loss to the Rays Saturday night.
"It felt good to get back out there -- it's been a long time since I've been playing," Wilson said. "But it's obviously frustrating to lose the game in the first two innings like that."
Wilson's return from the disabled list couldn't have gone any worse -- he got just four outs on 50 pitches. The 1 1/3 innings made it his second shortest career outing, and he has now allowed 25 earned runs in his last 18 innings pitched.
"We need him," Scioscia said. "We need him to figure it out. We need him to get back to making pitches and being effective."
Wilson might have been healthy, but he didn't have much of anything figured out on Saturday. Evan Longoria got things started in the first inning, when, with Brandon Guyer aboard, he turned on a changeup that ran over the middle of the plate and parked it in the left-field seats for a 2-0 lead.
Then the wheels came off in the second, when Wilson allowed six straight baserunners and four runs after the first out. Wilson allowed a single to James Loney, a walk to Curt Casali, an RBI single to Logan Forsythe, back-to-back bunt hits to Desmond Jennings and Ben Zobrist -- both of which Wilson fielded, and neither of which he made a play on -- and a two-run, bases-loaded single to Guyer, which ended Wilson's short night.
Wilson said Jennings' bunt, a safety squeeze with Casali on third and Forsythe on first that turned into a base hit when Wilson looked home before looking to first, was what hurt him the most.
"If I would have just had the presence of mind to concede the run and thrown to first right away -- instead of looking home and trying to throw home -- then [Jennings] would've been out and I probably would've been out of the inning right there, if you look at it realistically," Wilson said.
Instead, Jennings beat the ball to first, Zobrist bunted his way on, too, and Guyer's single to center brought Scioscia jogging out of the Halos' dugout, asking for the ball.
The Angels' bullpen, forced into the action early, did its best to keep the Rays from adding to their lead. The Halos threw 5 2/3 innings of scoreless relief before Tampa Bay finally got to a tired Michael Roth -- who threw 87 pitches in relief -- for four runs in the eighth.
That bullpen has been phenomenal for an extended stretch, but it has also been taxed, working the most innings of any 'pen in the American League in July.
And the relievers did give the Halos a chance on Saturday. With the bullpen putting up zeros, the offense put up a three-spot in the fourth inning against Rays starter Chris Archer -- on an RBI ground-rule double by Howie Kendrick, an RBI groundout by David Freese and an RBI double by Hank Conger -- and almost had more.
With the lead cut to 6-3, two outs, runners on second and third and Mike Trout looming on deck, leadoff man Kole Calhoun worked a full count against Archer. He took what he thought was a sure ball four high, which would have loaded the bases for Trout. Instead, home-plate umpire Larry Vanover rang him up to end the inning.
"The strikeout to Calhoun was huge to prevent that inning from continuing with Trout and Pujols coming up," Rays manager Joe Maddon said.
Calhoun had already flipped his bat to the dugout, anticipating the ball four call, when Vanover went into his slow, methodical punchout. The Angels' right fielder froze, holding both hands to his helmet, in disbelief.
The Angels didn't score again.
"It's a huge at-bat right there," Calhoun said. "If I get on base, it brings Trout up with the bases loaded -- I mean, you never know what could happen. Anything could happen."
David Adler is an associate reporter for MLB.com. This story was not subject to the approval of Major League Baseball or its clubs.