Twins put up their own late rally to get by White Sox
Arcia drives in pair during three-run eighth-inning comeback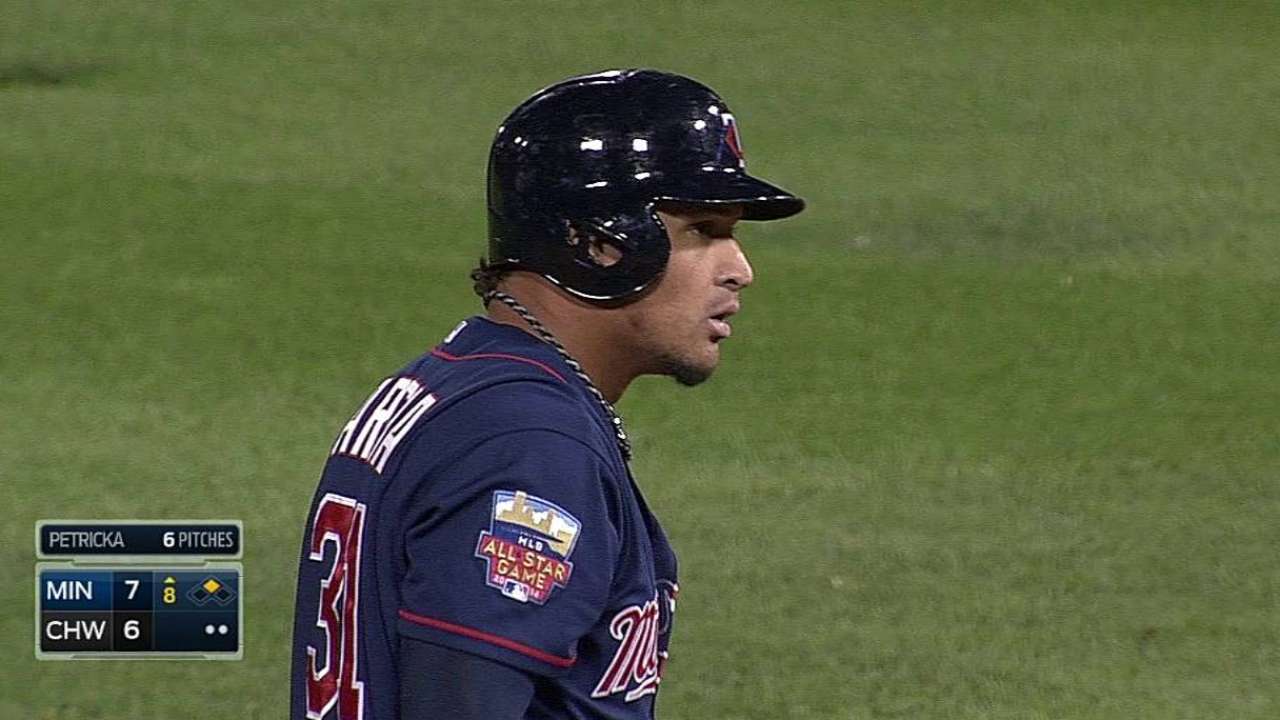 CHICAGO -- Ron Gardenhire said postgame that his demeanor during the later stages of Saturday night's contest with the White Sox was comparable to the fireworks erupting at U.S. Cellular Field.
The Twins manager did his own erupting after his team allowed another four-run, go-ahead inning by the White Sox, and was on the verge of enduring consecutive come-from-behind losses.
But the Twins countered. They scored three runs in the eighth, propelled by Oswaldo Arcia's two-out, two-run double off of left-fielder Alejandro De Aza's glove, and walked away with an 8-6 victory in front of a stunned crowd of 27,446 at U.S. Cellular Field.
Trevor Plouffe hit a one-out single, Josh Willingham was hit by a pitch, Kurt Suzuki lined an RBI single, Kennys Vargas grounded out, then the steadily improving Arcia delivered in the clutch.
"That was big for our baseball team, but it was big for him, too," Gardenhire said. "You could see that on the pitch before that where he really shortened his swing and just fouled one off. On that one, he stayed out there and drove it."
The Twins have scored 16 runs on 26 hits this series. Four batters had multi-hit games on Saturday, including Plouffe, who went 4-for-5 with two RBIs, and is 7-for-10 in the series. Suzuki, who went 1-for-4 with an RBI, is hitting .429 against the White Sox this season.
"We have to have those guys in the middle swinging the bats and doing some things," Gardenhire said. "We talked about you can lose guys at the top and the bottom on, and those guys in the middle have to drive in some runs."
The rally cry came after four White Sox runs in the seventh, fueled by Adam Eaton, who is riding a nine-game hit streak.
Eaton erased what was developing into Yohan Pino's second win in seven starts. The Twins gave Pino a 2-0 lead before he took the mound, and the rookie pitched formidably.
"I don't change anything," Pino said of facing the White Sox, which he's done three times. "Just what I've been doing. I know those guys, they know me. Just same plan. Throw strikes, work the counts you know? I feel the same all three times."
Danny Santana led off the game with a walk, Dozier singled and Plouffe followed with a double to left, bringing home Santana. After Willingham walked, Suzuki hit into 6-4-3 double play to score Dozier.
Pino held off Chicago until the third. Gordon Beckham grounded out to bring home Eaton, who scored from second after his second straight double. Alexei Ramirez followed in the fourth with a solo home run that traveled 385 feet and plunked the left-field foul pole.
The Twins didn't relinquish the lead, however, until the seventh, scoring a run each in the third and fourth. Plouffe, who finished 4-for-5, lined his second RBI double, and Chris Parmelee hit into a double play that brought home Vargas. Plouffe also scored in the eighth on an RBI single by Suzuki.
Eaton had three doubles in his first four at-bats, and in the seventh, brought home the game-tying run and then scored the go-ahead run to give the White Sox a one-run lead.
"It seems like we've had two punching matches with the Twins thus far," Eaton said.
The Twins were also able to halt rookie phenom Jose Abreu's 21-game hit streak.
"Thank God," Gardenhire said. "When you're waxing the baseball, people start pitching around you and don't give you anything good to hit. And you know what, it says a lot about a young player, first year in this league, that you have to do that to him."
Daniel Kramer is an associate reporter for MLB.com. This story was not subject to the approval of Major League Baseball or its clubs.