Cards' offense shines bright in Masterson's debut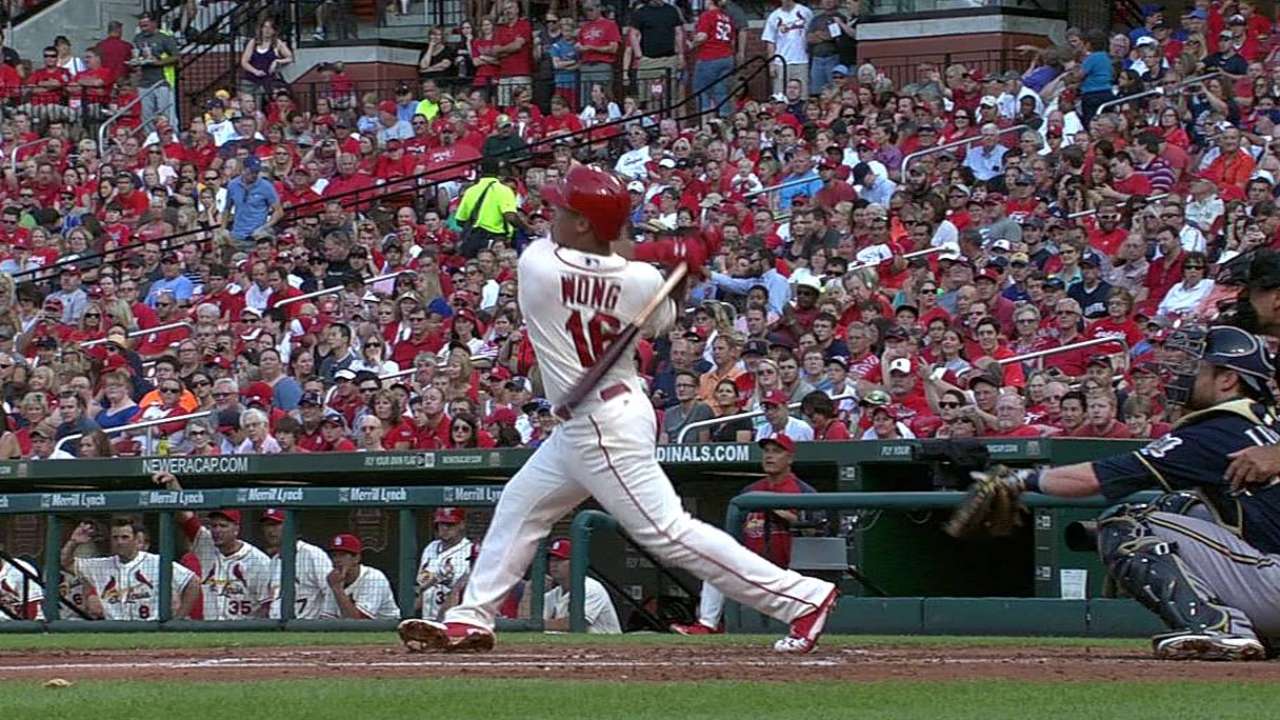 ST. LOUIS -- Concerned about the recent uptick in strikeouts and sensing that Kolten Wong could use a mental respite, manager Mike Matheny considered sitting his starting second baseman on Saturday. It was only because Wong had previously enjoyed a bit of success against Brewers starter Kyle Lohse (2-for-3) that Matheny ultimately decided otherwise.
"That worked out all right for us," Matheny concluded after his team's 9-7 win.
Justin Masterson pitched well enough in his St. Louis debut, but it was the offense that shined brightest in the victory. Wong drove home three runs on a three-hit night, and behind their biggest offensive output of the second half, the Cardinals pulled back to within two games of the National League Central leaders.
"We know that they've had a season of that, where they have been relentless," Matheny said of Milwaukee's offense. "That has typically been something that has been said about us in the past, and I full well anticipate that it's going to be said about us in the future. Today was just one of those heavyweight bouts."
For Wong the day was also cathartic.
Wong had done some reflecting after Friday's three-strikeout night (his third in eight games), and believes he pinpointed the issue.
"I was swinging way too hard," Wong said, "trying to do way too much."
It was ironic, then, that when he made the decision to lighten up, the first pitch he hit went 408 feet for a game-tying home run.
"If that doesn't wake you up, I don't know what will," he said. "I'm still learning as the days come through how to play at this level and how not to do too much. That's one thing I've struggled with my entire career. … Just to continue to have an easy swing and not trying to demolish the ball."
The homer came on Kyle Lohse's third pitch of the game and was a harbinger for his tumultuous night to come. In his next at-bat, Wong delivered a two-run single as part of a five-run second. That inning, which opened with Jhonny Peralta's home run, had been extended by a two-out single from Masterson in just the 23rd at-bat of his seven-year career.
"That was pretty cool," Masterson said. "I used to be good back in the day, but I haven't done it much."
It's debatable who was surprised more by the hit.
"He's a sandbagger," Matheny said. "We asked him, and he gave us a terrible report. He's a whole lot better than what he said."
Walks sandwiched the single, and after Wong drove home two, his aggressiveness in advancing two bases on Matt Holliday's RBI single led to a throwing miscue that allowed him to also score. The five runs tied for the most in an inning for the Cardinals this season.
St. Louis chased Lohse in the fifth after Oscar Taveras' two-run double pushed the lead to four. The nine runs allowed by Lohse equaled his career high; only seven were earned.
Like Wong, Tony Cruz scored twice and reached base in all four of his plate appearances. He preceded Masterson's key second-inning hit with a walk, then scored an insurance run in the fourth, an inning he started with a double.
"Normally, I'm pretty good at battling through it," Lohse said. "It just didn't happen. That's one of the things I pride myself on, is even when things go a little bit haywire early, being able to battle and keep your team in it. [The Cardinals] just kept pecking away, getting tough hits."
The Cardinals needed the overabundance of offense, too, as Masterson allowed five runs in a start for the 10th time this season. Walks stung him again, as two of the three batters he allowed to reach on a free pass would score. It was the 11th time in his last 13 starts that he walked at least three.
Three of the runs he allowed came during a six-batter span in the fourth.
"There was a little rust there in the fourth inning," Masterson said. "But with the intense offense that we had tonight and the solid defense, it was fun tonight. I think anybody can get used to that run support."
Though it had been nearly four weeks since his previous start (not counting two rehab outings), Masterson was able to finish six innings. His ability to get through the final two on 19 pitches allowed the Cardinals to delay getting their bullpen involved.
But things got interesting once they did. Kevin Siegrist allowed the Brewers to halve the deficit, and Trevor Rosenthal began the ninth by putting the potential tying runs on base. One of those runners would, however, be removed after a successful challenge by Matheny confirmed that Elian Herrera had not been hit by a pitch.
"That was a big change in the situation, for sure," Rosenthal said.
Rosenthal followed with three straight outs for his 33rd save.
Jenifer Langosch is a reporter for MLB.com. Read her blog, By Gosh, It's Langosch, and follow her on Twitter @LangoschMLB. This story was not subject to the approval of Major League Baseball or its clubs.