Abreu's streak ends in White Sox loss to Twins
Seventh-inning rally trumped by visitors in eighth; slugger goes 0-for-3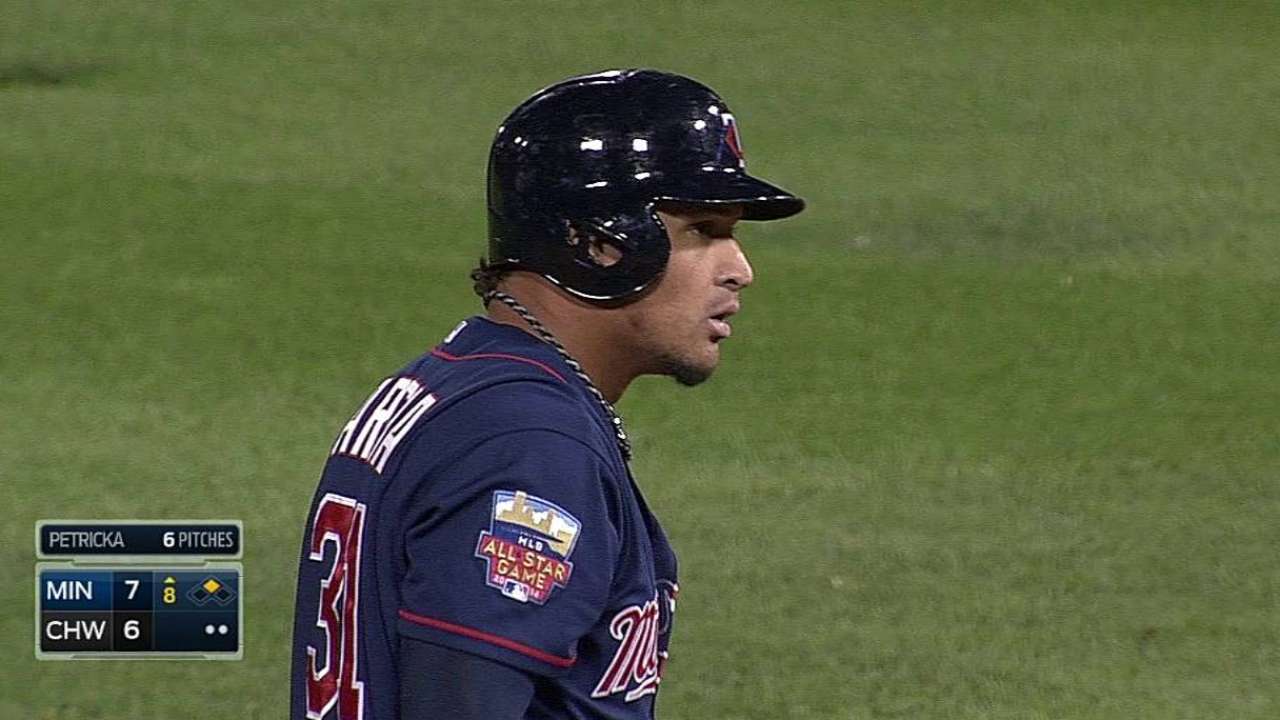 CHICAGO -- There seemed to be plenty of blame to go around after the White Sox 8-6 loss to the Twins before 27,446 at U.S. Cellular Field Saturday night.
But there was no reason to point that finger of frustration at anyone. The players in question were doing enough of it themselves after the tough setback.
The White Sox (54-57) had rallied from a 4-2 deficit to grab a 6-4 lead via four runs in the seventh inning. They turned that lead over to Ronald Belisario (4-8), with usual setup man Zach Putnam on the disabled list, and he proceeded to give up Trevor Plouffe's one-out single, hit Josh Willingham with a pitch and then allow Kurt Suzuki's run-scoring single to right.
Belisario was removed for closer Jake Petricka, who was called upon for the five-out save, and picked up that first out via Kennys Vargas' grounder to third baseman Conor Gillaspie. Oswaldo Arcia followed with a line drive to left on a 1-0 fastball that was struck hard but looked as if it was playable for Alejandro De Aza.
De Aza took two steps to his left, but then had to spin back to his right to try to make the catch. The ball hit off of the top of his glove as he awkwardly reached back and fell for the game-winning double, with De Aza adding that he tried to jump for the catch and thought he had it.
Little doubt existed that he should have had it.
"Yes, I should make that play. Yeah," De Aza said. "Personally, I feel bad because I think I can make that play. Today it didn't happen. I'm going to try to work harder to not make that mistake again."
"It's one of those probably you look at it as he should make it," said White Sox manager Robin Ventura. "There were a lot of other things that happened we could do better to win. I'm not pinning it on him. He had a good game. He could catch it, and most times he does. This time he didn't."
With two outs in the bottom of the eighth, Adrian Nieto fought back from an 0-2 hole against Minnesota reliever Casey Fien and worked a walk. Adam Eaton followed with a line drive off of the glove of Plouffe at third for his fourth hit of the game, raising his hitting streak to nine games, his consecutive games reaching base streak to 19 and his season's average to .306.
Nieto raced to third as the tying run and Eaton tried to get into second with his fourth double of the night. But Eduardo Nunez, who entered as a pinch-runner for Willingham in the top of the eighth, retrieved the ball and fired a strike to second baseman Brian Dozier to nail Eaton for the third out. The play was challenged by Ventura, but video replay review confirmed the call.
Eaton confirmed after the White Sox lost their 28th game when leading that he should have never gone to second with the meat of the order set to hit.
"It was stupid. Stupid. Stupid on my part. I need to pick up the ball better," Eaton said. "I saw it go off his glove and kind of thought it bounced a different direction. I thought it went more toward the warning track. It's stupid, unbelievable how dumb that was.
"You put your team in that position to maybe have first and third. Again, you don't pick up the baseball where it needs to be and, like I said, dumb play on my part. It was just stupid."
This baserunning miscue came after Eaton drove home two tying runs in the seventh off of Brian Duensing and scored the go-ahead run on Gordon Beckham's double off the right-field wall. That rally would have made a winner of Scott Carroll, who allowed the first four Twins (49-60) he faced to reach base and gave up two runs in the first, before settling down to yield four runs on seven hits over seven innings, striking out four and walking two.
"If I execute some pitches in those first couple of innings, it's a little bit different story," Carroll said. "I'm proud to compete and go seven and give this team a chance to win."
Another piece of bad news for the White Sox was Jose Abreu's streak of 10 straight plate appearances reaching base coming to an end when he popped out to first baseman Chris Parmelee in the first. He reached base via a walk twice, once intentionally in the seventh, but his career-best 21-game hitting streak also came to a close after posting a 0-for-3 that included a groundout against Glen Perkins (27th save) in the ninth.
"Thank God," said Minnesota manager Ron Gardenhire of temporarily stopping Abreu. "As I said before, move the ball in and out. We pitched around him a couple times in situations."
An exciting, competitive White Sox effort turned into a brutal finish. But while players were calling themselves out for individual mistakes, they weren't pointing fingers at each other, just getting ready to try to win the series on Sunday.
"We want to win every game, but things happen," De Aza said. "This is how it's supposed to be. It's one game at a time."
Scott Merkin is a reporter for MLB.com. Read his blog, Merk's Works, and follow him on Twitter @scottmerkin. This story was not subject to the approval of Major League Baseball or its clubs.