Crew can't overcome Lohse's early struggles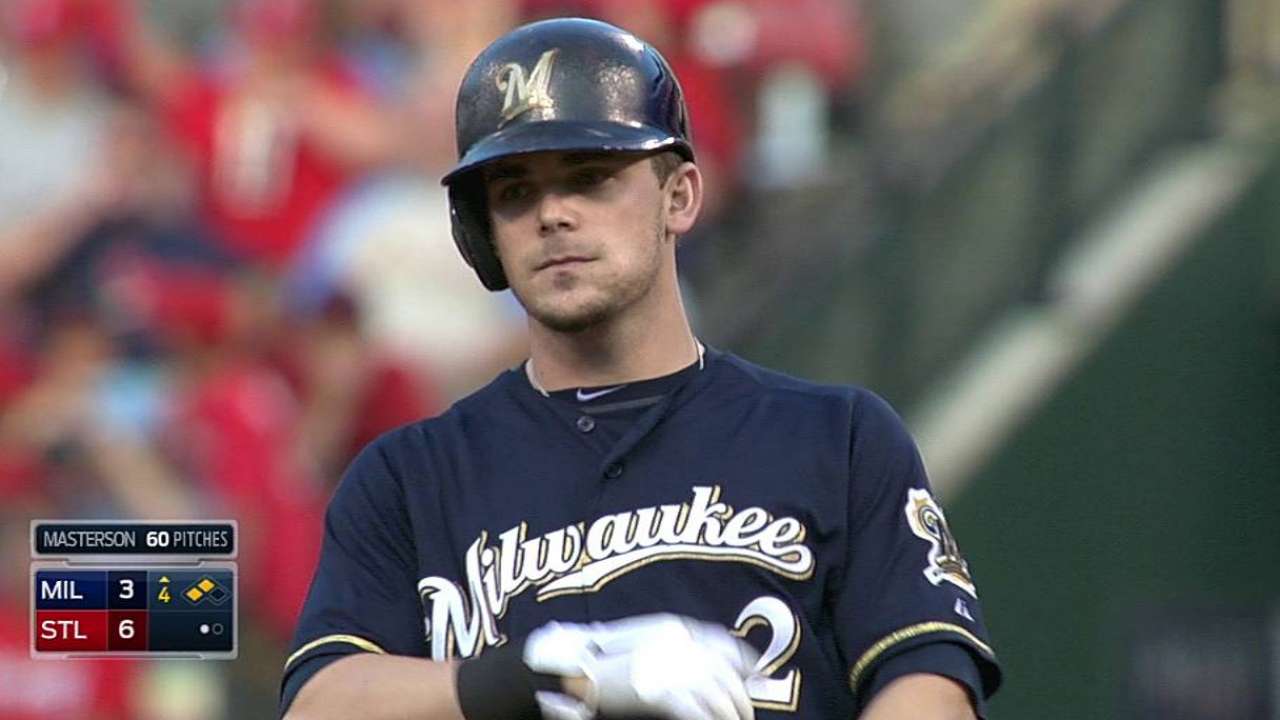 ST. LOUIS -- It was apparent before the sun set on Saturday that Kyle Lohse did not have his good stuff. He knew it, his former Cardinals teammates knew it and his manager, Ron Roenicke, knew it. If not for a brilliant escape by reliever Brandon Kintzler, it would have been the worst start of Lohse's career.
Instead he merely matched a career high by allowing all of the Cardinals' runs (though two were unearned) in a 9-7 loss at Busch Stadium that left him shouldering the blame and Roenicke explaining why he waited so long to reach into a rested bullpen.
The result evened the series between these National League Central rivals with Sunday's prime pitching matchup to follow -- Matt Garza, coming off back-to-back gems for the Brewers, opposing John Lackey, making his Cardinals debut.
The other of the Cardinals' recent pickups, Justin Masterson, did not exactly dazzle in his introduction on Saturday, but he happened to catch Lohse on a rare rough night.
"I should be better than that," Lohse said. "I cost us the game early on. It's a lot to ask to score that many runs against a team like [the Cardinals]. We did a good job of battling until the end, but I just put us in too big of a hole."
Lohse's final ledger also included nine hits, three walks, two strikeouts and two home runs. It marked only the second time in his 55 starts for the Brewers that he did not record an out in the fifth inning -- the first was a game in Pittsburgh last June that was interrupted in the second inning by a long rain delay from which he did not return.
The only other time he allowed nine runs -- in May 2010 against the Astros, when he was with the Cardinals -- only four were earned because of a pair of errors.
"He's been so consistent," Roenicke said, "that it surprises you when his command is off by that much."
It was a bad night for a letdown, because the Brewers' offense is churning again. Milwaukee manufactured five runs and seven hits in six innings against Masterson, who walked three batters and saw two of them score, and the Brewers kept producing against the St. Louis bullpen. Dropped into deficits of five runs after two innings and four runs after five, the Brewers twice came back to within two runs, at 6-4 in the fourth and 9-7 by the seventh.
The red-hot Aramis Ramirez had three hits, including his first triple since 2012, and an RBI. Ryan Braun and Scooter Gennett drove in two runs apiece. Carlos Gomez had two hits, stole two bases and scored two runs.
"Today was just one of those heavyweight bouts. Everyone just kept on swinging," Cardinals manager Mike Matheny said. "Fortunately, we got the big hits when we needed them."
The Brewers were never able to overcome the Cardinals' five-run second. Most of those runs scored after Lohse issued a two-out walk to .224-hitting catcher Tony Cruz with the pitcher on deck. Masterson followed with a single on a hanging slider in an 0-and-2 count, Matt Carpenter walked, and Kolten Wong and Matt Holliday cashed in with consecutive run-scoring hits. That accounted for four runs, the last of which scored on a throwing error by left fielder Gerardo Parra in his first Brewers start.
Another error burned the Brewers in the fifth, when Lohse faced four batters and retired none of them. After Lyle Overbay dropped Holliday's popup in foul ground, Holliday delivered a rally-sparking single. Oscar Taveras' bases-loaded double made it 9-5 and chased Lohse. Kintzler inherited runners at second and third base with no outs but did not allow any additional runs, thanks to a pair of fielder's-choice grounders that produced outs at home plate, and an inning-ending strikeout.
With long reliever Marco Estrada having pitched only two-thirds of an inning since July 19 and a pair of off-days bookending this three-game series, Roenicke was asked why he didn't replace Lohse earlier.
"Marco takes a long time to get loose, so we were trying to get [Kintzler] ready," Roenicke said. "[The pitching change to Kintzler] could have been a batter earlier."
Roenicke also suggested that the team needed innings from Lohse, despite Monday's off-day. He was hesitant to go too early to long man Estrada because, "You think, 'OK, Estrada can go four innings for me,'" he said. "Well, if you're behind and you have a situation where you have to [pinch-hit], trying to score runs, you can't. You can only go two innings, because we have to hit for him. If you want to try to win the game, you just can't say he's going to go four or five innings. If you think you're out of it, you have no chance, then it's a little bit different."
Lohse took the blame.
"Normally, I'm pretty good at battling through it," Lohse said. "It just didn't happen. That's one of the things I pride myself on, is even when things go a little bit haywire early, being able to battle and keep your team in it. [The Cardinals] just kept pecking away, getting tough hits."
Adam McCalvy is a reporter for MLB.com. Read his blog, Brew Beat, and follow him on Twitter at @AdamMcCalvy. This story was not subject to the approval of Major League Baseball or its clubs.